Page 487 of 559
Biological Sciences
Research Highlights
October 2006
Chromate Immobilization Success Leads to More Field Tests for Effective, Long-Lived Contaminant Barriers
Results expected to protect humans, environment near Columbia River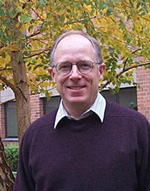 Contact:
Phil Long
Results: A research team from the Pacific Northwest National Laboratory (PNNL) and Lawrence Berkeley National Laboratory (LBNL) has successfully used microbes to modify the subsurface environment and immobilize mobile chromate in the groundwater near the Hanford 100-H site. Results of recent field experiments show continuing removal of chromate from groundwater more than a year after modifying the subsurface with polylactate as an electron donor.
Why it matters: The initial research at the Hanford 100-H site has fostered a new project in which PNNL and LBNL researchers will conduct field-scale tests at Hanford's former 100-D Reactor. The objective of the tests is to create a reducing environment that will remediate chromium and nitrate in the groundwater, thus protecting Columbia River aquatic life and the downstream human population.
Methods: First, the researchers will use bench-scale tests to evaluate electron donors for their ability to stimulate bioreduction in samples of the Ringold Formation found in the 100-D Area. Next, based on the bench-scale results, electron donors will be selected for field-scale testing. The key benefit of the eventual full-scale bioremediation is that the reducing environment will remove nitrate, dissolved oxygen, and chromium(VI) upstream of the existing In Situ REDOX Manipulation (ISRM) barrier. The ISRM barrier was created by injecting a solution of sodium dithionite into standard groundwater wells to react with iron in the soil. This forms a permeable reactive barrier capable of destroying or immobilizing targeted contaminants. The reducing environment that will be created by this new project will increase the effectiveness and longevity of the downstream ISRM barrier.
Research team: Phil Long, Mike Truex, Vince Vermuel, John Fruchter, and Fred Brockman from PNNL; and Susan Hubbard, Terry Hazen, Boris Faybishenko, and Ken Williams from LBNL.
Sponsor: The original work was funded by the U.S. Department of Energy's (DOE's) Environmental and Remediation Sciences Program (ERSP) and DOE's Office of Environmental Management (EM). The new project is funded by DOE-EM's Columbia River Protection Supplemental Technologies Project.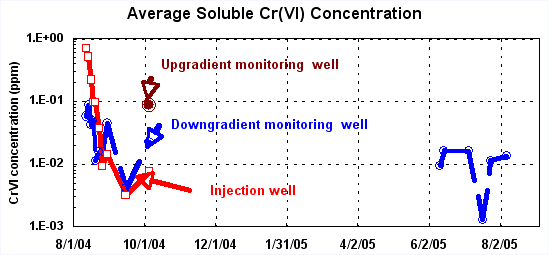 Changes of Cr(VI) concentration in groundwater after polylactate injection.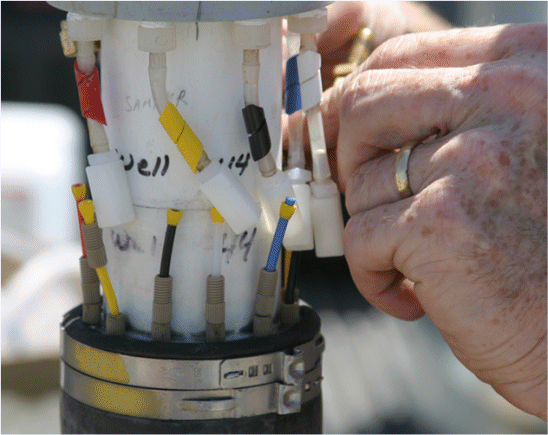 Connection of sampling tubes for a specialized multilevel sampler to monitor Cr(VI) and other groundwater constituents during electron donor modification field experiments near the 100 H Area at the Hanford Site.
Full Image
.
---
Page 487 of 559