Page 463 of 559
Biological Sciences
Research Highlights
June 2007
New View on Radiation-Resistant Microbe
Deinococcus radiodurans work featured in PLoS Biology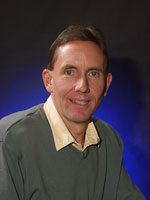 Jim Fredrickson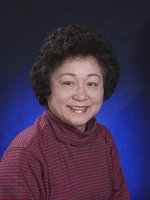 Shu-Mei Li
Researchers investigating the microbe Deinococcus radiodurans have found that high manganese and low iron concentrations facilitate extreme radiation resistance in this microbe by protecting proteins from ionizing radiation-induced damage. Their findings give a novel perspective of D. radiodurans that shifts focus away from DNA damage as the main result of radiation toxicity. Their results were published March 20 in the online journal PLoS Biology. A synopsis of the article is provided by PLoS science writer Liza Gross entitled "Paradox resolved? The strange case of the radiation-resistant bacteria."
The research was sponsored by the U.S. Department of Energy's Environmental Research Science Program. D. radiodurans is of interest to DOE because it has been found in contaminated vadose sediments from the Hanford site and can potentially and alter the geochemical behavior of contaminants in highly radioactive wastes. Pacific Northwest National Laboratory Fellow Jim Fredrickson is senior author, and PNNL microbiologist Shu-Mei Li is a co-author. Lead author is Michael Daly of the Uniformed Services University of the Health Sciences.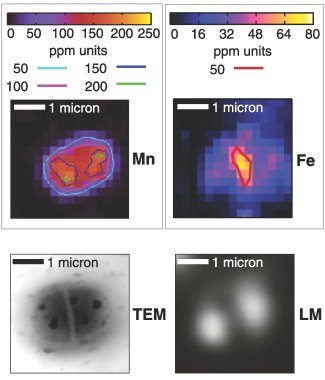 X-ray fluorescence elemental distribution maps of manganese and iron in
Deinococcus radiodurans
.
Enlarged View
References
Daly MJ, EK Gaidamakova, VY Matrosova, A Vasilenko, M Zhai, RD Leapman, B Lai, B Ravel, SW Li, KM Kemner, and JK Fredrickson. 2007. "Protein oxidation implicated as the primary determinant of bacterial radioresistance." PLoS Biology 5(4): e92.
Gross L. 2007. "Paradox resolved? The strange case of the radiation-resistant bacteria." PLoS Biology 5(4): e108.
Fredrickson JK, HM Kostandarithes, SW Li, AE Plymale, and MJ Daly. 2000. "Reduction of Fe(III), Cr(V), U(VI), and Tc(VII) by Deinococcus radiodurans R1." Applied and Environmental Microbiology 66:2006-2011.
Fredrickson JK, JM Zachara, DL Balkwill, D Kennedy, SW Li, HM Kostandarithes, MJ Daly, MF Romine, and FJ Brockman. 2004. "Geomicrobiology of high-level nuclear waste-contaminated vadose sediments at the Hanford Site, Washington State." Applied and Environmental Microbiology 70:4230-4241.
---
Page 463 of 559