Page 398 of 740
Atmospheric Sciences & Global Change
Research Highlights
February 2014
Looking at the Future of China's Building Energy Use
Energy codes could help cut 22 percent from building energy consumption by end of century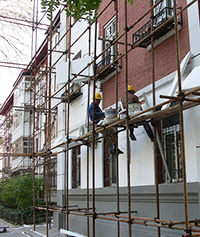 Retrofitting existing buildings with additional insulation will increase energy efficiency and can help reduce carbon pollution emissions.
Enlarge Image
.
Results: Buildings can gobble up to 40 percent the energy demand in developed countries. In China's rapidly expanding economy, that is a serious number to consider. Scientists from Pacific Northwest National Laboratory, working at the Joint Global Change Research Institute found that China can save up to 22 percent in building energy use through improvements in building energy codes, compared to a no-change scenario. Their study focused on realistic improvements to codes that regulate building components such as insulation and lighting.
"A 22-percent cut is a large change in China's trajectory," said Meredydd Evans, the PNNL project lead scientist and energy efficiency expert. "More energy could be saved with additional standards and policies, but this study shows that a distinct set of codes can have great impact."
JGCRI is a partnership between PNNL and the University of Maryland.
Why It Matters: In a global economy, everyone has an interest in efficient use of energy resources. World-wide carbon dioxide emissions and economic impacts are at stake. China is the second largest building energy user in the world, and with a rapidly growing economy, the trend line is going up. PNNL researchers are finding ways to address the challenges and barriers to building energy efficiency, and providing information and guidance for solutions. Building energy codes are vital to support energy efficiency and sustainability. Reducing energy consumption through building codes is a win-win for China and the rest of the world, by reducing fossil fuel use and carbon dioxide emissions while still promoting economic growth and energy security.
"China won't find one golden policy that solves its energy and pollution problems," said Sha Yu, lead scientist and principle author for the study. "They need policies that are comprehensive and feasible."
Methods: The researchers used the PNNL-developed Global Change Assessment Model for their analysis. Also known as GCAM, the model takes into account an exhaustive list of human and ecological variables. Including factors such as population growth, increased urbanization and climate change projections were included. They tested codes in three building types: urban residential, rural residential and commercial, for new and retrofitted construction. They found three improved-code scenarios yielded decreases in net building energy demand, compared to current 2010 code level.
To learn more, see PNNL news release "Modeling buildings by the millions: Building codes in China tested for energy savings."
Acknowledgements
Sponsors: The research was funded by the U.S. Department of Energy (DOE) Office of Energy Efficiency & Renewable Energy and the Global Technology Strategy Program. The research used a building energy model nested within the Global Change Assessment Model (GCAM) provided through long-term support from the Integrated Assessment Research Program in the DOE's Office of Science.
Research Team: Sha Yu, Meredydd Evans and Leon Clarke, PNNL; Jiyong Eom, KAIST Business School, Seoul, Korea.
Research Area: Climate & Earth Systems Science
Reference: Yu S, J Eom, M Evans and L Clarke. 2014. "A Long-term, Integrated Impact Assessment of Alternative Building Energy code scenarios in China." Energy Policy 67(2014): 626-639, April 2014. DOI:10.1016/j.enpol.2013.11.009
---
Page 398 of 740