Page 448 of 1002
Physcial Sciences Division
Staff Awards & Honors
November 2013
Ilke Arslan Presents at National Academy of Sciences' Kavli Symposium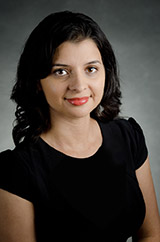 Ilke Arslan
Congratulations to Dr. Ilke Arslan at Pacific Northwest National Laboratory on being chosen to attend the 25th U.S. Kavli Frontiers of Science Symposium. This invite-only National Academy event is designed to foster discussions among high-profile young scientists across a wide range of disciplines. Ninety scientists under the age of 45 were asked to attend. They were chosen from those who have prestigious awards and honors or are nominated by Academy members or other participants.
Arslan is well known for bringing her physics expertise to chemical imaging and catalysis. She completed her doctorate in physics at the University of California in Davis and her postdoctoral work at the University of Cambridge, United Kingdom. She won research fellowships from the Royal Society USA and the National Science Foundation. She received a U.S. Presidential Early Career Award for Scientists and Engineers to delve into materials research for 5 years. She is also a Microscopy Society of America tour speaker.
"There are many who have tried to become a Kavli speaker, and this recognition of Ilke's science is noteworthy and highly warranted," said Dr. Louis Terminello, her mentor and director of PNNL's Chemical Imaging Initiative.
At the Kavli symposium, Arslan will share insights on her team's work on the three-dimensional morphological changes observed in zeolite and Fisher-Tropsch catalysts. She will discuss how cobalt's distribution changes in a Fisher-Tropsch catalyst as the material is reduced. During reduction, some of the cobalt moves a surprising distance on the order of tens of nanometers -- from inside the alumina support to the outer surface -- to combine with other cobalt atoms.
"If you just look at the catalyst in the oxidized state in a microscope, I don't think you can make any assumptions about its activity based on its morphology because the morphology changes as it is reduced to its active state," said Arslan, who is a member of PNNL's Chemical Imaging Initiative and Institute for Integrated Catalysis.
This year's Kavli symposium will be held at the Arnold and Mabel Beckman Center of the National Academies of Science and Engineering in Irvine, California, November 7-9.
---
Page 448 of 1002