Page 449 of 1002
Physcial Sciences Division
Staff Awards & Honors
October 2013
International Scientific Conference Dedicates Session to Honor Jean Futrell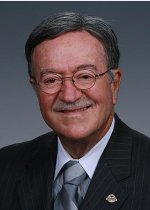 Jean Futrell was honored at the Innovations in Mass Spectrometry Instrumentation 2013 Conference
Congratulations to Dr. Jean Futrell, Battelle Fellow Emeritus at Pacific Northwest National Laboratory, on having the high-resolution mass analysis session at the Innovations in Mass Spectrometry Instrumentation 2013 Conference in St. Petersburg dedicated in honor of his 80th birthday. This conference was co-sponsored by the United States and Russia to promote exchange of ideas and information sharing among academia, industry, and government agencies that rely on mass spectrometry for advanced chemical, pharmaceutical, and environmental applications.
Futrell was chosen for this honor because of his outstanding work in the theory and practice of mass spectroscopy. Throughout his career, he has pursued innovation in mass spectrometry fundamentals and application, including the development or significant modification of some 20 new mass spectrometers with enhanced performance for research purposes. He is also widely recognized for the invention of tandem mass spectrometry, now deployed in nearly every commercial mass spectrometer.
In the scientific community, Futrell is known as a highly effective and diplomatic leader. He has served in leadership roles with the American Society of Mass Spectrometry, the Council for Chemical Research, and the American Chemical Society. His work has garnered four fellowships and numerous awards, including German Mass Spectrometry Society's Wolfgang Paul Distinguished Lecturer and the FH Field and JL Franklin Award, a prestigious honor given by the American Chemical Society. The first director of EMSL, Futrell is a prolific writer with hundreds of articles and invited reviews to his name.
He retired from his position at PNNL on October 1, 2013, and rejoined the Laboratory as Battelle Fellow Emeritus the same day.
---
Page 449 of 1002