Page 450 of 1002
Physcial Sciences Division
Staff Awards & Honors
October 2013
Scientists Discuss How Catalysts Transform Waste into Fuels
Basic and applied research explain how to turn carbon dioxide, agricultural waste into hydrocarbons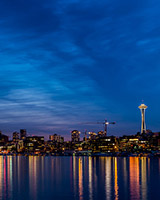 Reducing our reliance on fossil fuels for industrial and home uses means increasing our use of renewable sources, such as agricultural waste and the coal-fired power plant pollutant carbon dioxide. Credit: Scott Butner
Enlarge Image
What if we could heat our homes and power our industries with fuels derived from pollution, instead of fossil fuels? Each year, nearly 40 billion tons of carbon dioxide is released from burning coal, gasoline, and other fossil fuels in the United States alone. Another potential feedstock is agricultural wastes and other biomass. At the 246th National Meeting & Exposition of the American Chemical Society (ACS), numerous teams from Pacific Northwest National Laboratory shared their progress in understanding the fundamental reactions needed to ease our reliance on fossil fuels.
Dr. Aaron Appel, who is leading the efforts to rationally design catalysts for carbon dioxide conversion PNNL's Institute for Integrated Catalysis, shared his team's work on two groups of catalysts that are involved in the first step of turning carbon dioxide into liquid transportation fuels. The first group of catalysts, based on cobalt, hydrogenates the carbon dioxide to produce formate. The second group, analogs of previously reported palladium triphosphine complexes, removes an oxygen molecule to create carbon monoxide, a precursor to another series of reactions that lead to fuel. In addition, Appel shared information gained on balancing the energetics of the reaction steps.
"We are gaining the understanding necessary to rationally design catalysts that match the functionality of enzymes," said Appel.
Appel was took part in a press conference as part of the symposium in which he presented. The symposium was titled "CO2 Conversion: Thermo, Photo and Electrocatalytic Pathways."
Also, at the ACS meeting, Dr. Mariefel V. Olarte shared her team's work on turning pyrolysis oil, a liquid produced from thermal decomposition of agricultural wastes and other renewable sources, into transportation fuels and valuable chemicals. One of the most important challenges faced by many bio-oil researchers is fouling of the upgrading catalysts, where catalyst activity is slowly lost and eventually plugs, often after only 50 hours. By tuning the bio-oil stabilization reactions, specific catalysts, and exotherm management in their multi-stage approach, the team demonstrated 1440 hours on the hydrodeoxygenation catalyst while producing a high-quality product.
"This is a noteworthy achievement, as most of the reported research in continuous bio-oil upgrading have not demonstrated long catalyst lifetime," said Mr. Alan Zacher, who is the study's project manager.
The team's goal is a product that is sustainable. "This would entail having a stable, continuous process that has a catalyst lifetime similar to what the petroleum industry has. We are not there yet, but we are working towards that," said Olarte, a chemical engineer who worked on the applied study.
The talks were given at the 246th National Meeting & Exposition of the American Chemical Society, the world's largest scientific society. Thousands of scientists and others attended the meeting, which featured almost 7,000 reports on new discoveries in science and other topics.
Appel AM, JC Linehan, BJ Boro, BR Galan, MS Jeletic, and SM Peterson. 2013. "Molecular Catalysts for the Reduction of CO2 to CO or Formate." Presented by Aaron M. Appel (Invited Speaker) at 246th ACS National Meeting, Indianapolis, IN on September 8, 2013.
Olarte MV, DC Elliott, GG Neuenschwander, LJ Rotness Jr, SD Burton, B Schwenzer, AB Padmaperuma, and AH Zacher. 2013. "Towards Long-Term Fast Pyrolysis Oil Catalytic Upgrading." Presented by Mariefel V. Olarte at 246th ACS National Meeting, Indianapolis, IN on September 11, 2013.
---
Page 450 of 1002