Page 200 of 559
Biological Sciences Division
Staff Awards & Honors
October 2013
Dick Smith Appointed to CDC Board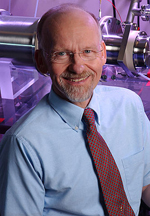 Richard (Dick) Smith
Congratulations to Dr. Richard (Dick) Smith, Battelle Fellow and Director of Proteomics at Pacific Northwest National Laboratory, who has been invited to serve on the Board of Scientific Counselors, Office of Public Health Preparedness and Response (OPHPR) of the Centers for Disease Control (CDC) for a term extending through September 2017.
Smith was invited by Kathleen Sebelius, U.S. Secretary of Health and Human Services, because of his knowledge of new technologies and their applications for study, measurement, and monitoring of biological systems relevant to the CDC's agenda. He is internationally known for his development of advanced analytical methods and instrumentation, with particular emphasis on high-resolution separations and mass spectrometry, and their applications in biological and biomedical research.
The CDC Board oversees the public preparation and response to threats from natural, biological, chemical, and radiological events. The board members advise concerning strategies and goals for preparedness programs and research, review CDC's scientific programs, and monitor OPHPR's overall strategic direction and focus.
---
Page 200 of 559