Page 442 of 740
Atmospheric Sciences & Global Change
Newsmakers
August 2013
Ben Bond-Lamberty Blogs for PLOS Biology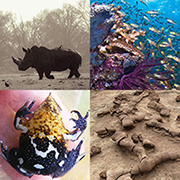 Sharing his expertise, Pacific Northwest National Laboratory's scientist Dr. Ben Bond-Lamberty authored an introduction to the Ecological Impact of Climate Change Collection for the Public Library of Science (PLOS) journals. As an editor for PLOS ONE, Bond-Lamberty curated a list of publications in conjunction with the 2013 Ecological Society of America meeting. His article presents the broad range of research within the Collection that reveals the multi-faceted impacts of climate change on ecological and human systems. The article is published in PLOS Collections and on the PLOS EveryONE blog.
The Public Library of Science (PLOS) is a nonprofit publishing, membership, and advocacy organization with a mission to accelerate progress in science and medicine by leading a transformation in research communication. Bond-Lamberty works out of the Joint Global Climate Research Institute, a partnership between PNNL and the University of Maryland.
See also: Discover Magazine news release, "How 9 Well-Known Critters are Weathering a Changing Climate," and the Huffington Post news release "PLOS Research Predicts Climate Change 'Winners' and 'Losers'."
---
Page 442 of 740