Page 475 of 1002
Physcial Sciences Division
Staff Awards & Honors
June 2013
De Yoreo Receives Outstanding Materials Science Award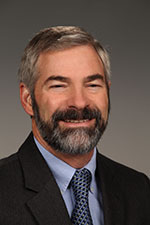 Dr. James De Yoreo, 2013 American Association for Crystal Growth Award
Congratulations to Dr. James De Yoreo, Pacific Northwest National Laboratory, on earning the 2013 American Association for Crystal Growth Award for his foundational insights into the processes underlying biomineralization and biomolecular assembly.
A leader in materials science, De Yoreo pioneered in situ imaging with atomic force microscopy to understand the growth of crystals, from proteins to bones. He discovered the stereochemical relationship between proteins and crystal structures that allow biological systems to manipulate the energies associated with crystallization. Along with Dr. Ron Zuckermann, Lawrence Berkeley National Laboratory, De Yoreo developed protein-like materials that affect inorganic mineralization, which is of interest for carbon sequestration. De Yoreo also created a first-of-its-kind model that describes how molecular bonds break when pulled apart, changing the conventional wisdom.
Also, De Yoreo led the early work into analyzing the formation of materials in fluids with transmission electron microscopy. He and his team were the first to visualize oriented attachment in mineral systems and measure the forces involved.
At Pacific Northwest National Laboratory, De Yoreo is the Materials Synthesis and Simulation across Scales Chief Scientist. He has written or co-written 175 scientific articles. He has organized conferences including the 2004 Materials Research Society Spring Meeting. He has several patents, an R&D 100 award for innovation, and is an American Physical Society Fellow. He served on the National Academy of Sciences Committee on Nanotechnology for the Intelligence Community. Before joining PNNL, De Yoreo was the Interim Director of the Molecular Foundry, a user facility at Lawrence Berkeley National Laboratory in California.
De Yoreo will receive his award at 19th American Conference on Crystal Growth and Epitaxy in Keystone, Colorado, held July 21-26, 2013. He will give a plenary talk at the conference that will highlight his accomplishments.
---
Page 475 of 1002