Page 936 of 1002
Physcial Sciences Division
Staff Awards & Honors
April 2007
Greg Exarhos Receives National Mentoring Award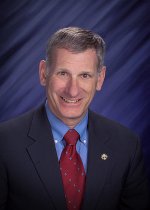 Greg Exarhos
Congratulations to Greg Exarhos on being selected for the 2006 Outstanding Mentor Award. This award recognizes U.S. Department of Energy Office of Science laboratory staff whose dedication and leadership have substantially contributed to the practical education of the country's future scientists.
Greg was selected because of his dedication, inspiration and nurturing. "He often asked for my input and encouraged me to gain autonomy by working alone and asking me questions on what I was doing or on the techniques I learned from someone else," noted his undergraduate student Adriana Teodoro-Dier. "Because he has allowed me to develop my own sense of autonomy and independence, I feel that my confidence as a scientific investigator has increased."
In addition to his mentoring, Greg is an associate director within the Pacific Northwest National Laboratory Chemical & Materials Sciences Division and leads the Interfacial Chemistry and Engineering Group. He is also the Laboratory Coordinator for the suite of fundamental materials sciences projects funded through the U.S. Department of Energy Office of Science, Basic Energy Sciences. His pioneering materials processing approaches have been recognized internationally and have opened up new venues in optical coatings, nano-architectured materials, multifunctional ceramics and hybrid polymer composites.
Congratulations again, Greg.
---
Page 936 of 1002