Page 498 of 1002
Physcial Sciences Division
Staff Awards & Honors
February 2013
Zizwe Chase Wins Oral Presentation Award at WSU's Wiley Exposition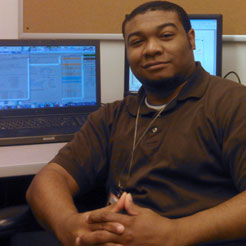 Zizwe Chase, winner of the Engineering and Physical Sciences Oral Award at Washington State University's William R. Wiley Exposition. Photo from Washington State University
Congratulations to Zizwe Chase at Pacific Northwest National Laboratory and Washington State University on winning the Engineering and Physical Sciences Oral Award at Washington State University's William R. Wiley Exposition. The exposition provides WSU students with an opportunity to share their research with alumni, faculty, and students. In a succinct and engaging 15-minute talk, Chase explained his discoveries of changes that palladium catalysts underwent during phenol hydrogenation in an aqueous media.
Chase's journey to the Wiley Expo began in 2011, as he was working on his Ph.D. in chemical engineering and working on catalytic research at PNNL. The group that he worked with decided to determine the effect of water and other materials on palladium catalysts in a hydrogen-adding reaction that is part of the process of turning biomass into fuels. His research provides fundamental knowledge needed to design long-lasting, efficient materials for sustainable energy.
During his 10-month research project, he gathered mountains of data, including x-ray absorption fine-structure spectroscopy data from the Advanced Photon Source at Argonne National Laboratory. Chase worked with his Ph.D. thesis advisor Voiland Distinguished Professor, Dr. Yong Wang, who holds a joint appointment with PNNL. He also worked closely with Drs. John Fulton and Don Camaioni at PNNL to analyze the data. "They really took the time to answer my questions and explain things," said Chase. "The one-on-one mentoring I've received has been phenomenal."
Scientists at PNNL often mentor students and others on research projects. "Seeing people learn is a large part of the reward," said Camaioni.
Chase is looking forward to continuing to work at PNNL. "Zizwe learned this method and the theory in record time," said Fulton. "I'm looking forward to seeing what other discoveries he makes by applying XAFS to new catalysts."
The exposition is named in honor of William R. Wiley, who earned his doctorate at WSU and served as a President on the Board of Regents. He also served as Director of Pacific Northwest National Laboratory in Richland, Wash. Wiley was a passionate believer in the power of education, and both a local elementary school and a national scientific user facility in Richland are named in his honor.
---
Page 498 of 1002