Page 503 of 1002
Physcial Sciences Division
Staff Awards & Honors
February 2013
Julia Laskin Named Wiley Research Fellow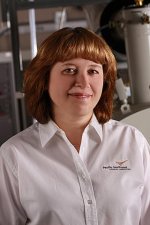 Julia Laskin, 2013 Wiley Research Fellow
Congratulations to Dr. Julia Laskin, Pacific Northwest National Laboratory Fellow, on being selected as a Wiley Research Fellow. Laskin was chosen because of her strong contributions to the Department of Energy's EMSL, a national scientific user facility. The Wiley Research Fellows program recognizes scientists who make significant contributions to EMSL outside of their individual research efforts.
Laskin is a nationally recognized expert in gas phase ion chemistry, surface modification and chemical characterization. She is leading work in using imaging mass spectrometry for chemical analysis of biofilms in their native environments, as part of the Chemical Imaging Initiative. She is also leading work into controlled preparation of catalytic materials using beams of mass-selected ions as part of the Institute for Integrated Catalysis. At EMSL, she has led collaborative research in these and other areas. Laskin has been actively involved in developing innovative mass spectrometry capabilities, including specialized instrumentation for studying ion-surface collisions and nanospray desorption electrospray ionization mass spectrometry, at EMSL.
Scientists named Wiley Research Fellows actively participate in developing plans and strategies to guide EMSL's instrument and capability investments, science themes and user activities. Fellows also are consultants for EMSL users and advocates for the user program. The program is named after William R. Wiley, the former director of Pacific Northwest National Laboratory, who first conceived the idea of a DOE Office of Science molecular sciences user facility and whose advocacy led to its creation. More information is available online.
---
Page 503 of 1002