Page 483 of 740
Atmospheric Sciences & Global Change
Research Highlights
January 2013
Soot is Warming the Planet
Sunlight-absorbing black carbon emissions from human activities now #2 in climate warming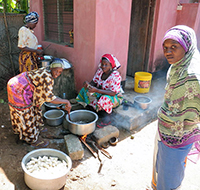 Open wood fire cooking is commonplace in many parts of the world and is a major source of soot emissions. Replacing traditional open-fire cooking with a clean-burning technology would have a large effect in reducing the amount of climate-warming particles in the atmosphere.
Photo courtesy of Wikimedia Commons.
Enlarge Image
Results: Soot—a.k.a. black carbon—has twice the climate-warming strength than previously thought, according to an authoritative, multi-year research study. An international team, including a scientist at Pacific Northwest National Laboratory, found that most previous estimates of soot's effects on warming the climate by absorbing sunlight energy are far lower than their new data analysis. The study's best estimate of black carbon's effects through sunlight absorption rank it as the second most important cause of climate warming, after carbon dioxide.
Why It Matters: The black exhaust of a diesel truck or the curling smoke from a wood cook stove—these are common fuels that produce black carbon emissions. Many air quality and health effects have been exposed, but scientists are now understanding the huge impact of these emissions to warm the global climate. Black carbon is produced by burning carbon-based fuels in limited oxygen conditions. So, reducing emissions of black carbon and the resulting climate warming can be as simple as using new, more efficient stoves and engines. Effective and economical technologies to do just that are already available. Because the warming effect of black carbon only lasts a week or so in the atmosphere, reduction strategies can have an almost immediate effect on the climate. These reductions may quickly offset some of the climate warming due to increasing carbon dioxide concentrations. The health benefits of reducing soot emissions are also widely recognized.
Methods: The study reviewed previous work, but extended it by constraining previous estimates using a new method to identify the black carbon signature in atmospheric absorption measurements. The study also examined measurements and microphysical properties of black carbon, estimates of black carbon emissions, constraints on black-carbon atmospheric abundance, black carbon interactions with clouds, impacts of black carbon on snow and ice, the response of the climate system to black carbon, and mitigation options for different black carbon sources.
What's Next? This study identified several issues that need to be resolved. The contribution of brown carbon—carbon-containing particles that are not black but have complex warming and cooling properties—to atmospheric absorption needs to be isolated from the contributions of black carbon and dust. Bottom-up estimates of black carbon emissions need to be reconciled with top-down estimates constrained by aerosol absorption measurements. Black carbon effects on ice cloud formation need to be better understood.
For more information, see the news release from the International Geosphere-Biosphere Programme, "Black carbon larger cause of climate change than previously assessed."
Acknowledgments:
Sponsors: This research was funded by the International Global Atmospheric Chemistry project, the Climate Program Office of the National Oceanic and Atmospheric Administration, the Radiation Sciences Program of the National Aeronautic and Space Administration, the U.S. Environmental Protection Agency, the U.S. Department of Energy (DOE) Office of Science Scientific Discovery through Advanced Computing program, by the DOE Office of Science and the National Science Foundation Decadal and Regional Climate Prediction using Earth System Models (EaSM) program, by the Joint Department of Energy and Climate Change and the Department for Environment, Food and Rural Affairs Met Office Hadley Centre Climate Programme, the Japan Ministry of Education, Culture, Sports, Science, and Technology, the strategic international cooperative program of Japan Science and Technology Agency, the global environment research fund of the Japanese Ministry of the Environment, and by the European Integrated Project on Aerosol Cloud Climate and Air Quality Interactions Project.
Research Area: Climate & Earth Systems Science
Reference: Bond T, SJ Doherty, DW Fahey, PM Forster, T Berntsen, O Boucher, B DeAngelo , MG Flanner, S Ghan, B Kärcher, D Koch, S Kinne, Y Kondo, PK Quinn, MC Sarofim, MG Schultz, M Schulz, C Venkataraman, H Zhang, S Zhang, N Bellouin, S Guttikunda, PK Hopke, MZ Jacobson, JW Kaiser, Z Klimont, U Lohmann, JP Schwarz, D Shindell, T Storelvmo, SG Warren, and C Zender. 2013. "Bounding the Role of Black Carbon Aerosol in the Climate System: A Scientific Assessment." Journal of Geophysical Research-Atmospheres 118(11):5380-5552. DOI:10.1002/jgrd50171.
---
Page 483 of 740