Page 513 of 1002
Physcial Sciences Division
Staff Awards & Honors
January 2013
Sebastien Kerisit Elected Geochemistry Program Chair for Prestigious Chemical Society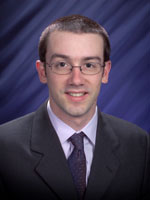 Sebastien Kerisit, ACS Geochemistry Division Program Chair-Elect
Congratulations to Dr. Sebastien Kerisit at Pacific Northwest National Laboratory on being elected Program Chair-Elect of the American Chemical Society's Geochemistry Division. In this role, Kerisit will shape geochemistry discussions, from space exploration to environmental cleanup, at the world's largest scientific society. With his colleagues from around the world, he will guide these discussions by requesting, selecting, and promoting topics for the Geochemistry Division.
"This new role requires a proactive approach," said Kerisit. "You need to be able to engage people and zoom in on the topics the community really needs."
Kerisit was chosen because of his outstanding organizational capabilities and the diverse nature of his research. For years, Kerisit has organized symposia and given talks at ACS national meetings, as well as at other conferences. At PNNL, he conducts research on minerals and glasses and their interactions with aqueous solutions for carbon capture and sequestration and nuclear waste management. He is also conducting fundamental research into the mechanisms of mineral nucleation and growth and the reduction-oxidation properties of natural systems.
Kerisit will begin his four-year term in January 2013. He will be Program Chair-elect for calendar year 2013, Program Chair in 2014, Geochemistry Division Chair in 2015, and Past Chair in 2016.
---
Page 513 of 1002