Page 519 of 1002
Physcial Sciences Division
Staff Awards & Honors
December 2012
Greg Exarhos Elected Treasurer of Prestigious Scientific Society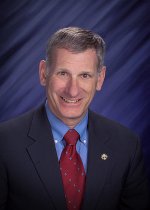 Greg Exarhos
, AVS Treasurer
Congratulations to Dr. Greg Exarhos at Pacific Northwest National Laboratory on being elected treasurer of the AVS: Science and Technology of Materials, Interfaces, and Processing, formerly known as the American Vacuum Society. Founded in 1953, the AVS has 4500 members worldwide. Society members include scientists, technologists, students, and educators. AVS promotes communication between people hailing from academia, industry, and government laboratories to share research findings and new developments via international symposia, sponsored meetings, workshops, and AVS's Journal of Vacuum Science and Technology, Surface Science Spectra, and Biointerphases.
Exarhos was selected for this role because of his deep commitment to AVS and his outstanding reputation in the scientific community. Exarhos has been involved with the AVS for some two-dozen years. Previous appointments within the society include president, board of directors, publications committee chair, International Symposium Program Chair, and governance committee chair. He was elected a Fellow of the AVS in 2003. At PNNL, Exarhos, a Laboratory Fellow, holds the position of Associate Director, Chemical & Materials Sciences Division. He conducts fundamental research focused on the deposition and properties modification of transparent conducting oxide films, Raman spectroscopy of condensed-phase materials, and measurements of the nonlinear optical response of thin films and composite structures.
Exarhos will begin his five-year term in January 2013.
---
Page 519 of 1002