Page 522 of 1002
Physcial Sciences Division
Staff Awards & Honors
December 2012
Nigel Browning Named AAAS Fellow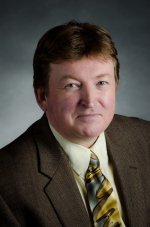 Dr. Nigel Browning
Congratulations to Dr. Nigel Browning at Pacific Northwest National Laboratory on being named a fellow of the American Association for the Advancement of Science. Browning received this honor for his work in electron microscopy, a type of microscopy that can zoom in to see the features of molecules. Browning has been pushing the limits of electron microscopy and spectroscopy since the early 1990s, when he succeeded in applying new technology to determine the composition of individual planes of atoms—an unexpected feat, given the state of the field at that time.
While at University of California, Davis in 2008, he received an R&D 100 award for developing dynamic transmission electron microscopy, or DTEM. This technology can zoom in on objects as small as a few nanometers big (a few billionths of a meter wide) and can catch a moment in time to reveal what happens over about 15 nanoseconds (15 billionths of a second long). This high resolution in time and space allows researchers to take snapshots of what is happening during chemical reactions, information that usually has to be inferred based on the final product. In one such determination, researchers revealed a never-before-seen chemical intermediate that blew in and out of existence in about 5000 nanoseconds, giving scientists a better handle on chemical reactions.
Browning joined PNNL in 2011 with a particular goal of making DTEM, which requires the samples to be in a vacuum, work at normal pressures and temperatures. He is conducting the work as part of his role as the Chief Science Officer at PNNL's Chemical Imaging Initiative. He earned a bachelor's degree in physics and mathematics from the University of Reading, United Kingdom in 1988 and a doctorate in physics from the University of Cambridge, United Kingdom in 1992.
---
Page 522 of 1002