Page 526 of 1002
Physcial Sciences Division
Staff Awards & Honors
November 2012
Fundamental Science Artfully Displayed in Calendar and Traveling Exhibit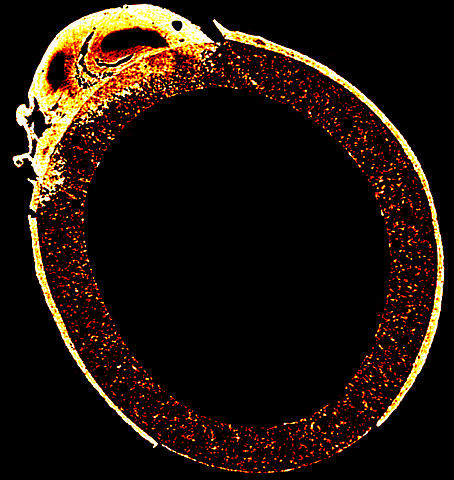 Enlarge Image
Researchers at Pacific Northwest National Laboratory are characterizing chemical and physical interactions of biofilms produced by microbes. As part of that research, this image, obtained using hard x-ray microtomography, shows a biofilm grown on a very small porous, hollow fiber. Research was funded by PNNL's Chemical Imaging Initiative, which is funded via the Laboratory Directed Research and Development program.
For the first time in Pacific Northwest National Laboratory's 47-year history, the lab is showcasing its science in a print calendar available to the general public. PNNL's 2013 "Discovery in Action" calendar features 13 captivating scientific images along with the stories behind them. The artwork will also go on the road as part of a traveling exhibit throughout Washington State.
"Science is amazing and beautiful," said Dr. John LaFemina, PNNL's director of Institutional Strategy. "The images in this calendar and traveling art exhibit clearly illustrate that the work we do at PNNL contributes to the safety, security and prosperity of our nation. They are also inspirational expressions of the creative skill and imagination of our staff; they are beautiful works of art."
Calendar images were selected from 99 staff-submitted entries during PNNL's third annual Science as Art contest. The 12 winning entries were selected by the general public, who could vote for their favorite images on PNNL's Facebook page this spring. Of note is the biofilm research image, created by scientists in PNNL's Chemical Imaging Initiative, that won the People's Choice Award.
Adjacent to each image is information that shows the science behind the beauty. The captions describe the science and its importance. The captions also list the PNNL team members involved along with collaborators at other institutions. User facilities, including EMSL and the Advanced Photon Source, are noted. Funding agencies, including the Department of Energy, Department of the Interior, and Nuclear Regulatory Commission, are also called out.
PNNL's 2013 "Discovery in Action" calendar, published by BrownTrout Publishers, Inc., is available in limited quantities for purchase online at Amazon.com. A downloadable PDF of the calendar is also available. Artwork presented in the calendar will also be on display at Columbia Basin College Planetarium Dec. 3-Feb. 1, and LIGO Hanford Observatory Jan. 28-March 1. Other upcoming exhibit locations include the Pacific Science Center in Seattle, WSU Tri-Cities, and other locations.
---
Page 526 of 1002