Page 456 of 698
Atmospheric Sciences & Global Change
Research Highlights
October 2012
Connections for the Building Energy Efficiency Community
Online database facilitates collaboration and communication in building energy efficiency efforts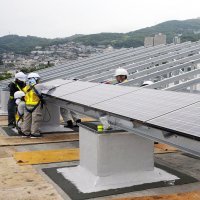 Enlarge Image
Solar panel installation on the Public Works building roof at Fleet Activities, Sasebo, Japan. The panels are part of a project to improve energy efficiency on the base.
Courtesy of Wikimedia Commons, U.S. Navy
.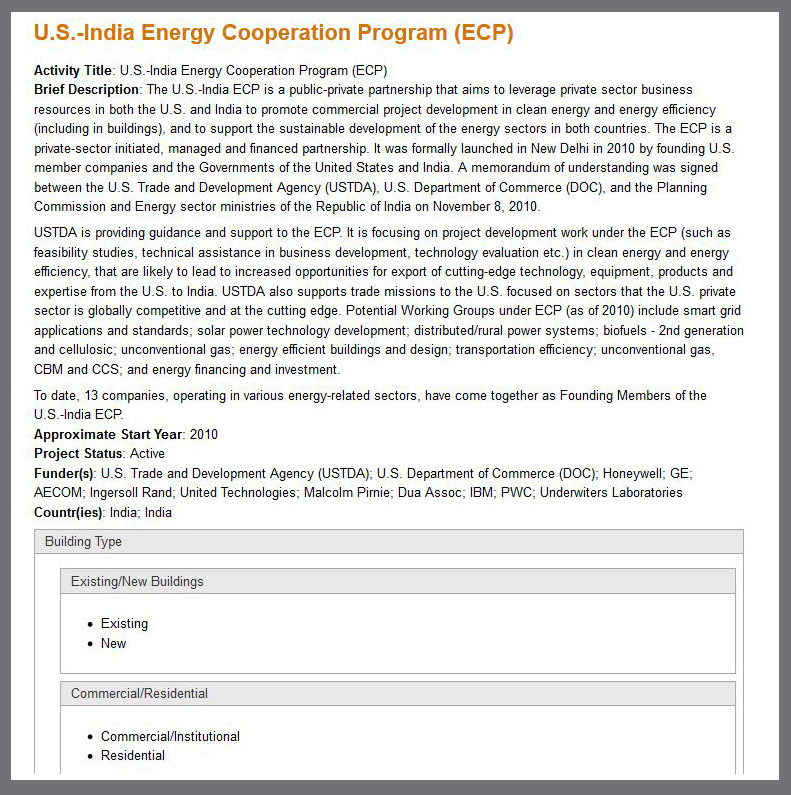 Enlarge Image
This sample screen shot of the IBEX database results shows how registered users view the types of information typical of specific and focused searches.
Results: As a leader in innovative and energy-saving solutions, the United States is influencing world advancements through multilateral initiatives on energy efficiency and renewable energy. This market has grown substantially in recent years, so staying current with this ever-developing information is a challenge.
Now, the world-wide energy-efficiency community has an online resource. The International Building Energy eXchange (IBEX) online database was developed by researchers at the Joint Global Change Research Institute in Maryland and Pacific Northwest National Laboratory in Washington State. IBEX provides access to a storehouse of global information related to building technologies, technology advances, and activities in building energy efficiency.
Why It Matters: In a world that's exploding in population and demands for first-world living standards, clean and secure energy supplies have become a top challenge not only for the United States, but across the globe as well. As a leader in developing new technologies to meet those demands, the United States is working to collaborate and share those advancements, spreading the benefits worldwide.
Energy-efficiency technologies in buildings are a major area where collaboration and communication can have a large effect. In the United States alone, building energy use accounts for over 70 percent of the electrical use. Energy-saving practices such as "cool roofs" are estimated by the U.S. Department of Energy to save up to 15 percent of air conditioning costs for a single-story building.
The IBEX is a tool that will collect and communicate such advancements, technologies, and future energy-efficiency developments to facilitate sharing knowledge and foster collaboration among nations, international groups, researchers and private entities.
"Over the span of a year, we have collected information on nearly 400 current and recent buildings energy-efficiency projects funded by the United States alone," said Alison Delgado, lead scientist on the project. "There are a vast number of U.S. organizations working in this field. IBEX brings this information together in one place so that government, private companies, researchers and project developers can learn about where government and other organizations are investing on energy efficiency in buildings, and can thus make the appropriate linkages with people, funders and organizations."
Methods: Available online beginning in early August 2012, the IBEX database stores information related to energy efficiency and renewable energy in buildings. For instance, information about projects related to the building envelope— windows, insulation, roofs and other materials—is available, by year, funding agency, and/or country. Information includes international projects and communication activities, both funded by the U.S. Department of Energy and other U.S. federal agencies, development banks, and selected foundations and non-governmental organizations. IBEX also contains information on projects that address building appliances.
The database allows users to search for activities based on country, building technology or technical area, such as building design and retrofits. Users can refine their search by efficiency activity type, such as R&D or deployment, and other project characteristics. The usefulness of the database format allows users to mix and match their search criteria to refine their ability to locate the precise information. Users will find the database valuable in discovering the scope and opportunities in international activities promoting energy efficiency.
Project funding agencies looking to increase leverage in the research community can learn in advance about related activities to use project funds to their fullest extent. Project managers can collect information on potential collaborators and make contact with those entities. The information is useful for U.S. private companies to track potential markets and technology trends. And researchers can use the tool to locate geographic trends in projects and project types, to plan future areas of investigation. IBEX lists contact information and web links for the organization heading or funding the project, ensuring that the user can access the latest information. In this way, IBEX facilitates learning about opportunities for collaboration on research, development and deployment of building technologies and knowledge on potential markets.
"I found the database to be a great resource reflecting the past and existing projects supported by U.S. federal government agencies," said Dr. Shui Bin, Visiting Fellow at the American Council for an Energy-Efficient Economy. "It is a useful tool to acquire new information for a diverse user community."
What's Next? The database developers foresee this tool being useful not only in the building energy-efficiency arena, but the broader community of all energy-efficiency efforts. The tool is designed to take advantage of synergies and collaborations within a growing community to expand the benefit and lead to the next step.
Acknowledgments: The database build and technical maintenance is supported by the U.S. Department of Energy, Energy Efficiency & Renewable Energy Building Technologies Program.
Research Team: Meredydd Evans and Alison Delgado at PNNL; Database software developers: Keith Fligg, Michael Madison, and Andrew Piatt at PNNL.
---
Page 456 of 698