Page 908 of 941
Physical Sciences
Research Highlights
May 2006
Golden Cages
PNNL researcher and Washington State University professor Lai-Sheng Wang, working with colleagues Xiao Cheng Zeng and Satya Bulusu, both of the University of Nebraska, and Xi Li, a WSU graduate student, created hollow nanoscale cages of gold atoms. These are the first known metallic equivalents of carbon fullerenes, also called buckyballs.
Carbon fullerene has 60 carbon atoms arrange in five- and six-sided arrays, formed into a sphere resembling a soccer ball 10 angstroms in diameter. The gold structure has 16 to 18 atoms arranged in triangles. The resulting spheres, averaging 5.5 angstroms in diameter, are large enough to contain a small atom.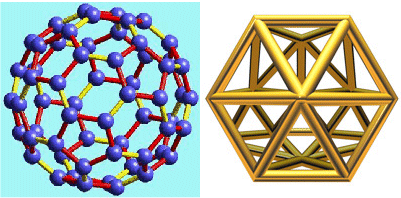 Carbon fullerene, made up of 60 carbon atoms, is about 10 angstroms in diameter. The 16-atom gold cage is about 5.5 angstroms in diameter.
The spheres were created by vaporizing gold with a laser in a vacuum. Both photoelectron spectroscopy and theoretical studies were used to evaluate the condensate. Clusters of 15 or fewer atoms formed a planar array; 19 or more atoms formed a solid.
In large quantities, gold reacts with very few chemicals. In small quantities, a few atoms, gold changes. "It becomes highly reactive, a very good catalyst," according to Wang. The next step is to attempt to put another atom inside the cage, creating the possibility of materials with novel chemical, magnetic, or optical properties.
An article with more detail is available on the National Academy of Science website.
---
Page 908 of 941