Page 531 of 982
Physical Sciences
Research Highlights
June 2012
Teaming, Integration Lead to R&D 100 Award
Graphene nanostructures for lithium batteries enable rapid recharge of electric vehicles and consumer electronic products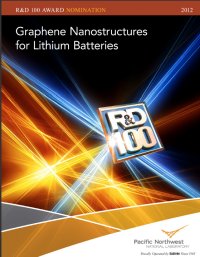 Enlarge Image
Scientists at Pacific Northwest National Laboratory, Vorbeck Materials Corporation, and Princeton University are among a team that will receive a 2012 R&D 100 Award for developing a nanocomposite material incorporating graphene that greatly improves the performance of lithium batteries. They have also created the methods for applying them to the batteries. The award, given by R&D Magazine, recognizes the year's 100 most significant scientific and technological products or advances.
PNNL staff named on the award are Jun Liu, Gordon Graff, Xiaolin Li, Donghai Mei, Kevin Rosso, Birgit Schwenzer, Yongsoon Shin, Maria Sushko, Jian Zhi Hu, Vijay Murugesan, Wendy Bennett, Daiwon Choi, John Lemmon, Zimin Nie, Wei Wang, Jie Xiao, Wu Xu, Jason Zhang; Laxmikant Saraf and Chongmin Wang. This team spans three different organizations at PNNL: Fundamental & Computational Sciences Directorate, Energy and Environment Directorate, and EMSL.
Said Graff, "Jun and I have worked very hard to establish strong teams across the lab and with our collaborators, and the entire team won this award. A major strength of PNNL is our ability to work across organizational boundaries."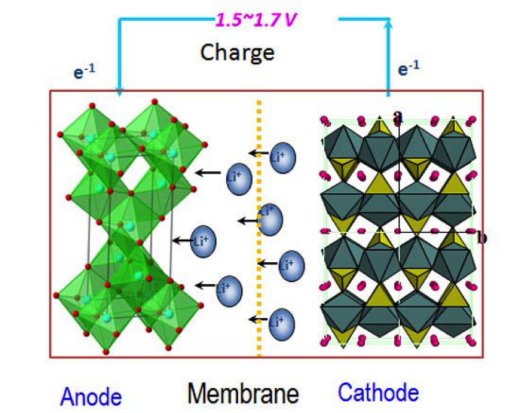 Simple schematic of a Li-ion battery illustrating the conventional graphite anode and metal oxide cathode. Lithium ions move from the cathode to the anode during battery charging then move in the reverse direction upon discharge.
PNNL took Vorbeck's proprietary functionalized graphene sheet material, commercially available as Vor-x™, and developed a way to use it in graphene-based battery electrodes. The unique properties of graphene, combined with specifically designed chemical modification of the graphene and assembly into novel structures, has advanced the limit on for lithium battery energy storage. The new material delivers increased battery capacity, a longer cycle life, and increased specific power at high charge-discharge rate, which are critical to expanding the adoption and use of electric vehicles.
The work was supported by the U.S. Department of Energy (DOE) Office of Basic Energy Sciences, the Transformational Materials Science Initiative at PNNL and a Cooperative Research and Development Agreement (CRADA) with Vorbeck through DOE's Office of Energy Efficiency and Renewable Energy.
This was one of two R&D 100 Awards PNNL received this year. (See the complete list here.) The winners will be recognized November 1 in Orlando, Florida, at the awards ceremony sponsored by R&D Magazine.
More details are available in the PNNL News Center.
---
Page 531 of 982