Page 568 of 1002
Physcial Sciences Division
Staff Awards & Honors
March 2012
Two Scientific Articles on Graphene-Based Sensors Prove Popular in the Research Community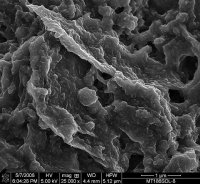 Articles on graphene-based biosensors by Pacific Northwest National Laboratory staff have been widely accessed and cited.
Enlarge Image
When it comes to checking for trace levels of chemicals that could be the early warning signs of disease or chemical exposure, doctors and patients want to use as small of blood samples as possible. This drive for small samples is spurring the scientific community to examine graphene: durable, conductive, and easy-to-tailor two-dimensional carbon sheets. Two articles on graphene biosensors by scientists at Pacific Northwest National Laboratory and Princeton University have proven quite popular. The articles are being regularly accessed online and are amassing citations.
The first article is on creating a glucose detector by combining graphene with a glucose-sensing enzyme and chitosan. Because graphene has a high surface-to-volume ratio and excellent electron conductivity, the researchers immobilized enzymes in graphene/chitosan nanocomposite film and demonstrated the excellent sensitivity and stability for measuring glucose. This article, in Biosensors and Bioelectronics in 2009, has been cited 128 times, and is in the list of most-cite articles of the journal.
In another popular article, the authors reviewed graphene-based sensors. They covered the fundamental science, including how electrons move between the graphene electrode and the enzyme without mediators. They also discuss graphene-based electrodes for detecting dopamine and other biomolecules for industrial and clinical uses. Scientists have cited the paper 123 times, and it was the second most accessed article in Wiley's Electroanalysis in February 2012.
Acknowledgments:
Funding: Both studies were funded by the Transformational Materials Science Initiative, a Laboratory-Directed Research and Development effort at PNNL; the review article work was also funded by the National Institutes of Health CounterACT Program through the National Institute of Neurological Disorders and Stroke
User Facility: EMSL
Research Team: Yuyan Shao, Jun Wang , Hong Wu, Jun Liu, and Yuehe Lin, PNNL; Xinhuang Kang, a visiting scientist; and Ilhan Aksay, Princeton University
References: Shao Y, J Wang, H Wu, J Liu, IA Aksay, and Y Lin. 2010. "Graphene Based Electrochemical Sensors and Biosensors: A Review." Electroanalysis 22(10):1027-1036. DOI:10.1002/elan.200900571.
Kang X, J Wang, H Wu, IA Aksay, J Liu, and Y Lin. 2009. "Glucose Oxidase-Graphene-Chitosan Modified Electrode for Direct Electrochemistry and Glucose Sensing." Biosensors and Bioelectronics 25(4):901-905. DOI:10.1016/j.bios.2009.09.004.
---
Page 568 of 1002