Page 567 of 1002
Physcial Sciences Division
Staff Awards & Honors
March 2012
Nigel Browning Named as Wiley Research Fellow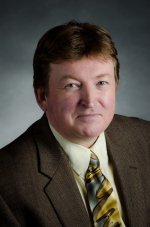 Dr. Nigel Browning
Congratulations to Dr. Nigel Browning, Pacific Northwest National Laboratory's Chief Scientist for Chemical Imaging and world-renowned scientist in materials physics, on being selected as a William R. Wiley Research Fellow at the Department of Energy's EMSL. Browning was selected based on recognition of his strong contributions to the microscopy capabilities and research at the user facility. The Wiley Research Fellows program recognizes scientists who make significant contributions to EMSL outside of their individual research efforts.
Browning was selected for his work on developing new chemical imaging methods drawing on electron microscopy of materials and biological structures. Browning was specifically recognized for his current and planned contributions to the development and deployment of new microscopy capabilities in EMSL with the dynamic transmission electron microscope (TEM) and liquid-helium cryo-TEM. In addition to his skilled research, he is also a highly valued mentor to EMSL microscopy staff, working with early career staff in developing specific activities in which they can build their own expertise.
Scientists named as Fellows actively participate in developing plans and strategies to guide EMSL's instrument and capability investments, science themes, and user activities. Fellows also are consultants for EMSL users and advocates for the user program. The Fellows program is named after William R. Wiley, a former director of Pacific Northwest National Laboratory, who first conceived the idea of a DOE Office of Science molecular sciences user facility and whose advocacy led to its creation.
---
Page 567 of 1002