Page 259 of 559
Biological Sciences Division
Staff Awards & Honors
March 2012
Modeling Paper Wins Society of Toxicology Award
Model links exposure and dose from pesticide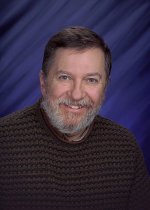 Dr.Charles Timchalk
Congratulations to Pacific Northwest National Laboratory toxicologists Dr. Charles Timchalk and Dr. Torka Poet, who co-authored a paper selected as the best modeling paper of 2011 by the Society of Toxicology's Biological Modeling Specialty Section. They will be honored at the Society's annual meeting in March.
The paper, which appears in the February 2012 issue of Regulatory Toxicology and Pharmacology, describes development of a model that links exposure and dose information for the agricultural pesticide chlorpyrifos. The PNNL scientists and colleagues at The Dow Chemical Company expanded an existing model to describe the impact of chlorpyrifos when ingested as crop residue.
Models that link exposure, dose, and response can be used to investigate differences in risk for different age groups and in potentially sensitive populations. The paper describes the expansion of an existing physiologically based pharmacokinetic/pharmacodynamic (PBPK/PD) model to describe the impact of individual physiology and metabolic variation on the response of populations of 3- and 30-year-old humans.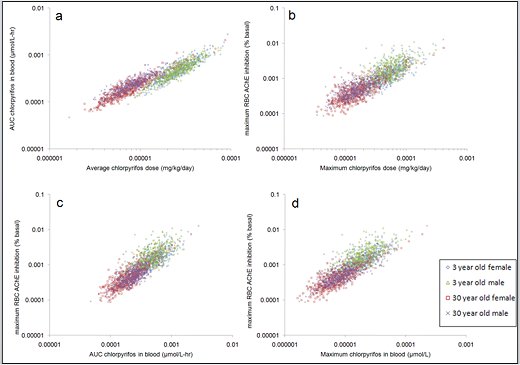 Correlation of dose, biomarkers of exposure (area under the curve (AUC) of chlorpyrifos in blood) and response (red blood cell (RBC), acetylcholinesterase (AChE) inhibition).
A PBPK/PD model is an important tool for predicting internal, target tissue dosimetry of chemicals in the body. This kind of modeling is the gold standard in regulatory agencies for extrapolating from animals to humans; from high doses used in toxicity testing to low, environmentally relevant human exposures; and from one route of exposure to another. The model developed at PNNL included differences in physiology and variation in metabolism in humans at age 3 and 30. The approach can be extended to other chemicals and age groups.
The work was sponsored by The Dow Chemical Company. The paper's lead author is former PNNL scientist Dr. Paul Hinderliter, now of Syngenta, and co-authors along with Timchalk and Poet are Paul Price and Michael Bartels, Dow Chemical.
Reference: Hinderliter PM, PS Price, MJ Bartels, C Timchalk, and TS Poet. 2012. "Development of a Source-to-Outcome Model for Dietary Exposures to Insecticide Residues: An Example Using Chlorpyrifos." Regulatory Toxicology and Pharmacology 61(1):82-92. DOI:10.1016/j.yrtph.2011.06.004.
---
Page 259 of 559