Page 260 of 559
Biological Sciences Division
Staff Awards & Honors
March 2012
Kodali, Sharma Named Outstanding Postdocs for Nanotox Research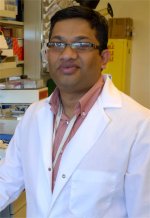 Dr. Vamsi Kodali
Dr. Gaurav Sharma
Congratulations to two postdoctoral researchers at Pacific Northwest National Laboratory who are being honored for their work on nanomaterials research. Dr. Vamsi Kodali and Dr. Gaurav Sharma will receive two of three Outstanding Postdoctoral Awards given by the Nanotoxicology Specialty Section at the Society of Toxicology annual meeting in March.
Kodali works on in vitro systems in the Center for Nanotoxicology at PNNL sponsored by the National Institute of Environmental Health Sciences. He uses scavenger receptors as a model system to better understand the mechanism of nanoparticle uptake and elucidate the health effects of nanoparticle exposure.
Sharma is part of the Battelle-sponsored Multi Scale Toxicology Initiative program at PNNL. In his research he is using experimental and theoretical models to predict the effects of nanoparticle agglomeration state on oxidative stress mediated gene regulation.
Both are mentored by Dr. Brian Thrall, Systems Toxicology Chief Scientist at PNNL.
---
Page 260 of 559