Page 544 of 970
Physical Sciences
Research Highlights
February 2012
Gases Drawn Into Smog Particles Stay There
SPLAT helps pinpoint pollution particles to improve smog predictions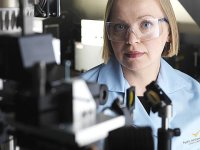 SPLAT II provides measurements of particles with unprecedented sensitivity and precision to scientists such as Alla Zelenyuk.
Enlarge Image
Airborne gases settle in smog particles from which they cannot escape, according to research published February 21 in the Proceedings of the National Academy of Sciences. The results could explain why pollution computer models underestimate organic aerosols—the major component of smog particles and the least understood component in climate change calculations.
The study, led by University of California, Irvine air chemist Barbara Finlayson-Pitts, combined alpha-pinene, a common ingredient in household cleaners such as Pine Sol and outdoor emissions, with oxides of nitrogen and ozone to mimic smog buildup. Atmospheric chemist Alla Zelenyuk at Pacific Northwest National Laboratory evaluated millions of the artificial smog particles one-by-one using a one-of-a-kind, 900-pound instrument known as SPLAT (a single particle laser ablation time-of-flight mass spectrometer).
SPLAT lives at EMSL, DOE's Environmental Molecular Sciences Laboratory at PNNL. The researchers also employed a 26-foot-long "aerosol flow tube" at the AirUCI unit.
"Being able to study individual particles gives us so much detail about how pollution evolves," said Zelenyuk. "Incorporating what we found about these particles into computer models will help in modeling pollution and climate as well."
Read the entire release from the University of California, Irvine here.
Acknowledgments:
Funding: US Department of Energy Office of Basic Energy Sciences Chemical Sciences, Geosciences and Biosciences Division and the National Science Foundation
User Facility: EMSL
Research Team: Véronique Perraud, Emily A. Bruns, Michael J. Ezell, Stanley N. Johnson, Yong Yu, Wayne L. Chang, Donald Dabdub, and Barbara J. Finlayson-Pitts, University of California, Irvine; James F. Pankow, Portland State University; Dan Imre, Imre Consulting; and M. Lizabeth Alexander and Alla Zelenyuk, PNNL.
Reference: Perraud V, EA Bruns, MJ Ezell, SN Johnson, Y Yu, ML Alexander, A Zelenyuk, D Imre, WL Chang, D Dabdub, JF Pankow, and BJ Finlayson-Pitts. 2012. "Nonequilibrium Atmospheric Secondary Organic Aerosol Formation and Growth." Proceedings of the National Academy of Science of the United States of America 109(8):2836-2841. DOI:10.1073/pnas.1119909109.
---
Page 544 of 970