Page 591 of 1002
Physcial Sciences Division
Staff Awards & Honors
December 2011
Jean Futrell Earns ASMS Honor, Makes 'History'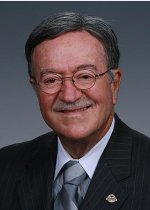 Jean Futrell
Congratulations to Dr. Jean Futrell, Battelle Fellow at Pacific Northwest National Laboratory, who has been designated by the Board of Directors of the American Society for Mass Spectrometry as a pioneer in his field. As part of the honor, Futrell's mass spectroscopy story will be included as part of the Chemical Heritage Foundation's Oral History Program, collections of oral history interviews with people who have made breakthroughs in advancing scientific knowledge and practices in the 20th and 21st centuries.
As a graduate student in Dr. Glenn Seaborg's nuclear chemistry research group at University of California, Berkeley, Futrell focused his attention on chemical changes induced by ionizing radiation. This interest led him to create "crude" versions of large-scale gas chromatographs to purify starting materials and small-scale ones to separate fractions. Mass spectrometry offered the most sensitive analytical method to identify their contents. This "brute-force" combination of gas chromatography and mass spectrometry began his odyssey in developing innovative instrumentation to decode and decipher fundamental chemical reactions in extreme chemical environments.
Futrell employs an if-you-cannot-buy-it-build-it mentality that is a hallmark of his career, spanning military laboratories, academia, national laboratories and EMSL. His intuitive habit of seeking the next important means for advancing mass spectrometry—ion optics, reaction kinetics, ion-molecule reactions, analytical chemistry—led Futrell to create 20 new mass spectrometers, either via major overhauls of commercially available models or from ground-up designs, including the key invention of tandem mass spectrometers.
"I pushed the envelope quite hard for a long run of experiments in several laboratories," Futrell said. "Finding things that impede what you are doing and solving it is what keeps you in the race."
Although he is recording his history in mass spectrometry, Futrell continues to contribute to the field. He is delighted to be a member of Pacific Northwest National Laboratory's team developing the next-generation, very-high-resolution Fourier transform ion cyclotron resonance mass spectrometer, to be housed at EMSL.
"Mass spectrometry is a uniquely valuable tool for both discovering new science and practical applications," he said. "National labs are unique places where both of those pillars of technology are appreciated."
Futrell's personal perspectives on mass spectrometric instrumentation will be recorded during a two-day audio/video session in Richland, Washington, next spring.
---
Page 591 of 1002