Page 950 of 1002
Physcial Sciences Division
Staff Awards & Honors
November 2006
Julia Laskin Edited New Compendium on Mass Spectrometry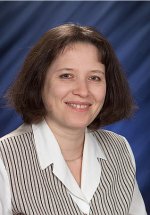 Julia Laskin
Congratulations to Julia Laskin in the Fundamental Science Directorate on serving as the editor for Principles of Mass Spectrometry Applied to Biomolecules. In this role, Julia gathered and edited reviews, opinions and articles from more than 25 experts around the world. This process was made more challenging by the unexpected passing of co-editor Chava Lifshitz in March 2005.
Published in October 2006, the 687-page tome provides in-depth information on the fundamental principles, recent advances and limitations of mass spectrometry in life sciences. The book assists researchers in selecting the best techniques and exploring innovative spectrometry applications for their own discoveries.
In addition to working on this book, Dr. Laskin conducts research in mass spectrometry, particularly ion-surface interactions, which has been published in numerous peer-reviewed journals. She also serves on the Board of Directors for the American Society of Mass Spectrometry.
Citation: Principles of Mass Spectrometry Applied to Biomolecules. Julia Laskin and Chava Lifshitz (Eds.), Wiley, Hoboken, NJ, 2006.
---
Page 950 of 1002