Page 557 of 740
Atmospher Sci & Global Chg
Research Highlights
July 2011
Carbon Cycle Expert Presents Progress on Climate Modeling
Understanding how the ecosystem affects the carbon budget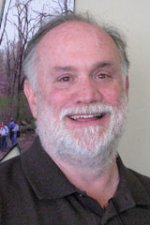 David Schimel
The ability of the earth system to handle and store carbon is variable and complex, according to Dr. David Schimel, Principal Investigator and Chief Science Officer at the National Ecological Observatory Network. To improve climate predictions, accounting for how carbon is released from and stored in the land, known as carbon cycle dynamics and feedbacks, is beginning to be incorporated in global climate models. Climate and ecosystem scientists are working to understand the relationship between observations, experiments and modeling results to understand the response of the carbon cycle to emissions.
Schimel presented his work to forecast and understand land-ecosystem impacts on the carbon cycle at the global scale as part of the Frontiers in Global Change Seminar Series, June 21. The seminars, held at Pacific Northwest National Laboratory, allow experts to share results of studies and novel ideas in global climate change.
Carbon cycle: The global carbon budget is a complex system of biological, chemical, and physical processes that modulate atmospheric carbon dioxide (CO2), a prominent greenhouse gas. Human decisions have introduced additional perturbations to the carbon cycle, in the form of fossil-fuel burning, cutting down forests, and land use changes, just to name a few.
"We need to wrap this earth system problem inside an understanding of the human system as well," said Schimel, describing the human dimension of the carbon cycle questions.
Global climate modeling: While global climate models generally agree on historic emissions, current results vary widely under future climate change conditions. Work in the 1990s showed that allowable carbon emissions might vary greatly. Providing policymakers with a wide emissions reduction range such as a 50-90 percent is impractical at best. New climate modeling tools are incorporating observational data with climate variables to simulate future climate changes and improved approaches for observing carbon release and uptake.
Introducing NEON: The National Ecological Observatory Network was created to understand and forecast the impacts of climate change, land use change, and invasive species on continental-scale ecology by providing an observational infrastructure to support research, education, and environmental management in these areas. Existing monitoring systems are not optimized for detecting the impacts of climate change on ecosystems. This makes it likely that only the largest and most visible consequences of climate change are currently being detected. NEON was designed to bridge this gap.
Current status: Researchers are working to understand how carbon cycle feedbacks will alter future CO2 concentrations. Schimel's research team is assimilating new observational tools using satellites, networked surface observation stations, and aircraft sampling with the National Center for Atmospheric Research's Community Land Model. However, while gains have been made in tools and models for the carbon-climate system, few are addressing the whole coupled carbon-climate system.
"We can begin to answer those critical carbon feedback questions in our suggested models. We will then systematically flow those answers back into new questions," said Schimel.
Bio: Dr. David Schimel is the Chief Science Officer and Principal Investigator of the National Ecological Observatory Network in Boulder, Colo. He served as a Senior Terrestrial Scientist in the National Center for Atmospheric Research's Climate and Global Dynamics Division for 16 years and was a Founding Co-Director of the Max-Planck Institute for Biogeochemistry. A Fellow of the American Geophysical Union, Schimel served as a 1994-95 Convening Lead Author for the Intergovernmental Panel on Climate Change Report and he was on the team that received the 2007 Nobel Peace Prize for the IPCC Report. He has authored more than 150 papers on biogeochemistry climate impacts on ecosystems and the global carbon cycle.
---
Page 557 of 740