Page 284 of 559
Biological Sciences Division
Research Highlights
July 2011
A "Hair-Lasing" Tale
Ultraviolet laser measures carbon isotopes for accurate evaluation
Select to Play Video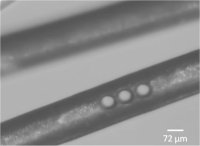 A horsehair sample was ablated three times using a laser spot size of 50 µm to demonstrate the spatial resolution of the system. Distinct isotopic values can be measured at just over 50 µm spacing along a solid sample.
Enlarge Image
Results: A team of Pacific Northwest National Laboratory scientists developed a technique that can take dozens of samples from a single piece of hair and distinguish between the signatures in each sample. This method, which uses an ultraviolet laser developed as part of PNNL's Microbial Communities Initiative, permits spatially resolved carbon stable isotope measurements versus standard methods that produce average, bulk-type measurements.
The research was featured in the April 12 issue of Rapid Communications in Mass Spectrometry and has also been covered online in Wired and ScienceNOW.
Why it matters: "This technique will be useful for forensic scientists," said PNNL's Dr. James Moran, who leads the development team. "The carbon you eat goes into your hair, so hair is a record of carbon ratios. If you've been traveling, I could guess which regions you've been to or what you ate."
The spatial resolution of this approach permits analysis of hair lengths corresponding to 1 day's growth, providing much more information than when analyzed by traditional methods, which can require as much as a month's hair growth.
However, there is a much broader significance for the analysis of microbes and organic matter in environmental matrices such as microbial mats and biofilms on plant biomass, soils, and sediments. Microbes are thought to be distributed heterogeneously at spatial scales of less than a millimeter. This technique provides an accurate way to sample that heterogeneity and assess its effects on the molecular composition of the microbial community.
Methods: Stable isotope measurements are a valuable tool for unraveling physical, biological, and chemical processes, interactions, and mechanisms at scales ranging from the atmosphere to individual microorganism cells. As applied to the Initiative, the enhanced sensitivity of the laser ablation measurement approach will be harnessed for measuring stable isotope content of nanogram amounts of RNA samples.
Analyzing the isotopic content of RNA can permit substrate tracking through microbial communities when a labeled substrate is applied. This approach also can be applied to microbial mat and biofilm systems, where carbon isotopes can be measured at distinct layers in the system.
What's Next: The team also is developing techniques that would work with other isotopes, including nitrogen and oxygen.
Acknowledgments: The research team includes Moran, Helen Kreuzer, Matt Newburn,
Liz Alexander, Robert Sams, and James Kelly, all PNNL. The Microbial Communities Initiative is a 5-year investment by PNNL that integrates biological/ecological experimentation, analytical chemistry, and simulation modeling. The objective is to create transforming technologies, explain mechanistic forces, and develop theoretical frameworks to analyze, predict, and ultimately understand microbial communities.
Reference: Moran JJ, MK Newburn, ML Alexander, RL Sams, JF Kelly, and HW Kreuzer. 2011. "Laser ablation isotope ratio mass spectrometry for enhanced sensitivity and spatial resolution in stable isotope analysis." Rapid Communications in Mass Spectrometry 25(9):1282-1290. DOI: 10.1002/rcm.4985.
---
Page 284 of 559