Page 502 of 559
Biological Sciences
Research Highlights
June 2006
Illuminating the Mechanism of Fluorophore-assisted Light Inactivation of Proteins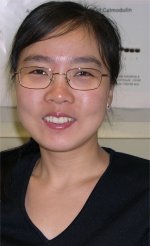 Contact: Ping Yan
Fluorophore-assisted light inactivation (FALI) is a technique used to inactivate targeted, tagged proteins. Used with cell-permeable multi-use affinity probes to conduct targeted protein inactivation with spatial and temporal control, FALI can be used to study physiological function. However, reliable FALI of proteins has been limited, because the mechanism of photoinactivation of proteins by FALI has not been understood.
Researchers at Pacific Northwest National Laboratory studied the mechanism of protein photoinactivation by FALI using the calcium regulatory protein calmodulin and the multi-use affinity probe 4',5'-bis(1.3,2-dithioarsolan-2-yl)fluorescein, or FlAsH. They found that FALI mediates protein inactivation through a mechanism that 1) oxidizes methionine side chains within a protein complex, and 2) activates histidine and other side chains as zero-length cross-linkers, which stabilizes protein associations for subsequent mass spectrometric identification.
Understanding the mechanism of FALI-mediated protein inactivation allows scientists to choose and design optimized target proteins and extends the use of FALI as a valuable tool for gaining a systems-level understanding of protein-protein interactions controlling cell function. For example, the results of this study provide a rationale for selectively inactivating key signaling proteins. FALI will also be an important tool for identifying the function of conserved hypothetical proteins through the selective inactivation of the protein in question and associated binding partners. Through FALI-induced cross-linking, the binding partners can be identified to shed light on the function of unknown proteins and their biological pathways.
This research was supported by the Genomics: GTL program of the U.S. Department of Energy's Office of Biological and Environmental Research. Results were published in Biochemistry in March 2006. The publication is co-authored by Ping Yan, Yijia Xiong, Baowei Chen, Sewite Negash, Thomas Squier, and Uljana Mayer.
Reference
Yan P, Y Xiong, B Chen, S Negash, TC Squier, and MU Mayer. 2006. "Fluorophore-assisted light inactivation of calmodulin involves singlet-oxygen mediated cross-linking and methionine oxidation." Biochemistry 45(15):4736-4748. doi:10.1021/bi052395a.
---
Page 502 of 559