Page 706 of 732
Atmospheric Sciences & Global Change
Research Highlights
May 2006
Carbon Dioxide Capture and Storage Technologies Analyzed for Role in Addressing Climate Change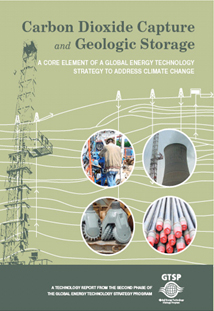 James J. Dooley, senior scientist at the Joint Global Change Research Institute, a collaborative venture between the U.S., Department of Energy's Pacific Northwest National Laboratory and the University of Maryland, unveiled a detailed analysis of the potentially critical role that carbon dioxide capture and storage (CCS) technologies may play in addressing global climate change at the Fifth Annual Conference on Carbon Capture and Sequestration. As lead author of Carbon Dioxide Capture and Geologic Storage: A Core Element of a Global Energy Technology Strategy to Address Climate Change Dooley described the actions that will allow CCS technologies to transition from their status as potential solutions to climate change to the point where these systems are deployed widely and have become safe, effective, and trusted cornerstones of the global energy system.
"The principal merit of carbon dioxide capture and storage technologies is their ability to significantly lower the cost of addressing climate change—potentially by hundreds of billions or trillions of dollars," said Dooley. "Carbon dioxide capture and storage technologies can do this by offering the potential for continued use of the earth's abundant fossil fuel resources while still making significant progress on climate change by preventing the release of carbon dioxide emissions to the atmosphere," he explained.
CCS systems are specifically designed to remove carbon dioxide from the flue gases and various process streams of large power plants and industrial facilities and safely deposit the carbon dioxide in secure storage sites deep underground – thus keeping it out of the atmosphere.
Analyses contained in the report represent a composite of more than 10 years of cutting-edge research conducted to better understand the significant potential of CCS technologies. Some of the key findings contained in the report include the following:
There is potential geological capacity to store more than 11,000 billion tons of carbon dioxide around the world, likely many times more than would be required in response to even the most strict climate mitigation policies over the course of this century.
Like other natural resources, the geologic CO2 storage reservoirs are not distributed evenly throughout the world. Nations—such as the United States—that have an abundant supply of these deep geologic CO2 storage formations will be able to maintain a robust, diversified fuel mix well into the future.
CCS technologies have the potential to deploy in many regions of the world and within many different economic sectors.
The electric power sector will be the largest potential market for CCS technologies: CCS systems will be most economic when deployed with new advanced coal-fired baseload electric power plants.
The next 5-10 years constitute a critical window for research and field experimentation in which to amass needed real-world operational experience with CCS systems before large-scale commercial adoption of CCS technologies begins.
Large-scale deployment of CCS systems will likely not begin until carbon permit prices exceed $25/ton CO2. This cost level is comparable to—and in some cases significantly less than—other large-scale CO2 emissions reduction and abatement options.
Much work needs to be done to ensure that the potentially large and rapid scale-up in the deployment of CCS can be safely accomplished.
Situated on the University of Maryland campus, the Joint Global Change Research Institute was founded in 2001 by the Pacific Northwest National Laboratory and the University of Maryland. One of the strengths of the Joint Institute is an interdisciplinary core group of leading researchers and their extensive network of domestic and international collaborators that encourages the development of global and equitable solutions to the climate change problem. PNNL is operated by Battelle, a not-for-profit research institute headquartered in Columbus, Ohio.
Additional contributors to the analysis were Battelle staff members at PNNL Casie Davidson, Bob Dahowski, Marshall Wise, Sonny Kim, and Elizabeth Malone, as well as Neeraj Gupta, Battelle Columbus Division.
See Carbon Dioxide Capture and Geologic Storage: a Core Element of a Global Energy Technology Strategy to Address Climate Change.
---
Page 706 of 732