Page 710 of 737
Atmospheric Sciences & Global Change
Research Highlights
May 2006
Mountain Snow Projected to Melt Dramatically in Some Regions, Moderately in Others
Global climate change is driven primarily by global changes in greenhouse gas concentrations. However, the climate response can have a complex spatial structure in regions with complex terrain because temperature, precipitation, and particularly snow accumulation are sensitive to surface elevation. Mountain snow is heavily relied on as a natural reservoir of water in many regions. Current global climate models cannot come close to resolving the spatial structure of snow water in regions with complex terrain, unless they are run at resolutions that are far too time-consuming to permit century simulations of climate change. Regional climate models can provide the necessary resolution, but only for limited areas. Studies of the impact of global climate change using regional climate models have projected significant reductions in snow water in some regions, but many regions have not been studied. To provide global estimates of climate impacts at high spatial resolution, PNNL researchers Steve Ghan and Tim Shippert applied a physically-based downscaling scheme (from global to regional scale) to a well-known climate model and used the model to provide the first global estimates of snow melt with 5 km spatial resolution for the period 1980-2100.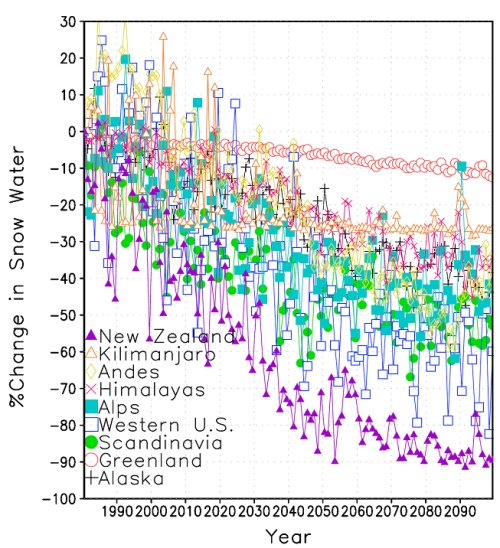 The downscaling scheme, developed by Ghan and PNNL researcher Ruby Leung, distinguishes between multiple elevation classes within each model grid cell, then distributes the simulated climate according to surface elevation. The scheme is fully interactive with the atmosphere and land components of the host climate model, and provides 5 km spatial resolution for any climate variable. Ghan and Shippert added the scheme to the Community Climate System Model from the National Center for Atmospheric Research, and used the model to simulate the climate for the period 1980-2100 using greenhouse gas concentrations from the Intergovernmental Panel on Climate Change A1B scenario. The figure shows the percent change in the regional and annual mean snow water for nine regions during the period 1980-2100. Snowmelt is dramatic in temperate regions such as New Zealand and the Western United States, but is much slower in colder regions, where the 2-3º C warming simulated during this period is insufficient to melt much snow.
See PNNL's press release: New century of thirst for world's mountains.
Citation: Ghan, S. J., and T. Shippert. 2006. "Physically-based global downscaling: Climate change projections for a full century." J. Climate, 19, 1589-1604.
---
Page 710 of 737