Pacific Northwest Distinguished Post-Doctoral Fellowship
DEADLINE FOR APPLICATIONS IS SUNDAY JANUARY 31, 2010 AT MIDNIGHT PST.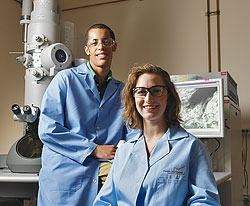 Program Overview
For more than four decades, scientists and engineers at Pacific Northwest National Laboratory have advanced the frontiers of science and delivered solutions to our nation's most pressing challenges in energy, environment, and national security. PNNL, known for delivering transformational science and technology and accelerating the rate of innovation, is creating new opportunities for recent Ph.D. graduates to learn cutting-edge approaches, utilize and build state of science capabilities, as well as contribute to research efforts that advance scientific frontiers and solve pressing challenges for the nation.
The Pacific Northwest Distinguished Post-Doctoral Fellowships at PNNL will provide full funding to its selected candidates on a major research project of their choice. The position will also include a highly competitive salary, benefits, and relocation, plus the availability of extra funding for travel and conferences. Selected candidates will be hired for a three-year maximum duration to complete their project.
Applicants for 2010
The Pacific Northwest Distinguished Post-Doctoral Fellowship at Pacific Northwest National Laboratory is accepting qualified candidate applications from recent PhD Graduates in Science & Engineering, who wish to conduct research on a project of their choice. Candidates will be required to submit the following items as one PDF uploaded attachment when applying to this position:
Current Resume or CV (including publication and presentation list)
Statement of Research Interest—5 pages, summarizing thesis and current work and plans for future work
Copies of Unofficial Transcripts (all levels)
A short essay on "Why PNNL is the right place for you"—including which one or two of the PNNL core capabilities below are of most interest.

Chemical and Molecular Sciences
Chemical Engineering
Biology Systems Science
Climate Change Science
Subsurface Science
Applied Materials Science and Engineering
Applied Nuclear Science and Technology
Advanced Computer Science, Visualization, and Data
Systems Engineering and Integration
Large-Scale User Facilities/Advanced Instrumentation
Additional information may be requested from the finalist candidates, including letters of recommendation and official transcripts.
Qualified candidates must meet the following minimum requirements:
Must have completed a PhD in a Science or Engineering field related to the mission areas of PNNL within the last three years, or by the start of the appointment.
Apply now!
NOTE - Please remember that when asked for your resume or CV, you will need to upload a single PDF that includes all parts noted above.
Questions about the Pacific Northwest Distinguished Post-Doctoral Fellowship
Please send an e-mail to university.recruiter@pnnl.gov. We will send a response to you within two business days.