NST Facilities
Access to state-of-the-art facilities and centers to conduct research in support of national security missions.
PNNL instructors have access to state-of-the-art facilities and centers to conduct research in support of national security missions. Below is a list of several facilities, centers, and other training spaces.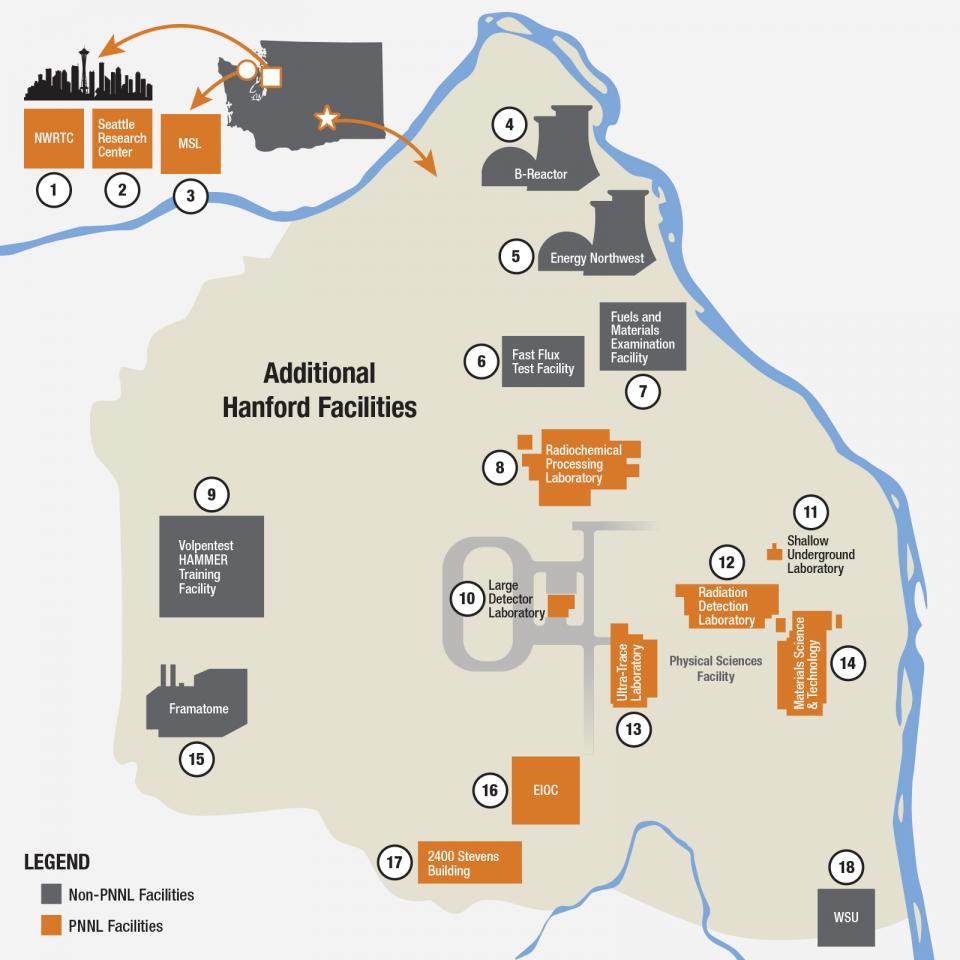 1. Northwest Regional Technology Center for Homeland Security
The Northwest Regional Technology Center for Homeland Security is a virtual resource center that supports regional preparedness, response, and recovery. The center enables homeland security solutions for emergency responder communities and federal, state, and local stakeholders in the Pacific Northwest.
2. Seattle Research Center
The PNNL Seattle Research Center is located in the heart of Seattle's South Lake Union area, near leading tech companies, research institutions, and universities. The Seattle office is home to research and policy expertise spanning the national security, energy, and environmental mission space and bringing courageous discovery and innovation to our laboratory at large. From global security to computational and data analytics to coastal sciences, energy, and environmental research, we tap into the region's innovation hotbed to tackle complex issues at the nexus of science, technology, and policy and grow our capabilities and impact lab-wide.
3. Marine Sciences Laboratory
The Marine Sciences Laboratory, headquartered at PNNL's Sequim Marine Research Operations facility on Washington State's Olympic Peninsula, is the U.S. Department of Energy's (DOE's) only marine research laboratory. This unique facility and its researchers deliver science and technology critical to the nation's energy, environmental, and security future.
At MSL, PNNL constructed an innovative on-the-water testing capability that provides a controlled, open-water maritime environment for small vessel radiological and nuclear standoff detection testing. MSL is further used for drills and demonstrations to inform federal, state, and local maritime law enforcement agencies of the importance of preventative radiation and nuclear detection on small vessels.
4. B Reactor
Completed in 1944, B Reactor was the world's first full-scale nuclear reactor and produced plutonium for the Fat Man atomic bomb dropped over Nagasaki, Japan, in 1945 helping to end WWII. It is now designated as a National Historic Landmark Site and offers periodic tours.
5. Energy Northwest
Energy Northwest operates the Columbia Generating Station, a nuclear power plant located 10 miles north of Richland and the PNNL campus. Reactor operator training is available in the Columbia Generating Station and tours are available for interns and visitors.
6. Fast Flux Test Facility
The Fast Flux Test Facility (FFTF) is a liquid-metal-cooled nuclear research and test reactor that was built in support of the now defunct Liquid Fast-Breeder Reactor Program, along with the nearby Fuels and Materials Examination Facility. These are not operating facilities. Active security test bed and scenario-based trainings are offered at FFTF.
7. Fuels and Materials Examination
The Fuels and Materials Examination Facility (FMEF) was intended to be a support building for FFTF and the future Liquid Fast-Breeder Reactor Program; however, the facility was never used in any nuclear capacity. When the nation abandoned the breeder reactor program, FMEF was left without a mission and remains unused and largely vacant today. Facility-based and scenario-based trainings are available at FMEF.
8. Radiochemical Processing Laboratory
The Radiochemical Processing Laboratory is a Hazardous Category II Non-Reactor Nuclear Facility located in Hanford's historic 300 Area. The laboratory contains a diverse inventory of materials and a nondestructive assay laboratory equipped with process monitoring, hoods and glove boxes, hot cells, shielded analytics, and centrifugal contractors.
9. Volpentest HAMMER Training and Education Center
The Volpentest HAMMER Training Center is internationally recognized for providing effective, hands-on training for homeland security, energy assurance, emergency responders, and cleanup workers. In partnership with this HAMMER, PNNL staff offer training to law enforcement officers, emergency medical responders, and military personnel in methods of managing responses to potential nuclear, chemical, or biological accidents and deliberate acts of terrorism. The facility offers realistic scenario-based instruction and technology demonstrations.
10-14. 

Physical Sciences Facility
The Physical Sciences Facility encompasses the Radiation Portal Monitoring Test Track and five laboratories: Radiation Detection Laboratory, Shallow Underground Laboratory, Materials Science Laboratory, and the Large Detector Laboratory. Scientific capabilities include analytical chemistry, radiation physics, light detection, particle detection, ultra-low-level counting, border and interdiction technology, and radiochemistry. Trainings offered include technology demonstrations using radiation detection equipment and scenario-based training.
15. Framatome
Expertise at Framatome's Fuel Fabrication Plant covers the entire nuclear fuel cycle, particularly related to conversion and fuel fabrication. Facility tours are available for interns and students, hosted by safeguards experts.
16. Electricity Infrastructure Operations Center
The Electricity Infrastructure Operations Center is a sophisticated research platform for energy operations technology development and demonstration. Equipped with operator workstations, communication links, and multiple video displays, the center is a fully functional control room, complete with industry-leading energy management system software and live grid data. In addition to developing and assessing tools for operating the grid more reliably, securely, and effectively, the center is used for training grid operators using realistic scenarios that enable them to recognize and respond to off-normal conditions.
17. 2400 Stevens Building
PNNL's instrumentation laboratory capabilities include system integration, nondestructive evaluation, radiation detection instrumentation electronics, and radiofrequency identity technology. Training offered includes instrument demonstrations.
18. Washington State University
Washington State University (WSU) and PNNL have a long-standing partnership focused on science, engineering, and technologies. WSU is one of only a handful of U.S. institutions offering a Radiochemistry Degree Program and is home to the TRIGA nuclear reactor, located at the Nuclear Reactor Center in Pullman. In 2018, WSU and PNNL launched three joint institutes to advance science and technology in areas that are critical for the nation and the Pacific Northwest.
Related organizations
Research topics