NST Approach
Delivering customized curriculum, training, and field exercises
Systematic Approach
PNNL uses ADDIE—Analyze, Design, Develop, Implement, Evaluate—and other instructional system design models to meet the sponsors' curriculum development needs in a systematic way.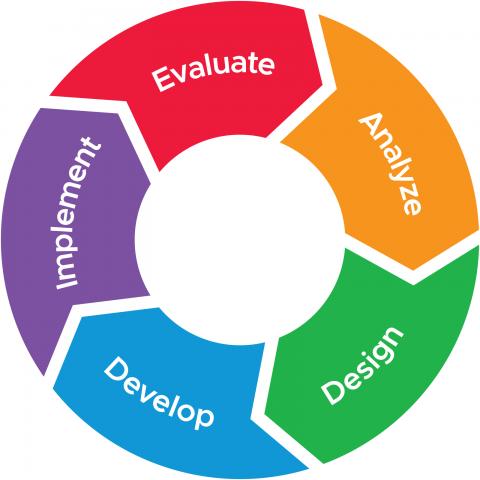 Analysis. Analysis provides a clear and comprehensive picture of training requirements and defines what results organizations can expect. PNNL uses assorted analysis tools to study organizational, occupational, and individual needs to determine performance outcomes that can be more closely evaluated and deliver the best return on investment.
Design. Through discussions with the client, subject matter experts, instructional designers, and course developers, PNNL determines the most effective course design, develops learning objectives, identifies evaluation needs, and determines the training settings, methods, and media that will be most effective.
Development. PNNL prepares professional, custom training materials to meet each client's learning objectives and to build consistency between iterations. These materials may include instructor guides, student materials, job aids, and visuals.
Implementation. To meet professional adult learning standards, PNNL delivers training through instructors who have strong technical expertise and strong instructional skills.
Evaluation. Evaluation examines all aspects of training effectiveness. PNNL evaluates training programs and systems for their ability to achieve learning objectives and documents lessons learned to improve both the training and the client organization.
People and Capabilities
PNNL instructors include nationally and internationally recognized experts in all areas of national security. They have extensive subject matter expertise and strong instructional skills. Many hold instructor certifications from the U.S. Department of Energy and other reputable organizations.
Our staff members' credentials make them uniquely qualified to implement a systematic approach to training efficiently and effectively. While not exhaustive, these credentials include the following:
Academic Degrees
Master's in Training and Learning Technologies

PhD in Instructional Design
Professional Training Societies
American Society for Training and Development

International Society for Performance Improvement
Professional Security Studies
International Security Management Association

Information Systems Security Association
Trainer Certifications
Certified Safeguards and Security Trainer

Certified Firearms Instructor.
Diverse Approaches. In addition to classroom training, our staff use diverse training approaches such as the following:
field training exercises to enhance practical skills by providing realistic scenarios and situations;

tabletop exercises to test or analyze a hypothetical but realistic situation;

distance learning methodologies such as web-based learning, video conferencing, simulations, and more to deliver the most effective learning approach; and

train-the-trainer approaches to prepare workshop participants to provide instruction on specific content at their own organizations. 
Teamwork. PNNL builds strong and lasting relationships with sponsors, partners, and collaborators to provide the best training experience for participants. This includes connecting with subject matter experts, partnering with other training organizations, and using external training facilities or resources.
Flexibility. PNNL conducts training programs at the most appropriate venues—whether in the field, the office, or at dedicated training facilities. We lead or coordinate training programs for our sponsors in nearly all major U.S. cities and in every corner of the world.
Sustainability. PNNL strives to create enduring programs that prepare indigenous populations to assume long-term responsibility for the training. This can include customized training materials, course management guides, and train-the-trainer activities to transfer the courses to clients.