News & Media
Latest Stories
15 results found
Filtered by Technical Training, Waste-to-Energy and Products, and Weapons of Mass Effect
National Security Training
PNNL experts develop training to strengthen our national security partners' capacity to fulfill job functions and meet international norms.
Training in the 21st century has become as wide-ranging and sophisticated as the work environment itself. Equally diverse are the driving forces behind training programs—whether keeping current on the latest technologies or staying abreast of emerging regulations. PNNL designs, delivers, and manages training programs that enable partners worldwide to understand their individual or organizational roles and responsibilities, fulfill a job function, or strengthen a particular skill set.
Through our national security training partnerships and programs, we deliver
systematic approaches to training – providing effective, efficient, and sustainable learning opportunities using instructional design and system approaches to training
foundations in science and technology – leveraging leading-edge technology to strengthen and magnify the impact of training events
access to legacy and operating facilities – creating realistic training environments at the Hanford Site and in operating facilities
comprehensive training solutions – offering diverse training programs that advance national security missions.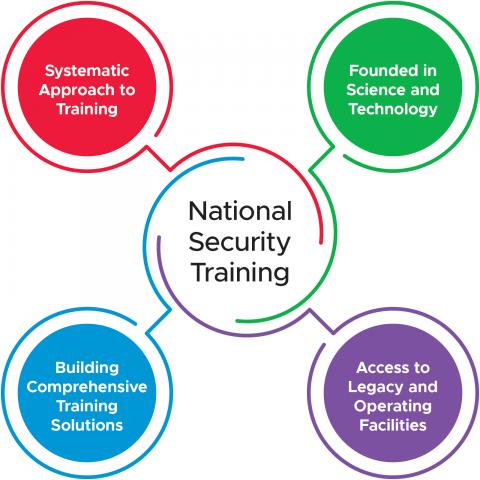 PNNL's training team includes professional instructional designers, instructors, course managers, and subject matter experts who work together to deliver high-quality training for our clients. Our training specialties are as diverse as the participants we train. Together, we draw upon a strong base of security knowledge, scientific innovation, and technology development to deliver training programs in the following subjects:
Border Security

Chemical and Biological Security

Critical Infrastructure Protection

Cyber, Information, and Computer Security Training

Emergency Response

Explosives Detection and Explosives Breaching

Fixed Site Nuclear Security

Security Instructor Training

International Safeguards

Nonproliferation and Arms Control

Security Personnel and Protective Force Training

Transportation Security Training

Strategic Trade Management.
Join our Team
Our multidisciplinary training development team is home to instructional designers, course developers, and technical and policy experts with experience spanning the global security realm, including:
Emergency and Crisis Response

Radiological Detection and Identification

International Nuclear Safety

Border Enforcement and Protection

Military Readiness

Nuclear Nonproliferation

Materials Protection and Control

Public Health

Weapons of Mass Destruction

Export Control

Special Operations

Occupational Health and Industrial Hygiene

Chemical, Biological, Radiological, Nuclear, Explosive
We're hiring! Apply today to join our team in delivering customized curriculum, training, and field exercise programs to partners around the world.
To learn more, contact nationalsecuritytraining@pnnl.gov. 
Shallow Underground Laboratory
Going deep underground for measurement science and detector development
Sixty feet underground, researchers work in clean rooms using an electroforming process to produce high-purity copper with ultra-low levels of naturally occurring radioactivity. The materials, some of the purest ever made, are a key ingredient in sensitive detectors used to advance fundamental physics research and support important security and environmental missions.
This high-purity copper is produced in PNNL's Shallow Underground Laboratory, one of the most modern laboratory spaces in the Department of Energy complex dedicated to low-background detector system development and production. The depth of the facility shields against radioactive backgrounds induced by cosmic rays, the most difficult source to shield against on the Earth's surface. A cleanroom air filtration system and positive pressure relative to the outside protects the facility from the radioactivity found in dust.
Through advances in materials storage, purity, and fabrication, PNNL scientists build highly sensitive radiation detectors to meet international security and basic research challenges. The nearly 6,600-square-foot facility houses some of the world's most sensitive instruments to test materials for trace levels of radioactivity and supports international treaty verification to prevent and counter acts of terrorism. The laboratory also plays a significant role in the search for dark matter in the universe.
Take a tour of the lab here.
Research topics
WMD Counterproliferation Training
PNNL develops training, exercises, and assessments to prepare and equip border security officers to detect, identify, and interdict the illicit movements of materials, commodities, and components associated with the development or deployment of a Weapon of Mass Destruction (WMD).
We provide a unique blend of expert instruction and hands-on training to border enforcement personnel including customs officers, border patrol, border guards, and the various military, police and law enforcement officials who investigate border smuggling and smuggling-related activities.
PNNL staff deliver national security-related courses and training workshops around the world. However, in today's environment, PNNL recognizes the necessity to focus on a blended approach to learning that incorporates one or any combination of engagement types including in-person, remote, and eLearning.  
Full courses, specific modules, comprehensive practicums, and exercises (or combinations thereof) can be made available for international and domestic partners. Because the remote learning landscape is different for each partner, PNNL prioritizes the best fit solutions to meet each individual engagement.
Countries Trained
The WMD Counterproliferation Training Program has trained over 70 countries domestically and internationally. The program's flexible and tailored approach can meet the unique needs of each country, both in terms of curriculum and training logistics.
Research topics