News & Media
Latest Stories
16 results found
Filtered by Geothermal Energy, Technical Training, and Waste-to-Energy and Products
National Security Training
PNNL experts develop training to strengthen our national security partners' capacity to fulfill job functions and meet international norms.
Training in the 21st century has become as wide-ranging and sophisticated as the work environment itself. Equally diverse are the driving forces behind training programs—whether keeping current on the latest technologies or staying abreast of emerging regulations. PNNL designs, delivers, and manages training programs that enable partners worldwide to understand their individual or organizational roles and responsibilities, fulfill a job function, or strengthen a particular skill set.
Through our national security training partnerships and programs, we deliver
systematic approaches to training – providing effective, efficient, and sustainable learning opportunities using instructional design and system approaches to training
foundations in science and technology – leveraging leading-edge technology to strengthen and magnify the impact of training events
access to legacy and operating facilities – creating realistic training environments at the Hanford Site and in operating facilities
comprehensive training solutions – offering diverse training programs that advance national security missions.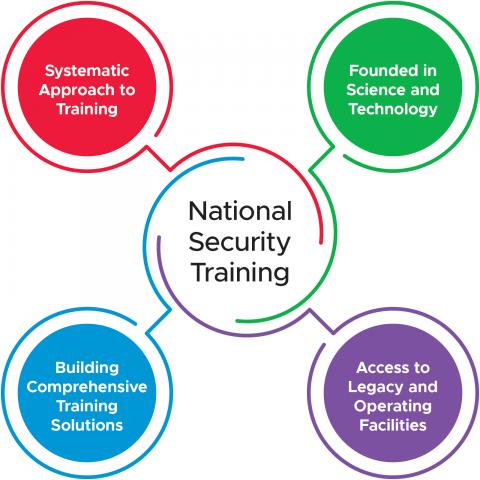 PNNL's training team includes professional instructional designers, instructors, course managers, and subject matter experts who work together to deliver high-quality training for our clients. Our training specialties are as diverse as the participants we train. Together, we draw upon a strong base of security knowledge, scientific innovation, and technology development to deliver training programs in the following subjects:
Border Security

Chemical and Biological Security

Critical Infrastructure Protection

Cyber, Information, and Computer Security Training

Emergency Response

Explosives Detection and Explosives Breaching

Fixed Site Nuclear Security

Security Instructor Training

International Safeguards

Nonproliferation and Arms Control

Security Personnel and Protective Force Training

Transportation Security Training

Strategic Trade Management.
Join our Team
Our multidisciplinary training development team is home to instructional designers, course developers, and technical and policy experts with experience spanning the global security realm, including:
Emergency and Crisis Response

Radiological Detection and Identification

International Nuclear Safety

Border Enforcement and Protection

Military Readiness

Nuclear Nonproliferation

Materials Protection and Control

Public Health

Weapons of Mass Destruction

Export Control

Special Operations

Occupational Health and Industrial Hygiene

Chemical, Biological, Radiological, Nuclear, Explosive
We're hiring! Apply today to join our team in delivering customized curriculum, training, and field exercise programs to partners around the world.
To learn more, contact nationalsecuritytraining@pnnl.gov. 
STOMP
Subsurface Transport Over Multiple Phases
STOMP is a suite of numerical simulators for solving problems involving coupled flow and transport processes in the subsurface. STOMP is based on mathematical equations that describe our understanding of hydrologic, thermal, thermodynamic, geochemical, and geomechanical processes. STOMP solves these equations by parsing a subsurface volume into computational blocks and then solving algebraic forms of the equations collectively for the blocks. The suite of STOMP simulators is distinguished by application areas and solved mathematical equations.
Overview
PNNL's Subsurface Transport Over Multiple Phases Simulator (STOMP) is an analytical tool for investigating coupled processes involving multifluid flow, heat transport, geochemistry, and geomechanics in the subsurface. The simulator was initially developed to assess nuclear waste repository performance but greatly expanded its application domains over its nearly three-decade development life. The simulator is now being applied to support laboratory and field investigations in a number of domains, such as environmental remediation/stewardship, geothermal resources, production of natural gas hydrates, subsurface permanent storage of carbon dioxide, and oil and gas recovery using conventional and unconventional technologies.
Some of the unique applications and features of the simulator for environmental work are the ability to model vegetated surface barriers, flow and transport in deep vadose zones under thermally altered states, and innovative technologies such as soil desiccation, soil vapor extraction, reactive barriers, and freeze walls.
For geothermal resource modeling, the simulator is fully capable of modeling hydrothermal systems, including geochemical reactions, such as those occurring through mineral dissolution or carbonate precipitation with carbon dioxide re-injection. It can also be applied to model enhanced/engineered geothermal systems (EGS) in hot dry rock, where fracturing is necessary to achieve permeability. For EGS, STOMP models fracture and borehole flow and transport via an embedded modeling approach.
STOMP is unique in the natural gas hydrate domain with its capabilities for modeling ternary gas systems, allowing for the investigation of production technologies involving depressurization, thermal stimulation, inhibitor injection, and hydrate forming gas injection.
Its fully coupled well models, geochemical module ECKEChem, and geomechanical model GeoMech, give the simulator fully coupled THMC capabilities for investigations of carbon sequestration in deep saline formations or utilization in enhanced oil recovery.
Beyond those capabilities of STOMP that are described here, PNNL has additionally developed capabilities for modeling unusual subsurface systems, such as the pyrolysis of oil shales using down-hole fuel cells. Whereas STOMP is routinely used for environmental assessments at U.S. DOE sites, its code structure and active development team allow it to be extended to new research and application domains.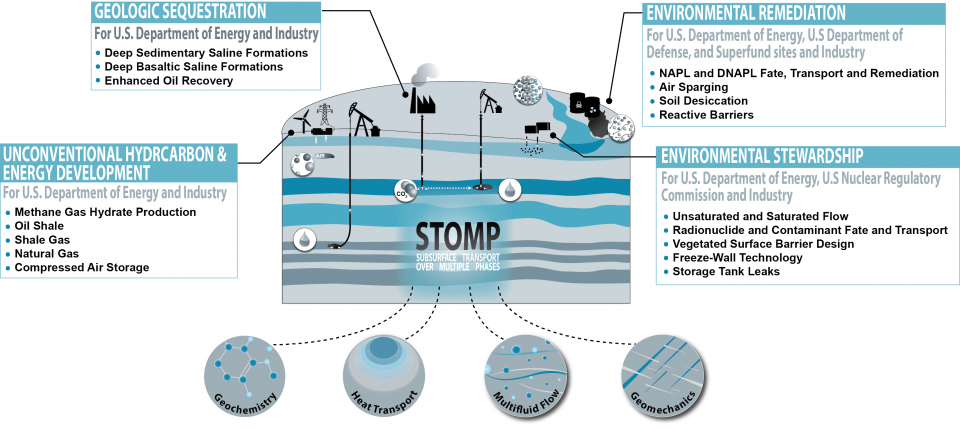 Modular Design
STOMP-W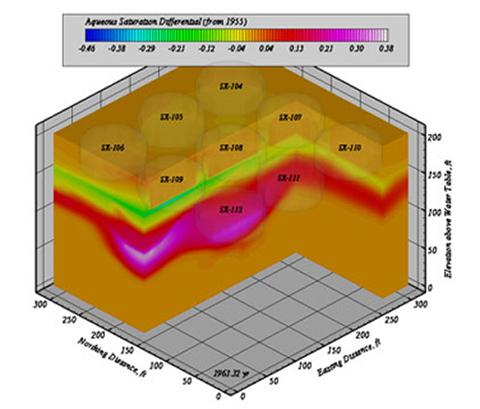 variably saturated flow and transport in water systems
aqueous geochemistry
environmental restoration and stewardship
vadose zone and groundwater interactions
STOMP-GT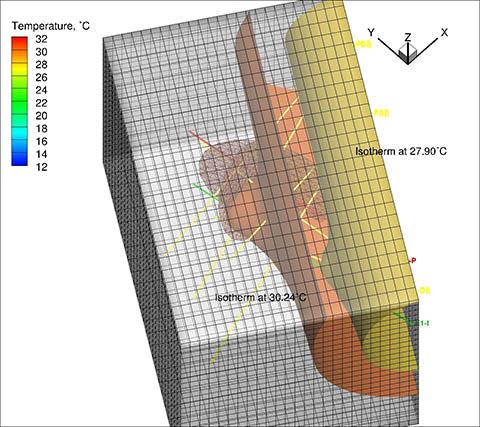 multifluid gas-brine systems with heat transport and geochemistry
sequentially coupled poro-thermo-elastic geomechanics
hydrothermal and enhanced geothermal systems
embedded fractures and boreholes
vegetated surface barriers
STOMP-CO2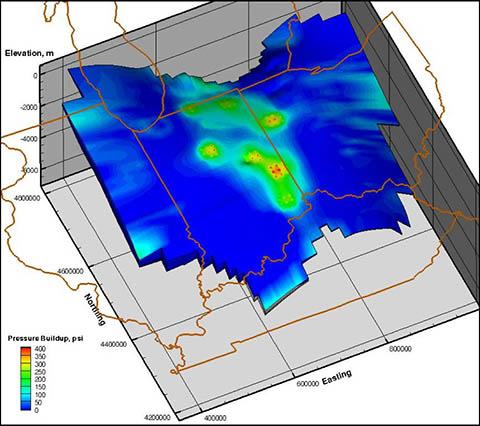 multifluid CO2-brine systems with heat transport and geochemistry
sequentially coupled poro-thermo-elastic geomechanics
carbon sequestration in deep saline formations
carbonate mineralization in on- and off-shore basalts
STOMP-EOR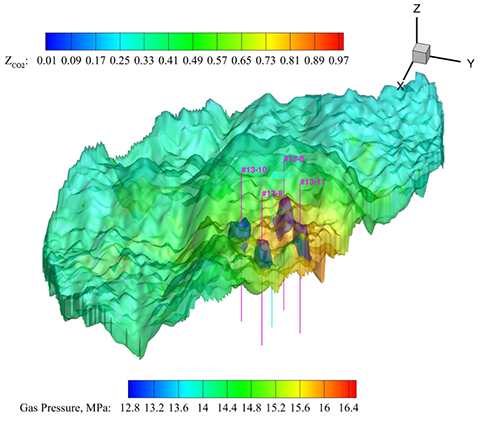 three-phase compositional systems with heat transport and geochemistry
sequentially coupled poro-thermo-elastic geomechanics
embedded faults
oil and gas reservoirs
enhanced oil production
black-oil module
STOMP-HYDT-KE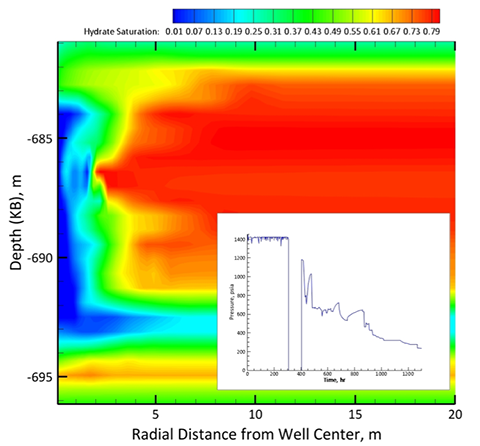 ternary gas hydrate systems
sequentially coupled poro-thermo-elastic geomechanics
natural gas hydrate reservoirs

depressurization, thermal stimulation, inhibitor injection technologies

guest molecule swapping
STOMP-WO/WOA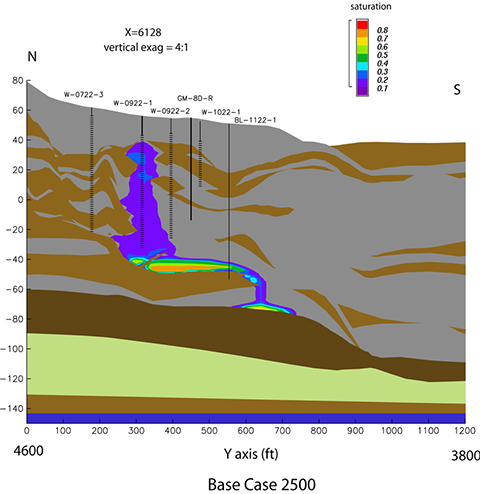 nonvolatile and volatile single component NAPL
multifluid wells
organic surface spills and disposals
vadose zone residual NAPL formation
soil-vapor extraction
Contacts
Commercialization Manager
Electron Microscopy
PNNL is a leader in the integration of aberration-corrected electron microscopy, in-situ techniques, and atom probe tomography to address national challenges in nuclear materials, environmental remediation, energy storage, and national security.
PNNL is home to an array of electron microscopes that play a critical role in supporting the U.S. Department of Energy (DOE)'s energy resiliency and national security missions. Each instrument is stewarded by skilled electron microscopists whose wide research backgrounds cover materials science, biology, chemistry, and physics.
Located in various facilities across the PNNL campus, the microscopy community collectively applies a rich set of capabilities and expertise tailored to the diverse needs of clients, sponsors, and project managers.
Aberration-corrected scanning transmission electron microscopes (STEMs) are flagship instruments that comprise PNNL's main microscopy investment. These powerful instruments have revolutionized the study of materials, providing unparalleled access to atomic-resolution probes with the analytical power to resolve structure and chemistry from the micron scale, down to individual atoms.
PNNL scientists use these tools to examine microstructure, composition, and chemical states through a variety of imaging and analytical modes, including energy-dispersive X-ray spectroscopy, electron energy loss spectroscopy, and 4D-STEM. These microscopy investments are supported by a comprehensive analysis pipeline of theory-based image, diffraction, and spectroscopy simulations.
PNNL also hosts a range of scanning electron microscopes, electron microprobe analyzers, and focused ion beam (FIB) microscopes to serve additional research needs. These instruments provide access to information at length scales up to centimeters, using surface analytical modes to strongly complement transmission electron microscopy. In addition, extensive investments in FIB instruments enable the extraction of site-specific samples for study in the STEM, 3D atom probe tomography, and other techniques, such as nano-secondary ion mass spectroscopy.
All of the electron microscopes listed are available for use by PNNL staff and are thus available to outside research projects collaborating with our scientists. Please contact the individual stewards with questions.
In addition, the Environmental Molecular Sciences Laboratory (EMSL) user facility, operated by PNNL for the DOE Office of Biological and Environmental Research, hosts various electron microscopes that are accessible through user facility proposals. We advise interested parties to visit the EMSL website to pursue opportunities for collaborative research.
Contacts
Director, Nuclear Sciences Division, Energy & Environment
Computational Materials Scientist
Related organizations