News & Media
Latest Stories
108 results found
Filtered by Distribution, Ecosystem Science, Emergency Response, Fossil Energy, Hydrogen & Fuel Cells, Materials in Extreme Environments, Precision Materials by Design, Radiation Measurement, and Solar Energy
Oxide interfaces in disarray
Exploration of disorder at material interfaces could lead to better device performance
The structure of an interface at which two materials meet helps determine the performance of the computers and other devices we use every day. However, understanding and controlling interface disorder at the atomic level is a difficult materials science challenge.
A research team at PNNL and Texas A&M University combined cutting edge imaging and numerical simulations to examine disordering processes in widely used oxide materials. They found that certain oxide interface configurations remain stable in extreme environments, suggesting ways to build better performing, more reliable devices for fuel cells, space-based electronics, and nuclear energy.
Visualizing the disordering process
As reported in Advanced Materials Interfaces ("Asymmetric Lattice Disorder Induced at Oxide Interfaces," DOI: 10.1002/admi.201901944) the team set out to examine interfaces between pyrochlore-like and perovskite oxides, two common classes of functional materials used in energy and computing technologies. While most past work has focused on individual bulk materials, less attention has been paid to interfaces connecting them, as would be the case in a device. In particular, it is not clear how interface features, such as composition, bonding, and possible defects, govern disordering processes.
Funded by PNNL's Nuclear Process Science Initiative (NPSI), the team employed experimental and theoretical methods to study the interface at different stages of disorder introduced through ion irradiation. They imaged the local structure of the material using high-resolution scanning transmission electron microscopy and convergent beam electron diffraction, which showed that the bulk of the two materials disordered (amorphized) before the interface. After further irradiating the material, they found that a band region near the interface had remained crystalline, while the rest of the structure had become amorphous.
To understand this behavior, the team turned to a technique called electron energy loss spectroscopy, which allowed them to examine the atomic-scale chemistry and defects formed at the interface. Their measurements revealed the presence of substantial amounts of defects called oxygen vacancies, which can greatly affect properties such as magnetism and conductivity. Based on these observations, the team constructed a theoretical model of the interface and explored the effect of different interface configurations on the tendency to form vacancies.
"In our model we are able to systematically vary interface features, such as crystal structure, intermixing, and strain, to see their effect on defect formation. We found that the structure of the materials on both sides of the interface can influence where defects are likely to form first," explained Steven R. Spurgeon, a PNNL materials scientist. "Our model suggests that by selecting appropriate crystal structures and controlling how they connect, it may be possible to dictate the sequence of defect formation, which would allow us to enhance the properties of these materials."
The team is exploring other interface structures and chemistries, with an eye toward improving the performance of oxides used in extreme environments.
The study was conducted as part of the NPSI project, "Damage Mechanisms and Defect Formation in Irradiated Model Systems," led by Spurgeon.
Research Team
Steven Spurgeon (PNNL), Tiffany Kaspar (PNNL), Vaithiyalingam Shutthanandan (Environmental Molecular Sciences Laboratory at PNNL), Jonathan Gigax (Texas A&M), Lin Shao (Texas A&M), Michel Sassi (PNNL).
Improving nuclear waste storage models by studying the chemistry of material interactions
WastePD EFRC research on the glass-steel interface was published in Nature Materials
New research unravels the chemistry of how materials in the waste packages used for the disposal of high-level radioactive waste interact in deep geologic repository environments. Having a better understanding of the interactions between materials under various conditions provides more information to make waste storage performance models more robust.
"Many performance models use conservative approaches such as assuming that the steel canister walls don't even exist or that they dissolve very fast. This study provides the opportunity to better incorporate the canister barrier in the models," said Joseph Ryan, a PNNL materials scientist and coauthor on the paper, "Self-accelerated corrosion of nuclear waste forms at material interfaces," published in Nature Materials.
The United States is converting highly radioactive nuclear waste, also known as high-level waste, into glass. The molten glass is poured into steel canisters for long-term storage and ultimate disposal in a geologic repository. The goal is to design waste storage and disposal systems that would remain safe for hundreds of thousands of years to come, even if they are exposed to water. Because of the extensive time span of waste storage, researchers turn to cutting-edge science to project what will happen during that time period. The data is used to inform extensive safety analyses—helping make sure the system is engineered to be compatible with the natural system so that waste remains separate from the environment.
"We can't just do a test on a material and say, 'That material corroded this much in 30 days and extrapolate that to a million years.' It doesn't work that way," Ryan said. "At the most basic level, we try to understand the underlying chemistry of corrosion. Then, we feed that information into computer models to calculate the expected release over time."
In this study, led by the WastePD Energy Frontier Research Center based at Ohio State University, researchers unpacked the chemistry that occurs when two materials are close together, focusing on glass-steel along with ceramic-steel interactions. This chemical situation could occur when water has percolated into the repository and has breached the steel canister, exposing the glass-steel interface to water.
When water finally breaches the waste package container, it will fill the microscopic space that forms between the solid glass and the steel canister. Chemical reactions that happen in localized and tiny microenvironments such as these can be quite different than those happening in a more open setting. In this case, this localized area can have a different chemistry than the surrounding solution, causing more corrosion than would be expected.
The researchers tested their theory in the laboratory. They pressed glass and steel together in salty liquid and kept it at 90° C (194° F) for a month. At the end of the experiment, they found differences in the width of thin layers that indicated higher corrosion between the glass-steel couple interface than in a control sample.
Why it matters: This research allows scientists to improve models that project how a disposal canister could perform in a deep geologic environment. Having a better understanding of the interactions between materials under various conditions provides more information to make the models more robust. Currently, some models project what happens to waste under the assumption that the steel canister walls do not exist. Operating under this pretext can result in higher projections of waste degradation than would likely occur when taking a conservative approach. But better understanding the chemistry of how the solid waste and the steel canister interact allows a scientifically based understanding of how the canisters behave and interact with the glass to be included in performance assessment models.
Summary: High-level waste is immobilized as glass in stainless steel canisters. On cooling, a confined crevice space forms at the stainless steel-glass interface. If the disposal canister is breached and if water can enter the steel-glass interface, it could result in anodic dissolution of the stainless steel, generating metal cations, which hydrolyze to form protons and strongly increase the local acidity. This acidic environment may locally enhance the corrosion of both the stainless steel and the glass, which leads to the release of cations from the glass. Further, the coupled corrosion may trigger the precipitation of additional secondary phases that may impact subsequent canister corrosion or nuclear glass durability.
What's Next: While this study sheds light on the chemical interactions that occur at the stainless steel-glass interface, there are more interactions to explore. Ultimately, a better understanding of different chemical mechanisms will improve the overall performance model.
Acknowledgements
Sponsors: This work was supported as part of the Center for Performance and Design of Nuclear Waste Forms and Containers, an Energy Frontier Research Center funded by the US Department of Energy, Office of Science, Basic Energy Sciences under Award no. DESC0016584.
Research Team: Xiaolei Guo, Gerald S. Frankel, Gopal Viswanathan, Tianshu Li (Ohio State University); Stéphane Gin (CEA, France); Penghui Lei, Tiankai Yao, Jie Lian (Rensselaer Polytechnic Institute); Hongshen Liu, Dien Ngo, Seong H. Kim (Pennsylvania State University); Daniel K. Schreiber, John D. Vienna, Joseph V. Ryan (PNNL); Jincheng Du (University of North Texas)
Protecting climate-sensitive soil ecosystems
Review paper summarizes the effects of climate change on soil microorganisms and the ecosystem services they provide, and evaluates potential mitigation measures.
The Science
Researchers from Pacific Northwest National Laboratory reviewed the current state of knowledge about the impacts of climate change on soil microorganisms in different climate-sensitive soil ecosystems. They also examined the possibilities of using soil microorganisms to store carbon or inoculate plants to help mitigate the negative consequences of climate change. Based on their review, the authors recommend an integrated approach that combines beneficial properties of soil microorganisms with sustainable soil management practices to support plant production, maintain a clean water supply, sustain biodiversity, store carbon, and increase resilience in the face of a changing climate.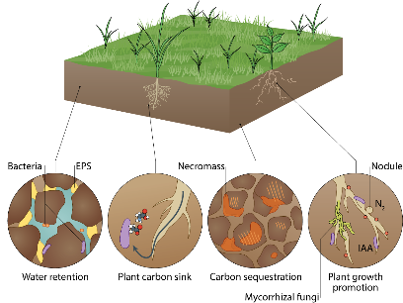 The Impact
The effects of climate change on soil microbial communities have potentially large consequences for Earth's soil ecosystems and the beneficial services that soil microbiomes provide. This review highlights the need to connect the fine-scale details arising from microbiome studies to the landscape-scale resolution of many Earth system climate models in the search for climate change mitigation measures.
Summary
On Earth's terrestrial surface, the soil microbiome cycles nutrients to sustain plant and animal life. While this microbial community is innately connected to environmental conditions, impacts on the soil microbiome due to climate change vary depending on the ecosystem. Different aspects of climate change impact soil microbial communities and their important ecosystem functions, such as cycling of carbon and supporting plant growth. But the molecular details of soil biochemical reactions responsible for these key functions are largely unknown.
Researchers synthesized existing knowledge of climate change impacts across a range of soil environments—permafrost, forests, grassland, wetlands, and deserts—to examine how the microbiome responds. They looked at microbial changes coinciding with different climate change variables including increases in carbon dioxide levels, temperatures, drought, flooding, and fires. Their review showed that microbial physiology largely determines the ability of soil ecosystems to adapt, and that some microbiomes may be suitable for climate change mitigation measures such as carbon sequestration and promoting plant growth. The review sets the stage for future research on soil microbiomes and challenges to overcome in order to connect to larger-scale predictive models of climate change.
Contacts
Janet Jansson, Lab Fellow, janet.jansson@pnnl.gov
Kirsten Hofmockel, Earth Scientist, kirsten.hofmockel@pnnl.gov
Funding
This research was supported by the Department of Energy Office of Biological and Environmental Research (BER) Genomic Science Program and is a contribution of the Scientific Focus Area "Phenotypic response of the soil microbiome to environmental perturbations." PNNL is operated for DOE by Battelle Memorial Institute under Contract DE-AC05-76RLO1830. A portion of the research was performed using the Environmental Molecular Sciences Laboratory, a DOE Office of Science User Facility sponsored by BER and located at PNNL.
Nutrient-Hungry Peatland Microbes Reduce Carbon Loss Under Warmer Conditions
Enzyme production in peatlands reduces carbon lost to respiration under future high temperatures.
The Science
As atmospheric temperatures and carbon dioxide concentrations rise, photosynthesis by plants is expected to increase, leading to more photosynthate released by roots to the soil microbial community. Researchers from Pacific Northwest Northwest National Laboratory and Iowa State University examined the response of boreal peatland soils under future high temperatures. The team found that the peatland's soil microbial communities allocated more carbon to enzyme production in search of phosphorus as temperatures climbed. This diversion of carbon resources could reduce future carbon losses by microbial respiration from the peatland.
The Impact
As boreal peatlands face warmer and drier conditions, it is expected that more carbon will be lost from these carbon-rich soils through increased microbial activity. This study showed that enhanced respiration and concomitant loss of carbon is potentially constrained by nutrient demands of the microorganisms. This tradeoff may help the peatland ecosystem retain soil carbon as temperatures warm.
Summary
Root exudates are carbon compounds, such as sugars and organic acids, which are easily consumed by soil microorganisms. With a warming climate, science suggests that increased photosynthesis by plants could lead to more photosynthate released as root exudates to the soil microbial community. To examine this question, researchers used laboratory incubations to control both temperature and moisture and simulate belowground substrate additions under an accelerated growing season. Results showed that with a moderate increase in temperature, the addition of common root exude compounds in peatlands initially increased carbon lost through microbial respiration above those treatments receiving water only. However, when pushed to future expected high temperatures, additional exudate compounds dampened the amount of additional carbon respired as compared to treatments receiving water only. This reduction in respiration suggests the microorganisms allocated carbon compounds to enzyme production to mine for limited resources instead of respiring carbon. The data also support the idea that boreal peatland microbial communities maintain a more narrow range in function, measured as respiration, across a range in climate conditions. A wide climatic niche in addition to reallocation of carbon resources dampens the magnitude of change in carbon respiration with increasing temperatures.
Contact
Kirsten Hofmockel
Biological and Environmental Scienes Directorate
kirsten.hofmockel@pnnl.gov
Funding
This material is based upon work supported by the US Department of Energy, Office of Science, Office of Biological and Environmental Research, Terrestrial Ecosystem Science (TES) Program, under grant ER65430 to Iowa State University.
A New Role for Microbes in Peatland Nitrogen Supply
Research reveals that bacteria contribute to peatland nitrogen availability through organic nitrogen breakdown.
The Science
Nitrogen is a critical nutrient regulating productivity in many ecosystems and influences nutrient availability by affecting organic matter decomposition rates. Nitrogen fixation—converting atmospheric nitrogen into biologically available compounds—by microorganisms has historically been considered the primary nitrogen source in peatlands. However, recent work shows that nitrogen fixation alone cannot meet nitrogen requirements. Researchers at Pacific Northwest National Laboratory and Iowa State University evaluated the genetic potential of microorganisms to supply nitrogen in peatlands via the breakdown of large organic molecules. Results show bacterial potential for cleaving amino acids from organic inputs from plants. This finding contrasts with the paradigm that fungi are genetically superior in their capacity to release nitrogen from organic molecules.
The Impact
Understanding the processes that govern carbon and nutrient dynamics in northern peatlands is critical to predicting future biogeochemical cycles. These ecosystems account for 15‒30% of global soil carbon storage. This study expands the understanding of coupled carbon and nitrogen cycles in northern peatlands, with results indicating that understudied bacterial and archaeal lineages may be central in these ecosystems' response to environmental change. This project leverages DOE's one-of-a-kind SPRUCE infrastructure to address mechanisms underlying ecosystem responses to climate change and contribute to the broader goals of the Terrestrial Ecosystem Science Scientific Focus Area.
Summary

Nitrogen is a common limitation in plant productivity and its source remains unresolved in northern peatlands, which are vulnerable to environmental change. Decomposition of complex organic matter into free amino acids has been proposed as an important nitrogen source, but the genetic potential of microorganisms catalyzing this process has not been examined.
Researchers evaluated the microbial—fungal, bacterial, and archaeal—genetic potential for organic nitrogen break down in peatlands at Marcell Experimental Forest in northern Minnesota. The team investigated the abundance and diversity of protease genes involved in the release of nitrogen from organic matter across depths and in two distinct peatland environments—bogs and fens. Analysis of shotgun metagenomic data demonstrates high genetic potential for production of free amino acids across a diverse range of microbial guilds.
Researchers also found a high abundance of protease genes compared with nitrogen-fixation genes typically thought to provide nitrogen in peatlands. Bacterial genes encoding proteolytic activity suggested a predominant role for bacteria in regulating productivity, which contrasted with the paradigm of fungal dominance of organic nitrogen decomposition. This research is foundational to understanding the mechanisms by which carbon cycling is linked to ecosystem nutrient status in the face of changing climate.
Contacts
Emily Graham, Pacific Northwest National Laboratory, emily.graham@pnnl.gov
Kirsten S. Hofmockel, Pacific Northwest National Laboratory, kirsten.hofmockel@pnnl.gov
Funding
This research is supported by the U.S. Department of Energy Office of Science, Office of Biological and Environmental Research, Terrestrial Ecosystem Science SFA.
A Slippery Slope: Soil Carbon Destabilization
Carbon gain or loss depends on the balance between competing biological, chemical, and physical reactions
The Science                       
Despite a breadth of research on carbon accrual and persistence in soils, scientist lack a strong, general understanding of the mechanisms through which soil organic carbon (SOC) is destabilized in soils. In a new review article, researchers synthesized principles of soil chemistry, physics, and biology to explain carbon loss in soils. They found that destabilization does not equal stabilization in reverse. Rather, carbon gain or loss depends on the balance between competing biological, chemical, and physical reactions that can be altered by changes in weather and temperature. 
The Impact
Rates of soil carbon respiration are increasing with current changes in climate and land use. Therefore, understanding destabilization processes in the soil carbon cycle is imperative. This review informs a more robust understanding of the processes that result in carbon loss and feedbacks to the Earth system. With this context, empirical and computational scientists can target better questions about the potential for soils to affect climate through the carbon cycle, which is important for improving predictive biogeochemical and climate models. 
Summary
Most empirical and modeling research on soil carbon dynamics focus on processes that control and promote carbon stabilization. However, the mechanisms through which soil organic carbon (SOC) is destabilized in soils may be even more important to understand. Destabilization processes occur as SOC shifts from a "protected" or passive state, to an "available" or active state. In the available state, microbes can transform soil carbon to gaseous or soluble forms that are then lost from the soil.
The reviewers, from Pacific Northwest National Laboratory, Dartmouth College, and Oregon State University, considered two well-known phenomena—soil carbon priming and the Birch effect—to show how different mechanisms interact to increase carbon losses. They categorized carbon destabilization processes into three general categories: (1) release from physical occlusion through processes such as tillage, bioturbation, or freeze-thaw and wetting-drying cycles; (2) carbon desorption from soil solids and colloids; and (3) increased carbon metabolism by microbes.
By considering the different physical, chemical, and biological controls as processes that contribute to SOC destabilization, researchers can develop new hypotheses about the persistence and vulnerability of carbon in soils and make more accurate and robust predictions of soil carbon cycling in a changing environment.
Contact
Vanessa Bailey
Pacific Northwest National Laboratory
vanessa.bailey@pnnl.gov
Funding
V.L. Bailey was supported by the U.S. Department of Energy, Office of Science, Biological and Environmental Research as part of the Terrestrial Ecosystem Sciences Program. The Pacific Northwest National Laboratory is operated for DOE by Battelle Memorial Institute under contract DE-AC05-557 76RL01830. K. Lajtha was supported by NSF DEB-1257032.