News & Media
Latest Stories
115 results found
Filtered by Distribution, Ecosystem Science, Electric Grid Modernization, Explosives Detection, Radiological & Nuclear Detection, and Wind Energy
PNNL Launches Marine Renewable Energy Database
Tethys Engineering addresses industry's technical and engineering challenges
Marine renewable energy (MRE) has the potential to provide 90 gigawatts of power in the United States through waves and tidal and ocean currents.
To harness the ocean's energy, the MRE industry needs to understand how to address technical and engineering challenges such as efficient power takeoff, device survivability, and grid integration.
PNNL developed Tethys Engineering in September 2019 to allow sharing resources around the deployment of devices in corrosive, high-energy marine environments. The recently launched Tethys Engineering online database includes collected and curated documents surrounding the technical and engineering development of MRE devices. Users can search and filter results to intuitively identify information relevant to developers, researchers, and regulators.
Tethys Engineering includes more than 3,000 journal articles, conference papers, reports, and presentations related to wave, current, salinity gradient, and ocean thermal energy conversion technologies. The database contains information from around the world.
The Tethys Engineering database was created as a companion to the already established Tethys website, which focuses on the environmental effects of the MRE industry.
Protecting climate-sensitive soil ecosystems
Review paper summarizes the effects of climate change on soil microorganisms and the ecosystem services they provide, and evaluates potential mitigation measures.
The Science
Researchers from Pacific Northwest National Laboratory reviewed the current state of knowledge about the impacts of climate change on soil microorganisms in different climate-sensitive soil ecosystems. They also examined the possibilities of using soil microorganisms to store carbon or inoculate plants to help mitigate the negative consequences of climate change. Based on their review, the authors recommend an integrated approach that combines beneficial properties of soil microorganisms with sustainable soil management practices to support plant production, maintain a clean water supply, sustain biodiversity, store carbon, and increase resilience in the face of a changing climate.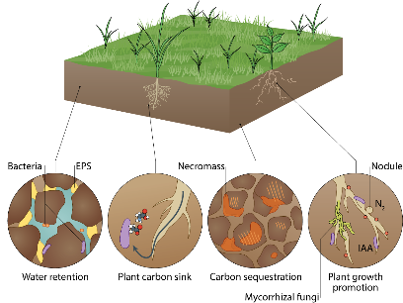 The Impact
The effects of climate change on soil microbial communities have potentially large consequences for Earth's soil ecosystems and the beneficial services that soil microbiomes provide. This review highlights the need to connect the fine-scale details arising from microbiome studies to the landscape-scale resolution of many Earth system climate models in the search for climate change mitigation measures.
Summary
On Earth's terrestrial surface, the soil microbiome cycles nutrients to sustain plant and animal life. While this microbial community is innately connected to environmental conditions, impacts on the soil microbiome due to climate change vary depending on the ecosystem. Different aspects of climate change impact soil microbial communities and their important ecosystem functions, such as cycling of carbon and supporting plant growth. But the molecular details of soil biochemical reactions responsible for these key functions are largely unknown.
Researchers synthesized existing knowledge of climate change impacts across a range of soil environments—permafrost, forests, grassland, wetlands, and deserts—to examine how the microbiome responds. They looked at microbial changes coinciding with different climate change variables including increases in carbon dioxide levels, temperatures, drought, flooding, and fires. Their review showed that microbial physiology largely determines the ability of soil ecosystems to adapt, and that some microbiomes may be suitable for climate change mitigation measures such as carbon sequestration and promoting plant growth. The review sets the stage for future research on soil microbiomes and challenges to overcome in order to connect to larger-scale predictive models of climate change.
Contacts
Janet Jansson, Lab Fellow, janet.jansson@pnnl.gov
Kirsten Hofmockel, Earth Scientist, kirsten.hofmockel@pnnl.gov
Funding
This research was supported by the Department of Energy Office of Biological and Environmental Research (BER) Genomic Science Program and is a contribution of the Scientific Focus Area "Phenotypic response of the soil microbiome to environmental perturbations." PNNL is operated for DOE by Battelle Memorial Institute under Contract DE-AC05-76RLO1830. A portion of the research was performed using the Environmental Molecular Sciences Laboratory, a DOE Office of Science User Facility sponsored by BER and located at PNNL.
Nutrient-Hungry Peatland Microbes Reduce Carbon Loss Under Warmer Conditions
Enzyme production in peatlands reduces carbon lost to respiration under future high temperatures.
The Science
As atmospheric temperatures and carbon dioxide concentrations rise, photosynthesis by plants is expected to increase, leading to more photosynthate released by roots to the soil microbial community. Researchers from Pacific Northwest Northwest National Laboratory and Iowa State University examined the response of boreal peatland soils under future high temperatures. The team found that the peatland's soil microbial communities allocated more carbon to enzyme production in search of phosphorus as temperatures climbed. This diversion of carbon resources could reduce future carbon losses by microbial respiration from the peatland.
The Impact
As boreal peatlands face warmer and drier conditions, it is expected that more carbon will be lost from these carbon-rich soils through increased microbial activity. This study showed that enhanced respiration and concomitant loss of carbon is potentially constrained by nutrient demands of the microorganisms. This tradeoff may help the peatland ecosystem retain soil carbon as temperatures warm.
Summary
Root exudates are carbon compounds, such as sugars and organic acids, which are easily consumed by soil microorganisms. With a warming climate, science suggests that increased photosynthesis by plants could lead to more photosynthate released as root exudates to the soil microbial community. To examine this question, researchers used laboratory incubations to control both temperature and moisture and simulate belowground substrate additions under an accelerated growing season. Results showed that with a moderate increase in temperature, the addition of common root exude compounds in peatlands initially increased carbon lost through microbial respiration above those treatments receiving water only. However, when pushed to future expected high temperatures, additional exudate compounds dampened the amount of additional carbon respired as compared to treatments receiving water only. This reduction in respiration suggests the microorganisms allocated carbon compounds to enzyme production to mine for limited resources instead of respiring carbon. The data also support the idea that boreal peatland microbial communities maintain a more narrow range in function, measured as respiration, across a range in climate conditions. A wide climatic niche in addition to reallocation of carbon resources dampens the magnitude of change in carbon respiration with increasing temperatures.
Contact
Kirsten Hofmockel
Biological and Environmental Scienes Directorate
kirsten.hofmockel@pnnl.gov
Funding
This material is based upon work supported by the US Department of Energy, Office of Science, Office of Biological and Environmental Research, Terrestrial Ecosystem Science (TES) Program, under grant ER65430 to Iowa State University.
Data Assimilation Impact of In Situ and Remote Sensing Meteorological Observations on Wind Power Forecasts during the First Wind Forecast Improvement Project (WFIP)
During the first Wind Forecast Improvement Project (WFIP) new meteorological observations were collected from a large suite of instruments, including wind velocities measured on networks of tall towers provided by wind industry partners, wind speeds measured by cup anemometers mounted on the nacelles of wind turbines, and by networks of Doppler sodars and radar wind profilers. Previous data denial studies found a significant improvement of up to 6% RMSE reduction for short-term wind power forecasts due to the assimilation of all of these observations into the NOAA Rapid Refresh (RAP) forecast model using a 3dvar GSI data assimilation scheme. As a follow-on study, we now investigate the impacts of assimilating into the RAP model either the additional remote sensing observations (sodars and wind profiling radars) alone, or assimilating the industry provided in situ observations (tall towers and nacelle anemometers) alone, in addition to the standard meteorological data sets that are routinely available. The more numerous tall tower/nacelle observations provide a relatively large improvement through the first 3-4 hours of the forecasts, which however decays to a negligible impact by forecast hour 6. In comparison the less numerous vertical profiling sodars/radars provide an initially smaller impact that decays at a much slower rate, with a positive impact present through the first 12 hours of the forecast. Large positive assimilation impacts for both sets of instruments are found during daytime hours, while small or even negative impacts are found during nighttime hours.
Wilczak J.M., J. Olson, I. Djalaova, L. Bianco, L.K. Berg, W.J. Shaw, and R.L. Coulter, et al. 2019. "Data Assimilation Impact of In Situ and Remote Sensing Meteorological Observations on Wind Power Forecasts during the First Wind Forecast Improvement Project (WFIP)." Wind Energy 22, no. 7:932-944. PNNL-SA-132499. doi:10.1002/we.2332
A New Role for Microbes in Peatland Nitrogen Supply
Research reveals that bacteria contribute to peatland nitrogen availability through organic nitrogen breakdown.
The Science
Nitrogen is a critical nutrient regulating productivity in many ecosystems and influences nutrient availability by affecting organic matter decomposition rates. Nitrogen fixation—converting atmospheric nitrogen into biologically available compounds—by microorganisms has historically been considered the primary nitrogen source in peatlands. However, recent work shows that nitrogen fixation alone cannot meet nitrogen requirements. Researchers at Pacific Northwest National Laboratory and Iowa State University evaluated the genetic potential of microorganisms to supply nitrogen in peatlands via the breakdown of large organic molecules. Results show bacterial potential for cleaving amino acids from organic inputs from plants. This finding contrasts with the paradigm that fungi are genetically superior in their capacity to release nitrogen from organic molecules.
The Impact
Understanding the processes that govern carbon and nutrient dynamics in northern peatlands is critical to predicting future biogeochemical cycles. These ecosystems account for 15‒30% of global soil carbon storage. This study expands the understanding of coupled carbon and nitrogen cycles in northern peatlands, with results indicating that understudied bacterial and archaeal lineages may be central in these ecosystems' response to environmental change. This project leverages DOE's one-of-a-kind SPRUCE infrastructure to address mechanisms underlying ecosystem responses to climate change and contribute to the broader goals of the Terrestrial Ecosystem Science Scientific Focus Area.
Summary

Nitrogen is a common limitation in plant productivity and its source remains unresolved in northern peatlands, which are vulnerable to environmental change. Decomposition of complex organic matter into free amino acids has been proposed as an important nitrogen source, but the genetic potential of microorganisms catalyzing this process has not been examined.
Researchers evaluated the microbial—fungal, bacterial, and archaeal—genetic potential for organic nitrogen break down in peatlands at Marcell Experimental Forest in northern Minnesota. The team investigated the abundance and diversity of protease genes involved in the release of nitrogen from organic matter across depths and in two distinct peatland environments—bogs and fens. Analysis of shotgun metagenomic data demonstrates high genetic potential for production of free amino acids across a diverse range of microbial guilds.
Researchers also found a high abundance of protease genes compared with nitrogen-fixation genes typically thought to provide nitrogen in peatlands. Bacterial genes encoding proteolytic activity suggested a predominant role for bacteria in regulating productivity, which contrasted with the paradigm of fungal dominance of organic nitrogen decomposition. This research is foundational to understanding the mechanisms by which carbon cycling is linked to ecosystem nutrient status in the face of changing climate.
Contacts
Emily Graham, Pacific Northwest National Laboratory, emily.graham@pnnl.gov
Kirsten S. Hofmockel, Pacific Northwest National Laboratory, kirsten.hofmockel@pnnl.gov
Funding
This research is supported by the U.S. Department of Energy Office of Science, Office of Biological and Environmental Research, Terrestrial Ecosystem Science SFA.