News & Media
Featured Stories
Latest Stories
475 results found
Filtered by Computational Research, Emergency Response, Grid Cybersecurity, Microbiome Science, Scientific Discovery, Vehicle Energy Storage, and Vehicle Technologies
Protecting climate-sensitive soil ecosystems
Review paper summarizes the effects of climate change on soil microorganisms and the ecosystem services they provide, and evaluates potential mitigation measures.
The Science
Researchers from Pacific Northwest National Laboratory reviewed the current state of knowledge about the impacts of climate change on soil microorganisms in different climate-sensitive soil ecosystems. They also examined the possibilities of using soil microorganisms to store carbon or inoculate plants to help mitigate the negative consequences of climate change. Based on their review, the authors recommend an integrated approach that combines beneficial properties of soil microorganisms with sustainable soil management practices to support plant production, maintain a clean water supply, sustain biodiversity, store carbon, and increase resilience in the face of a changing climate.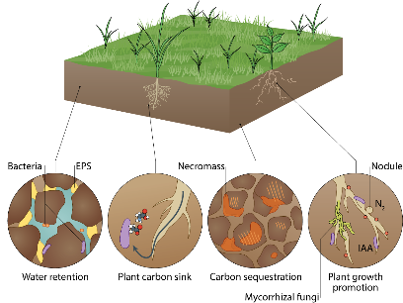 The Impact
The effects of climate change on soil microbial communities have potentially large consequences for Earth's soil ecosystems and the beneficial services that soil microbiomes provide. This review highlights the need to connect the fine-scale details arising from microbiome studies to the landscape-scale resolution of many Earth system climate models in the search for climate change mitigation measures.
Summary
On Earth's terrestrial surface, the soil microbiome cycles nutrients to sustain plant and animal life. While this microbial community is innately connected to environmental conditions, impacts on the soil microbiome due to climate change vary depending on the ecosystem. Different aspects of climate change impact soil microbial communities and their important ecosystem functions, such as cycling of carbon and supporting plant growth. But the molecular details of soil biochemical reactions responsible for these key functions are largely unknown.
Researchers synthesized existing knowledge of climate change impacts across a range of soil environments—permafrost, forests, grassland, wetlands, and deserts—to examine how the microbiome responds. They looked at microbial changes coinciding with different climate change variables including increases in carbon dioxide levels, temperatures, drought, flooding, and fires. Their review showed that microbial physiology largely determines the ability of soil ecosystems to adapt, and that some microbiomes may be suitable for climate change mitigation measures such as carbon sequestration and promoting plant growth. The review sets the stage for future research on soil microbiomes and challenges to overcome in order to connect to larger-scale predictive models of climate change.
Contacts
Janet Jansson, Lab Fellow, janet.jansson@pnnl.gov
Kirsten Hofmockel, Earth Scientist, kirsten.hofmockel@pnnl.gov
Funding
This research was supported by the Department of Energy Office of Biological and Environmental Research (BER) Genomic Science Program and is a contribution of the Scientific Focus Area "Phenotypic response of the soil microbiome to environmental perturbations." PNNL is operated for DOE by Battelle Memorial Institute under Contract DE-AC05-76RLO1830. A portion of the research was performed using the Environmental Molecular Sciences Laboratory, a DOE Office of Science User Facility sponsored by BER and located at PNNL.
Top Ten Blendstocks for Turbocharged Gasoline Engines
Bio-blendstocks with the potential to deliver the highest engine efficiency
More efficient engines enabled by better fuels could increase the fuel economy of light duty (LD) vehicles by 10 percent beyond current technology and planned developments. This report identifies top blendstocks that can be derived from biomass and are suitable for further development and commercialization. These blendstocks are best-suited for LD gasoline, boosted spark ignition (BSI) engines. The blendstocks were identified using a fuel property basis using the BSI merit function. The merit function determines potential improvements in engine efficiency, was used to evaluate the performance of candidate bioblendstocks in blends up to 30%. Those that exceeded the efficiency of an E10 premium were included in this list. This report is aimed at biofuel researchers looking to better understand the efficiency implications of biofuels under development, as well as engine researchers who are interested in future biofuels with properties that enable more efficient engine design and operation.
The Co-Optimization of Fuels & Engines (Co-Optima) team includes experts from nine national laboratories: Argonne, Idaho, Lawrence Berkeley, Lawrence Livermore, Los Alamos, Oak Ridge, Pacific Northwest, and Sandia National Laboratories and the National Renewable Energy Laboratory. The team's expertise includes biofuel development, fuel property testing and characterization, combustion fundamentals, modeling and simulation from atomic scale to engine scale, and analysis.
Gaspar, Daniel J., West, Brian H., Ruddy, Danial, Wilke, Trenton J., Polikarpov, Evgueni, Alleman, Teresa L., George, Anthe, Monroe, Eric, Davis, Ryan W., Vardon, Derek, Sutton, Andrew D., Moore, Cameron M., Benavides, Pahola T., Dunn, Jennifer, Biddy, Mary J., Jones, Susanne B., Kass, Michael D., Pihl, Josh A., Pihl, Josh A., Debusk, Melanie M., Sjoberg, Magnus, Szybist, Jim, Sluder, C S., Fioroni, Gina, and Pitz, William J. Top Ten Blendstocks Derived From Biomass For Turbocharged Spark Ignition Engines: Bio-blendstocks With Potential for Highest Engine Efficiency. United States: N. p., 2019. Web. doi:10.2172/1567705.
Nutrient-Hungry Peatland Microbes Reduce Carbon Loss Under Warmer Conditions
Enzyme production in peatlands reduces carbon lost to respiration under future high temperatures.
The Science
As atmospheric temperatures and carbon dioxide concentrations rise, photosynthesis by plants is expected to increase, leading to more photosynthate released by roots to the soil microbial community. Researchers from Pacific Northwest Northwest National Laboratory and Iowa State University examined the response of boreal peatland soils under future high temperatures. The team found that the peatland's soil microbial communities allocated more carbon to enzyme production in search of phosphorus as temperatures climbed. This diversion of carbon resources could reduce future carbon losses by microbial respiration from the peatland.
The Impact
As boreal peatlands face warmer and drier conditions, it is expected that more carbon will be lost from these carbon-rich soils through increased microbial activity. This study showed that enhanced respiration and concomitant loss of carbon is potentially constrained by nutrient demands of the microorganisms. This tradeoff may help the peatland ecosystem retain soil carbon as temperatures warm.
Summary
Root exudates are carbon compounds, such as sugars and organic acids, which are easily consumed by soil microorganisms. With a warming climate, science suggests that increased photosynthesis by plants could lead to more photosynthate released as root exudates to the soil microbial community. To examine this question, researchers used laboratory incubations to control both temperature and moisture and simulate belowground substrate additions under an accelerated growing season. Results showed that with a moderate increase in temperature, the addition of common root exude compounds in peatlands initially increased carbon lost through microbial respiration above those treatments receiving water only. However, when pushed to future expected high temperatures, additional exudate compounds dampened the amount of additional carbon respired as compared to treatments receiving water only. This reduction in respiration suggests the microorganisms allocated carbon compounds to enzyme production to mine for limited resources instead of respiring carbon. The data also support the idea that boreal peatland microbial communities maintain a more narrow range in function, measured as respiration, across a range in climate conditions. A wide climatic niche in addition to reallocation of carbon resources dampens the magnitude of change in carbon respiration with increasing temperatures.
Contact
Kirsten Hofmockel
Biological and Environmental Scienes Directorate
kirsten.hofmockel@pnnl.gov
Funding
This material is based upon work supported by the US Department of Energy, Office of Science, Office of Biological and Environmental Research, Terrestrial Ecosystem Science (TES) Program, under grant ER65430 to Iowa State University.
Diversity and Function Within Soil Microbial Communities
How spatial structures of soil microorganisms change across years and seasons, reveal the ecological impact of varying management practices.
The Science
The microbial communities within the loose, friable aggregations of organic and mineral components in soil are highly organized spatially, shaped in part by the structure of the soil itself. A recent paper by senior author Kirsten Hofmockel of Pacific Northwest National Laboratory, and two coauthors, examines the spatio-temporal dynamics of microbial communities within soil aggregates. Their aim was to gauge the impact of changes in environmental factors, plant phenology, and aggregate turnover, to understand how varying management practices affect the ecology of soil microbial communities.
The Impact
Analyzing microaggregates in soil can help researchers better understand the potential diversity and functioning of soil microbial communities. This information is vital in the development of a predictive understanding of soil ecosystem responses to climatic events and environmental change. In addition, land management services can use this data to enhance biodiversity and soil ecosystem services.
Summary
Greater biodiversity across all trophic levels can benefit many ecosystems. Biodiversity creates more resilience to abiotic stressors, increases ecosystem services, and promotes sustainability. Within soil systems microbial diversity alone maintains nutrient cycling, impacts plant productivity, enhances drought tolerance, and determines soil health and fertility.
However, the ecological sources of microbial biodiversity, including niche space partition, are not clearly defined at a microbial scale. The Hofmockel study, conducted with lead author Racheal Upton of Iowa State University and Elizabeth Bach of Colorado State University, helps close that knowledge gap by investigating how the spatial structure of microorganisms is vital to understanding the impact of microbial ecology on ecosystem and biogeochemical services.
Historically, researchers have examined microbial diversity in soils at ecosystem or landscape scales. This study, however, shows the importance of scaling such studies to a microbially relevant level. The researchers chose soil aggregate fractions as a way to represent that needed microbially relevant scale.
Over years and seasons, soil aggregate turnover means that soil microbial habitats are dynamic over time. The researchers used data from soil aggregate fractions in three different bioenergy management systems to investigate seasonal and annual changes in discrete microbial communities.
Such research is pertinent to evaluating how different management practices impact spatially discrete microbial communities in soil. Management practices that increase plant diversity across growing seasons, the authors demonstrate, influence soil aggregate habitats and therefore increase microbial diversity.
For other researchers, the study underscores the importance of including both spatial and temporal dynamics in their investigations in order to fully understand microbial community assembly and persistence in soil.
PI Contact
Kirsten Hofmockel
Pacific Northwest National Laboratory
Kirsten.Hofmockel@pnnl.gov
Funding
U.S. Department of Energy, award number DESC0010775.
R.N. Upton, E.M. Bach, K.S. Hofmockel. "Spatio-temporal microbial community dynamics within soil aggregates." Soil Biology and Biochemistry 132 (2019) 58-68.
Drought Spells Changes for Soil Microbes
Researchers found that soil drying altered metabolic pathways within soil microbial communities.
The Science
Researchers at the U.S. Department of Energy's Pacific Northwest National Laboratory and Kansas State University found that soil drying significantly affected the structure and function of soil microbial communities.
A warming Earth is predicted to result in increased drought extent and intensity in the highly fertile and productive grasslands of the central United States. These soils store large reserves of carbon. The decrease in soil moisture due to drought has largely unknown consequences on soil carbon cycling and other key biogeochemical cycles carried out by soil microbiomes. Researchers at the U.S. Department of Energy's Pacific Northwest National Laboratory and Kansas State University found that soil drying significantly affected the structure and function of soil microbial communities. This included shifts in expression of specific metabolic pathways, such as those leading toward the production of compounds that build up within cells to keep microbes alive during drought.
The Impact
This study demonstrates the application of a multi-omics approach to decipher details of the soil microbial community's metaphenomic response to environmental change. The approach should apply to studies of other complex microbial systems as well. This research supports the Genomic Science mission by revealing fundamental principles that guide the interpretation of the genetic code into functional proteins, metabolic pathways, and the metabolic/regulatory networks underlying the systems biology of microbial communities. Advancing fundamental knowledge of these systems will enable understanding of the role of biological systems in the environment and how environmental change affects soil microbial communities.
Summary
Warming temperatures are causing shifts in precipitation patterns in the central grasslands of the United States, with largely unknown consequences on the collective physiological responses of the soil microbial community, i.e., the metaphenome. In this study, researchers used an untargeted omics approach to determine the soil microbial community's metaphenomic response to soil moisture and to define specific metabolic signatures of the response. Specifically, they aimed to develop the technical approaches and metabolic mapping framework necessary for future systematic ecological studies.
The research team collected soil from three locations at a field station in Kansas, incubated the samples for 15 days under dry or wet conditions, and compared them to field-moist controls. The team determined the microbiome response to wetting or drying through 16S rRNA amplicon sequencing, metatranscriptomics, and metabolomics. Researchers then assessed the resulting shifts in taxa, gene expression, and metabolites. Soil drying resulted in significant shifts in both the composition and function of the soil microbiome, such as changes in metabolic pathways that lead toward the production of sugars and other osmoprotectant compounds. By contrast, few changes occurred after wetting. The team used the combined metabolic and metatranscriptomic data to generate metabolite-reaction networks to determine the metaphenomic response to soil moisture transitions, such as generation of trehalose under dry conditions. Using this approach, researchers showed that despite the high complexity of the soil habitat, it is possible to generate insight into the effect of environmental change on the soil microbiome and its physiology and functions, thus laying the groundwork for future, targeted studies.
Contact
Janet Jansson
Pacific Northwest National Laboratory
janet.jansson@pnnl.gov
Funding
This research was supported by the Department of Energy Office of Biological and Environmental Research (BER) and is a contribution of the Scientific Focus Area "Phenotypic response of the soil microbiome to environmental perturbations." This research was also supported by Environmental Molecular Sciences Laboratory (EMSL) open call proposal number 48784, Dissecting and Deciphering of the Soil Microbiome. EMSL is a U.S. Department of Energy (DOE) Office of Science user facility sponsored by the DOE's Office of Biological and Environmental Research and located at PNNL. A portion of the research was conducted using PNNL Institutional Computing (PIC) resources and partially supported by the Microbiomes in Transition Initiative under the Laboratory Directed Research and Development Program at PNNL. PNNL is a multiprogram national laboratory operated by Battelle for the U.S. DOE under contract DE-AC05-76RL01830.
T. Roy Chowdhury, J.- Y. Lee, E.M. Bottos, C.J. Brislawn, R.A. White III, L.M. Bramer, J. Brown, J.D. Zucker, Y.-M. Kim, A. Jumpponen, C.W. Rice, S.J. Fansler, T.O. Metz, L.A. McCue, S.J. Callister, H.-S. Song, J.K. Jansson, "Metaphenomic Responses of a Native Prairie Soil Microbiome to Moisture Perturbations." mSystems 4(4), e00061-19 (2019). [DOI: 10.1128/mSystems.00061-19]