News & Media
Latest Stories
117 results found
Filtered by Computational Mathematics & Statistics, Neutrino Physics, Stakeholder Engagement, Vehicle Technologies, Visual Analytics, Waste Processing, Weapons of Mass Effect, and Wind Energy
Creating better models to predict subsurface water flow and transport
New framework improves the predictions of subsurface sediment permeability
The Science
Co-authors of a paper in Water Resources Research led by PNNL researchers developed a new iterative data assimilation framework to more accurately describe the permeability of subsurface sediments in numerical models when using facies, a system that classifies dissimilar sediments into distinct geological units that share important features of interest to modelers. The iterative framework applies data from field observations and experiments to inform the delineation of facies at the start of each model run. Further refinements are achieved at each iteration through the application of statistical constraints that maintain geologic continuity among adjacent locations.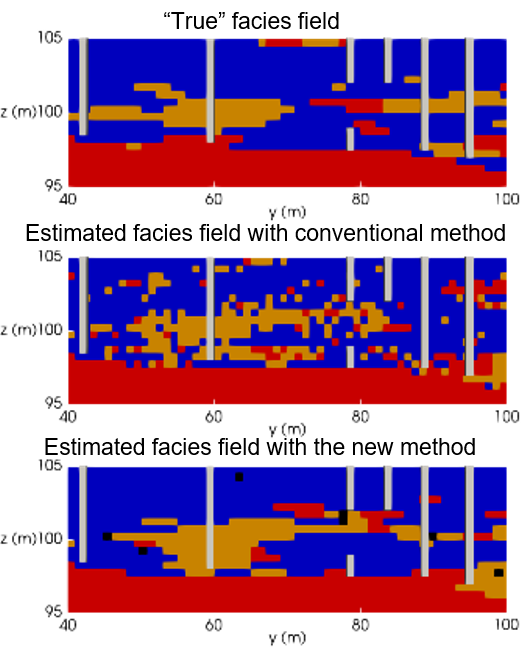 The Impact
Spatial distribution of three facies (red, yellow and blue colors) in a 2D vertical cross section of a 3D case. Figures show the new method provides a more accurate and continuous estimation of facies distribution compared to the conventional method. White colors in the figures are bore samples and black dots are the conditioning points selected by the new method.
More realistic numerical representations of the permeability of subsurface sediments lead to improved predictions of groundwater flow and the concentration of constituents that are transported with the flow. The data assimilation framework can also be applied to estimate other subsurface properties from field measurements, or from data from other systems such as watersheds, as long as they can be categorized into a few discrete representative units.
Summary
Observational data on subsurface permeability is limited for most watersheds because of the impracticality of digging enough boreholes or wells to capture the heterogeneous nature of the subsurface environment. To solve for this limitation, researchers have widely adopted approaches that estimate permeability from field experiments such as a) measuring how water levels at a cluster of wells change when water is pumped at a nearby well, or b) monitoring how quickly a tracer released at one well reaches other wells in the aquifer. The U.S. Department of Energy's Hanford 300 Area Integrated Field Research Challenge site, for example, is well characterized from data assimilation methods that were used to understand the long-term persistence of nuclear fuel fabrication wastes disposal from 1943 to 1975.
The use of a facies approach to segment the subsurface reduces complexity in numerical models by grouping heterogeneous sediments into distinct homogenous units defined by hydraulic, physical and or chemical properties. A major difficulty with existing facies-based approaches in numerical models is that each facies is treated as its own, independent unit. Therefore, these models fail to capture the spatial continuity of subsurface sediments. The authors of this paper developed a framework that maintains continuity between neighboring facies in numerical models and thus better reflects true subsurface geology, and thereby groundwater movement. The improvements come from an iterative data assimilation approach that incorporates direct and indirect data about subsurface permeability gathered from field observations and experiments at the start of each model run as well as the application of statistical constraints about subsurface geology. The data assimilation and statistical constraint steps are re-imposed for each iteration, leading to refined facies delineation. This framework reduces uncertainty about the spatial distribution of sediment types in the subsurface, which results in more accurate predictions of groundwater flow and constituent transport.
The authors evaluated the performance of the new framework on a two-dimensional, two-facies model and a three-dimensional, three-facies model of DOE's well-characterized Hanford 300 Area that were conceptualized from borehole and field tracer experiments. The results of the research shows that the framework can identify facies spatial patterns and reproduce tracer breakthrough curves with much improved accuracy over facies-based approaches that lack spatial continuity constraints. With additional data, the authors say that the framework can also be used to categorize biogeochemical reactive units in an aquifer.
Contact
Xingyuan Chen, Earth Scientist, Xingyuan.Chen@pnnl.gov
Funding
Funding for this research came from DOE Office of Science BER, PNNL Subsurface Biogeochemical Research SFA.
Song, X., Chen, X., Ye, M., Dai, Z., Hammond, G., And Zachara, J.M. (2019). Delineating facies spatial distribution by integrating ensemble data assimilation and Indicator Geostatistics with level-set transformation. Water Resources Research, 55. https://doi.org/10.1029/2018WR023262
Improving nuclear waste storage models by studying the chemistry of material interactions
WastePD EFRC research on the glass-steel interface was published in Nature Materials
New research unravels the chemistry of how materials in the waste packages used for the disposal of high-level radioactive waste interact in deep geologic repository environments. Having a better understanding of the interactions between materials under various conditions provides more information to make waste storage performance models more robust.
"Many performance models use conservative approaches such as assuming that the steel canister walls don't even exist or that they dissolve very fast. This study provides the opportunity to better incorporate the canister barrier in the models," said Joseph Ryan, a PNNL materials scientist and coauthor on the paper, "Self-accelerated corrosion of nuclear waste forms at material interfaces," published in Nature Materials.
The United States is converting highly radioactive nuclear waste, also known as high-level waste, into glass. The molten glass is poured into steel canisters for long-term storage and ultimate disposal in a geologic repository. The goal is to design waste storage and disposal systems that would remain safe for hundreds of thousands of years to come, even if they are exposed to water. Because of the extensive time span of waste storage, researchers turn to cutting-edge science to project what will happen during that time period. The data is used to inform extensive safety analyses—helping make sure the system is engineered to be compatible with the natural system so that waste remains separate from the environment.
"We can't just do a test on a material and say, 'That material corroded this much in 30 days and extrapolate that to a million years.' It doesn't work that way," Ryan said. "At the most basic level, we try to understand the underlying chemistry of corrosion. Then, we feed that information into computer models to calculate the expected release over time."
In this study, led by the WastePD Energy Frontier Research Center based at Ohio State University, researchers unpacked the chemistry that occurs when two materials are close together, focusing on glass-steel along with ceramic-steel interactions. This chemical situation could occur when water has percolated into the repository and has breached the steel canister, exposing the glass-steel interface to water.
When water finally breaches the waste package container, it will fill the microscopic space that forms between the solid glass and the steel canister. Chemical reactions that happen in localized and tiny microenvironments such as these can be quite different than those happening in a more open setting. In this case, this localized area can have a different chemistry than the surrounding solution, causing more corrosion than would be expected.
The researchers tested their theory in the laboratory. They pressed glass and steel together in salty liquid and kept it at 90° C (194° F) for a month. At the end of the experiment, they found differences in the width of thin layers that indicated higher corrosion between the glass-steel couple interface than in a control sample.
Why it matters: This research allows scientists to improve models that project how a disposal canister could perform in a deep geologic environment. Having a better understanding of the interactions between materials under various conditions provides more information to make the models more robust. Currently, some models project what happens to waste under the assumption that the steel canister walls do not exist. Operating under this pretext can result in higher projections of waste degradation than would likely occur when taking a conservative approach. But better understanding the chemistry of how the solid waste and the steel canister interact allows a scientifically based understanding of how the canisters behave and interact with the glass to be included in performance assessment models.
Summary: High-level waste is immobilized as glass in stainless steel canisters. On cooling, a confined crevice space forms at the stainless steel-glass interface. If the disposal canister is breached and if water can enter the steel-glass interface, it could result in anodic dissolution of the stainless steel, generating metal cations, which hydrolyze to form protons and strongly increase the local acidity. This acidic environment may locally enhance the corrosion of both the stainless steel and the glass, which leads to the release of cations from the glass. Further, the coupled corrosion may trigger the precipitation of additional secondary phases that may impact subsequent canister corrosion or nuclear glass durability.
What's Next: While this study sheds light on the chemical interactions that occur at the stainless steel-glass interface, there are more interactions to explore. Ultimately, a better understanding of different chemical mechanisms will improve the overall performance model.
Acknowledgements
Sponsors: This work was supported as part of the Center for Performance and Design of Nuclear Waste Forms and Containers, an Energy Frontier Research Center funded by the US Department of Energy, Office of Science, Basic Energy Sciences under Award no. DESC0016584.
Research Team: Xiaolei Guo, Gerald S. Frankel, Gopal Viswanathan, Tianshu Li (Ohio State University); Stéphane Gin (CEA, France); Penghui Lei, Tiankai Yao, Jie Lian (Rensselaer Polytechnic Institute); Hongshen Liu, Dien Ngo, Seong H. Kim (Pennsylvania State University); Daniel K. Schreiber, John D. Vienna, Joseph V. Ryan (PNNL); Jincheng Du (University of North Texas)
PNNL Launches Marine Renewable Energy Database
Tethys Engineering addresses industry's technical and engineering challenges
Marine renewable energy (MRE) has the potential to provide 90 gigawatts of power in the United States through waves and tidal and ocean currents.
To harness the ocean's energy, the MRE industry needs to understand how to address technical and engineering challenges such as efficient power takeoff, device survivability, and grid integration.
PNNL developed Tethys Engineering in September 2019 to allow sharing resources around the deployment of devices in corrosive, high-energy marine environments. The recently launched Tethys Engineering online database includes collected and curated documents surrounding the technical and engineering development of MRE devices. Users can search and filter results to intuitively identify information relevant to developers, researchers, and regulators.
Tethys Engineering includes more than 3,000 journal articles, conference papers, reports, and presentations related to wave, current, salinity gradient, and ocean thermal energy conversion technologies. The database contains information from around the world.
The Tethys Engineering database was created as a companion to the already established Tethys website, which focuses on the environmental effects of the MRE industry.
Top Ten Blendstocks for Turbocharged Gasoline Engines
Bio-blendstocks with the potential to deliver the highest engine efficiency
More efficient engines enabled by better fuels could increase the fuel economy of light duty (LD) vehicles by 10 percent beyond current technology and planned developments. This report identifies top blendstocks that can be derived from biomass and are suitable for further development and commercialization. These blendstocks are best-suited for LD gasoline, boosted spark ignition (BSI) engines. The blendstocks were identified using a fuel property basis using the BSI merit function. The merit function determines potential improvements in engine efficiency, was used to evaluate the performance of candidate bioblendstocks in blends up to 30%. Those that exceeded the efficiency of an E10 premium were included in this list. This report is aimed at biofuel researchers looking to better understand the efficiency implications of biofuels under development, as well as engine researchers who are interested in future biofuels with properties that enable more efficient engine design and operation.
The Co-Optimization of Fuels & Engines (Co-Optima) team includes experts from nine national laboratories: Argonne, Idaho, Lawrence Berkeley, Lawrence Livermore, Los Alamos, Oak Ridge, Pacific Northwest, and Sandia National Laboratories and the National Renewable Energy Laboratory. The team's expertise includes biofuel development, fuel property testing and characterization, combustion fundamentals, modeling and simulation from atomic scale to engine scale, and analysis.
Gaspar, Daniel J., West, Brian H., Ruddy, Danial, Wilke, Trenton J., Polikarpov, Evgueni, Alleman, Teresa L., George, Anthe, Monroe, Eric, Davis, Ryan W., Vardon, Derek, Sutton, Andrew D., Moore, Cameron M., Benavides, Pahola T., Dunn, Jennifer, Biddy, Mary J., Jones, Susanne B., Kass, Michael D., Pihl, Josh A., Pihl, Josh A., Debusk, Melanie M., Sjoberg, Magnus, Szybist, Jim, Sluder, C S., Fioroni, Gina, and Pitz, William J. Top Ten Blendstocks Derived From Biomass For Turbocharged Spark Ignition Engines: Bio-blendstocks With Potential for Highest Engine Efficiency. United States: N. p., 2019. Web. doi:10.2172/1567705.
Data Assimilation Impact of In Situ and Remote Sensing Meteorological Observations on Wind Power Forecasts during the First Wind Forecast Improvement Project (WFIP)
During the first Wind Forecast Improvement Project (WFIP) new meteorological observations were collected from a large suite of instruments, including wind velocities measured on networks of tall towers provided by wind industry partners, wind speeds measured by cup anemometers mounted on the nacelles of wind turbines, and by networks of Doppler sodars and radar wind profilers. Previous data denial studies found a significant improvement of up to 6% RMSE reduction for short-term wind power forecasts due to the assimilation of all of these observations into the NOAA Rapid Refresh (RAP) forecast model using a 3dvar GSI data assimilation scheme. As a follow-on study, we now investigate the impacts of assimilating into the RAP model either the additional remote sensing observations (sodars and wind profiling radars) alone, or assimilating the industry provided in situ observations (tall towers and nacelle anemometers) alone, in addition to the standard meteorological data sets that are routinely available. The more numerous tall tower/nacelle observations provide a relatively large improvement through the first 3-4 hours of the forecasts, which however decays to a negligible impact by forecast hour 6. In comparison the less numerous vertical profiling sodars/radars provide an initially smaller impact that decays at a much slower rate, with a positive impact present through the first 12 hours of the forecast. Large positive assimilation impacts for both sets of instruments are found during daytime hours, while small or even negative impacts are found during nighttime hours.
Wilczak J.M., J. Olson, I. Djalaova, L. Bianco, L.K. Berg, W.J. Shaw, and R.L. Coulter, et al. 2019. "Data Assimilation Impact of In Situ and Remote Sensing Meteorological Observations on Wind Power Forecasts during the First Wind Forecast Improvement Project (WFIP)." Wind Energy 22, no. 7:932-944. PNNL-SA-132499. doi:10.1002/we.2332