News & Media
Latest Stories
115 results found
Filtered by Computational Mathematics & Statistics, Distribution, Reactor Licensing, Software Engineering, Terrestrial Aquatics, and Transportation
Creating better models to predict subsurface water flow and transport
New framework improves the predictions of subsurface sediment permeability
The Science
Co-authors of a paper in Water Resources Research led by PNNL researchers developed a new iterative data assimilation framework to more accurately describe the permeability of subsurface sediments in numerical models when using facies, a system that classifies dissimilar sediments into distinct geological units that share important features of interest to modelers. The iterative framework applies data from field observations and experiments to inform the delineation of facies at the start of each model run. Further refinements are achieved at each iteration through the application of statistical constraints that maintain geologic continuity among adjacent locations.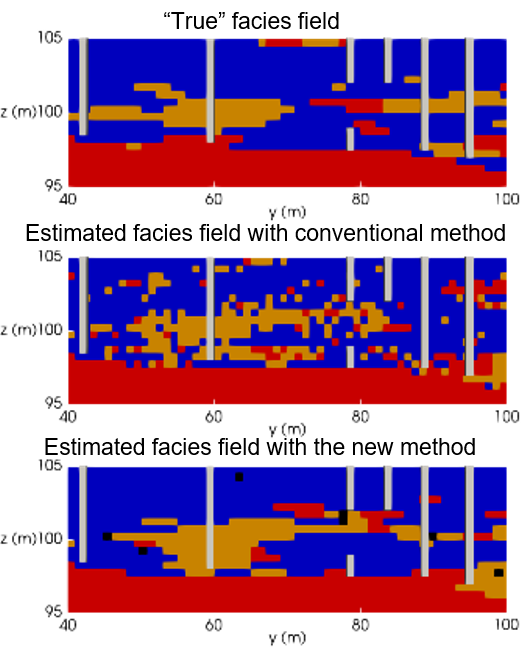 The Impact
Spatial distribution of three facies (red, yellow and blue colors) in a 2D vertical cross section of a 3D case. Figures show the new method provides a more accurate and continuous estimation of facies distribution compared to the conventional method. White colors in the figures are bore samples and black dots are the conditioning points selected by the new method.
More realistic numerical representations of the permeability of subsurface sediments lead to improved predictions of groundwater flow and the concentration of constituents that are transported with the flow. The data assimilation framework can also be applied to estimate other subsurface properties from field measurements, or from data from other systems such as watersheds, as long as they can be categorized into a few discrete representative units.
Summary
Observational data on subsurface permeability is limited for most watersheds because of the impracticality of digging enough boreholes or wells to capture the heterogeneous nature of the subsurface environment. To solve for this limitation, researchers have widely adopted approaches that estimate permeability from field experiments such as a) measuring how water levels at a cluster of wells change when water is pumped at a nearby well, or b) monitoring how quickly a tracer released at one well reaches other wells in the aquifer. The U.S. Department of Energy's Hanford 300 Area Integrated Field Research Challenge site, for example, is well characterized from data assimilation methods that were used to understand the long-term persistence of nuclear fuel fabrication wastes disposal from 1943 to 1975.
The use of a facies approach to segment the subsurface reduces complexity in numerical models by grouping heterogeneous sediments into distinct homogenous units defined by hydraulic, physical and or chemical properties. A major difficulty with existing facies-based approaches in numerical models is that each facies is treated as its own, independent unit. Therefore, these models fail to capture the spatial continuity of subsurface sediments. The authors of this paper developed a framework that maintains continuity between neighboring facies in numerical models and thus better reflects true subsurface geology, and thereby groundwater movement. The improvements come from an iterative data assimilation approach that incorporates direct and indirect data about subsurface permeability gathered from field observations and experiments at the start of each model run as well as the application of statistical constraints about subsurface geology. The data assimilation and statistical constraint steps are re-imposed for each iteration, leading to refined facies delineation. This framework reduces uncertainty about the spatial distribution of sediment types in the subsurface, which results in more accurate predictions of groundwater flow and constituent transport.
The authors evaluated the performance of the new framework on a two-dimensional, two-facies model and a three-dimensional, three-facies model of DOE's well-characterized Hanford 300 Area that were conceptualized from borehole and field tracer experiments. The results of the research shows that the framework can identify facies spatial patterns and reproduce tracer breakthrough curves with much improved accuracy over facies-based approaches that lack spatial continuity constraints. With additional data, the authors say that the framework can also be used to categorize biogeochemical reactive units in an aquifer.
Contact
Xingyuan Chen, Earth Scientist, Xingyuan.Chen@pnnl.gov
Funding
Funding for this research came from DOE Office of Science BER, PNNL Subsurface Biogeochemical Research SFA.
Song, X., Chen, X., Ye, M., Dai, Z., Hammond, G., And Zachara, J.M. (2019). Delineating facies spatial distribution by integrating ensemble data assimilation and Indicator Geostatistics with level-set transformation. Water Resources Research, 55. https://doi.org/10.1029/2018WR023262
Top Ten Blendstocks for Turbocharged Gasoline Engines
Bio-blendstocks with the potential to deliver the highest engine efficiency
More efficient engines enabled by better fuels could increase the fuel economy of light duty (LD) vehicles by 10 percent beyond current technology and planned developments. This report identifies top blendstocks that can be derived from biomass and are suitable for further development and commercialization. These blendstocks are best-suited for LD gasoline, boosted spark ignition (BSI) engines. The blendstocks were identified using a fuel property basis using the BSI merit function. The merit function determines potential improvements in engine efficiency, was used to evaluate the performance of candidate bioblendstocks in blends up to 30%. Those that exceeded the efficiency of an E10 premium were included in this list. This report is aimed at biofuel researchers looking to better understand the efficiency implications of biofuels under development, as well as engine researchers who are interested in future biofuels with properties that enable more efficient engine design and operation.
The Co-Optimization of Fuels & Engines (Co-Optima) team includes experts from nine national laboratories: Argonne, Idaho, Lawrence Berkeley, Lawrence Livermore, Los Alamos, Oak Ridge, Pacific Northwest, and Sandia National Laboratories and the National Renewable Energy Laboratory. The team's expertise includes biofuel development, fuel property testing and characterization, combustion fundamentals, modeling and simulation from atomic scale to engine scale, and analysis.
Gaspar, Daniel J., West, Brian H., Ruddy, Danial, Wilke, Trenton J., Polikarpov, Evgueni, Alleman, Teresa L., George, Anthe, Monroe, Eric, Davis, Ryan W., Vardon, Derek, Sutton, Andrew D., Moore, Cameron M., Benavides, Pahola T., Dunn, Jennifer, Biddy, Mary J., Jones, Susanne B., Kass, Michael D., Pihl, Josh A., Pihl, Josh A., Debusk, Melanie M., Sjoberg, Magnus, Szybist, Jim, Sluder, C S., Fioroni, Gina, and Pitz, William J. Top Ten Blendstocks Derived From Biomass For Turbocharged Spark Ignition Engines: Bio-blendstocks With Potential for Highest Engine Efficiency. United States: N. p., 2019. Web. doi:10.2172/1567705.
STAR Workshop: Terrestrial-Aquatic Research in Coastal Systems
From September 24–26, 2018, Pacific Northwest National Laboratory hosted a System for Terrestrial–Aquatic Research (STAR) workshop to discuss terrestrial–aquatic interface (TAI) research needs. The purpose of this workshop was to continue discussion initiated at the 2016 Department of Energy (DOE)-Biological and Environmental Research (BER) workshop: Research Priorities to Incorporate Terrestrial–Aquatic Interfaces in Earth System Models. Specifically, this workshop focused on terrestrial–aquatic interfaces near the coastline, which have been identified as a major gap in Earth system models (ESMs) and observational networks, important ecosystems that are vulnerable to disturbances from both the land and sea, as well as hubs for human habitation and commerce.
PNNL – Pacific Northwest National Laboratory. 2019.  STAR Workshop: Terrestrial-Aquatic Research in Coastal Systems. PNNL-28611, Pacific Northwest National Laboratory, Richland, Washington.