News & Media
Latest Stories
107 results found
Filtered by Coastal Science, Neutrino Physics, Secure & Adaptive Systems, Situational Awareness & Consequence Prediction, Subsurface Science, and Vehicle Energy Storage
When a pinch is problematic: Detecting pertechnetate in groundwater
PNNL develops an effective tool for measuring a tricky contaminant
Imagine trying to detect and measure a pinch of salt in an Olympic-size swimming pool. Now pretend the tools you are using don't work well. Some can detect the salt but can't tell you how much is in there, and others confuse salt with chlorine.
Now swap the swimming pool for a source of groundwater and the salt for a radioactive contaminant called pertechnetate.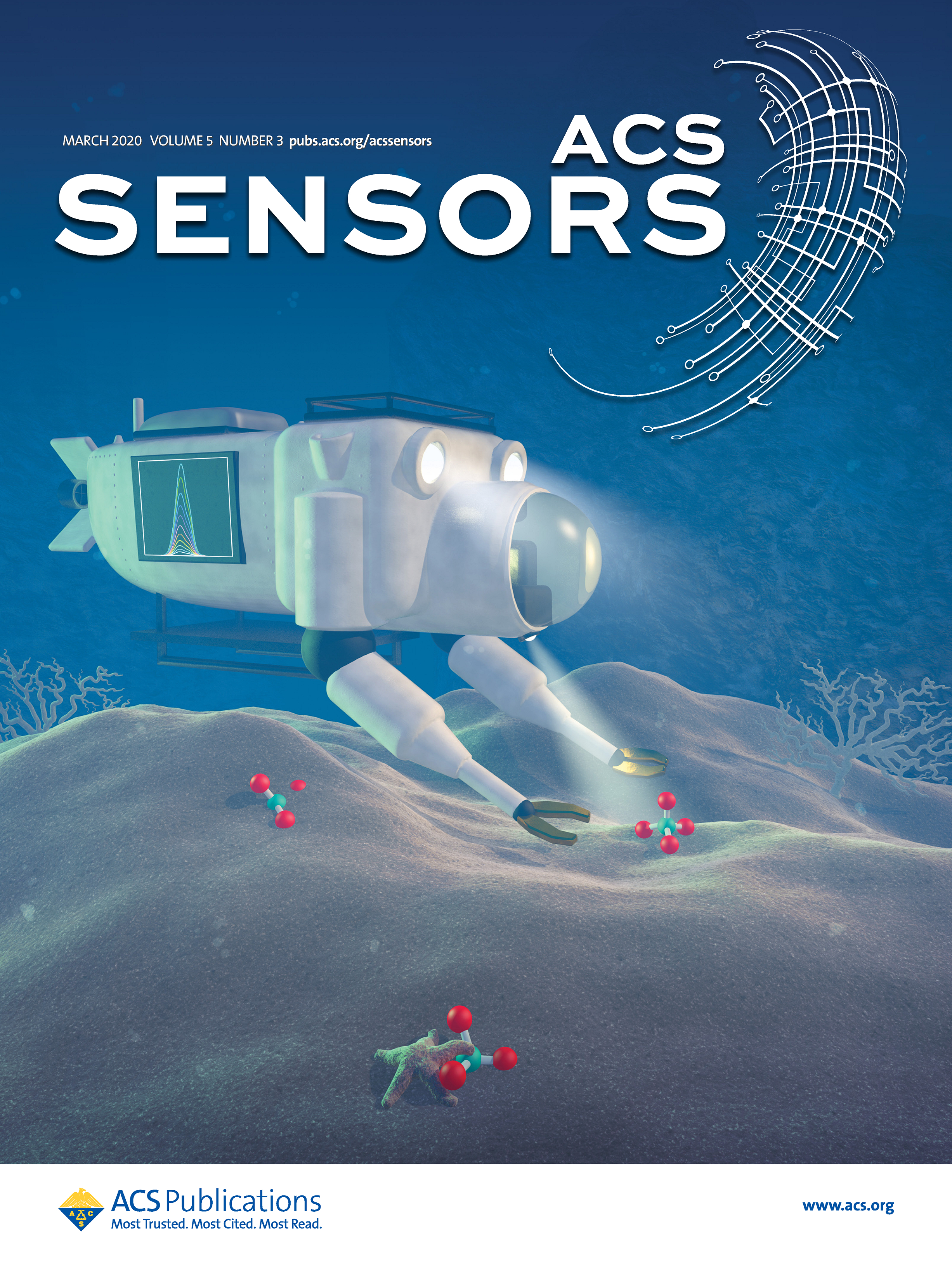 Pertechnetate is a byproduct of nuclear waste. If it ends up where it is not supposed to be—like, in groundwater—it could impact human health, which is why researchers and regulators keep a close lookout for it. The environmental safety limits for pertechnetate are roughly equivalent to a pinch of salt in an Olympic pool. And there are only a few technologies to measure it, each with limitations.
PNNL research tackles this challenge with new technology to detect and accurately measure pertechnetate at super low levels in groundwater. This research, "Redox-Based Electrochemical Affinity Sensor for Detection of Aqueous Pertechnetate Anion," was the cover article for the March 2020 edition of ACS Sensors (DOI: 10.1021/acssensors.9b01531). 
Why it matters: The Environmental Protection Agency drinking water standard for pertechnetate is 0.000000052 grams per liter (that's roughly 1/6000th the weight of a single poppy seed). While techniques exist for detection of pertechnetate in the environment, many have their drawbacks. PNNL's technology can accurately measure low levels of pertechnetate in groundwater. Additionally, this proof of concept has the potential to be applied to other target contaminants simultaneously, increasing efficiency for environmental sensing.
Summary: The new technology acts like a coin counter, but at a microscopic level. It sorts one type of chemical from another, providing the total amount of a target chemical at the end. The tool uses custom probes with a gold electrode that only allows the target groundwater contaminants to stick while the other chemicals bounce off.
Sulfur likes to bind to gold and it also tends to react with pertechnetate, making sulfur-containing compounds an ideal intermediate in tool development. The sulfur sticks to the gold probe, then reacts with the pertechnetate, which forms a precipitate. The precipitate inhibits an electric current pulsing through the probe, providing an inverse measurement of pertechnetate concentration.
What's Next: While this work was specifically focused on pertechnetate, there is potential to expand the technology to simultaneous multiple targets with the goal of increasing the efficiency of environmental measurements.
Sponsors: This research was funded by the Laboratory Directed Research and Development program at PNNL and by the Deep Vadose Zone program under the U.S. Department of Energy's (DOE's) Office of Environmental Management. Part of this research was performed at the Environmental Molecular Sciences Laboratory, a national user facility at PNNL managed by the DOE Office of Biological and Environmental Research.
PNNL Research Team: Sayandev Chatterjee, Meghan S. Fujimoto, Yingge Du, Gabriel B. Hall, Nabajit Lahiri, Eric D. Walter, Libor Kovarik. ACS Sensors cover illustration by Rose Perry, PNNL.
Tracking the Behavior of a Uranium Plume
Field research coupled with three-dimensional modeling are used to predict how groundwater and river exchange influence a contaminant plume.
The Science
A recent paper published in Water Resources Research found that the spatial variability of subsurface sediments, and seasonal fluctuations in a river's water level, influences the behavior of a uranium contaminant plume, particularly in rivers influenced by dams.

The research team created a complex numerical model and ran a 5-year simulation of the exchange between surface water and groundwater in a portion of the Columbia River at the Hanford Site. Model accuracy was evaluated using detailed water sampling data from the site, distributed in space and time. Both the model and data from site samples showed that the uranium can travel via multiple paths of river water and groundwater exchange.
The Impact
Predicting and modeling the evolution of a contaminant plume in a river corridor subject to rising and falling water levels from upstream dam operations is challenging. Factors such as seasonal dam discharge variation, the permeability of surface and subsurface materials, and changes in water chemistry, make river corridors a complex environment to study. This study is one of a few that have used a highly detailed three-dimensional modeling approach to simulate the migration of contaminants as influenced by the hydrologic exchanges between surface and subsurface waters at a large spatial scale. High-resolution monitoring, to ground truth the model's accuracy, provided researchers a robust evaluation of the model's predictive capabilities. Ultimately, the methods and findings in this study provide a foundation for designing future modeling and monitoring research to assist in environmental management and decision making.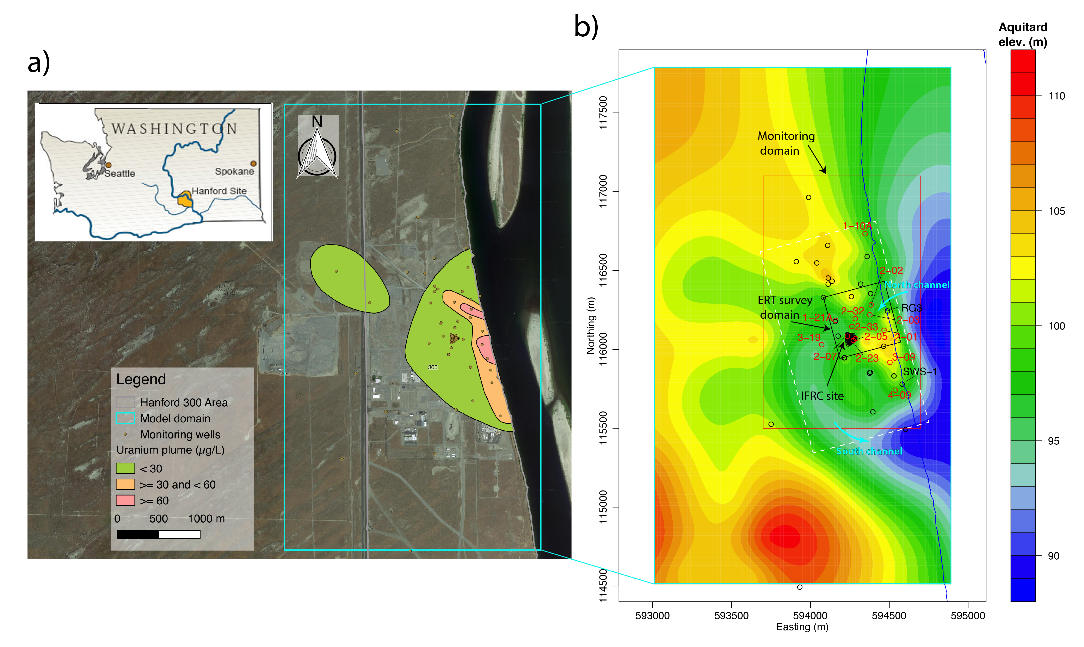 Summary
A team of scientists led by John Zachara of Pacific Northwest National Laboratory examined the impact of river water and groundwater exchange in relation to a uranium contaminant plume migration at Hanford, Washington. The goal was to develop and improve the predictive understanding of hydrologic exchange flows and their role in changing river corridor biogeochemistry.

The team used an innovative combination of field sampling and three-dimensional mathematical models to investigate how river stage variation over seasons and subsurface hydrogeology interact to influence subsurface contaminant migration. In this work, the authors note that there are very few studies that model solute transport or plume behavior during dynamic hydrologic exchange in large river corridors, and that the model they developed can be applied to other, similar riverine systems.

According to both their model and data, river water exchange with groundwater in large, gravel-bed river corridors may create a wide interaction zone, which is different from most headwater systems. Water level variations in dam-regulated river corridors lead to changing flow directions, velocities, and sediment compositions, that influence contaminant plume behavior. The residence time and transport distance of intruded river water is controlled by both river stage and subsurface hydrogeologic features.

Funded by the Department of Energy's Biological and Environmental Research (BER) program, this work addresses DOE's mission to improve the predictive understanding of how watershed systems respond to environmental perturbations caused by changes in water availability/quality, land use/vegetation cover, and inorganic element/contaminant loading. Researchers used the DOE-funded NERSC, National Energy Research Scientific Computing Center, user facility in their model development.
Contact
John Zachara, Pacific Northwest National Laboratory, john.zachara@pnnl.gov
Funding
This research was supported by the U.S. Department of Energy (DOE), Office of Biological and Environmental Research (BER), as part of the Subsurface Biogeochemical Research Scientific Focus Area (SFA) at Pacific Northwest National Laboratory (PNNL).
Microbial diversity influences nitrogen cycling in rivers
Seasonal changes affect microbiome communities, genes, and subsurface biogeochemical pathways differently
The Science
DOE researchers investigated the role of microbial genetic diversity in two major subsurface biogeochemical processes: nitrification and denitrification. Results show that across different seasons only a few microbe species, namely Nitrosoarchaeum, carry out nitrification functions—demonstrating high resistance to environmental change. However, denitrification genes, which are more broadly distributed in the community, displayed a variety of diversity patterns and abundance dynamics—demonstrating greater microbial interactions as conditions change.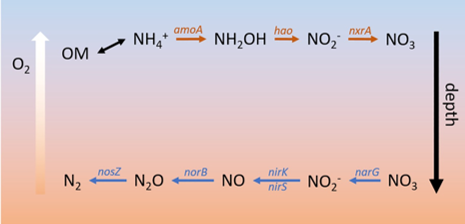 The Impact
There is little research connecting microbiomes at the genetic level to hydrobiogeochemical modeling. This research helps broaden collective knowledge for a better understanding of the pathways affected by environmental changes. For example, under extreme environmental conditions an entire biochemical pathway could be altered or eliminated if a single step has low genetic diversity such that its loss could not be replaced.
Summary
The Pacific Northwest National Laboratory research team, led by Bill Nelson, found that major environmental processes—specifically nitrification and denitrification—are maintained through a variety of diversity strategies. Historically, the bulk of biogeochemical research has focused on microbial communities at the organismal level. But this research focused on the importance of genetic distribution and diversity.

In their recent PLoS ONE paper, the researchers discuss the roles microbes play in ecological functions; the novelty of the genetic makeup of these microbes; and future research opportunities to determine which organisms are genetically expressing nitrogen cycling functions.

The novelty of this study comes from examining the temporal dynamics of diversity at the gene level. To evaluate all genes in the nitrification and denitrification pathways, novel Hidden Markov Models (HMMs) were developed that can recognize the broad diversity found in environmental samples. They found that while different environmental conditions impair microbiome growth and the gene expression of some populations, at the same time, it can stimulate others. High biodiversity at the organism or genetic level creates more resiliency, and the microbiome community can respond more rapidly to environmental changes.
Contact
Bill Nelson, Pacific Northwest National Laboratory, William.Nelson@pnnl.gov
Funding
This research was supported by the U.S. Department of Energy (DOE), Office of Biological and Environmental Research (BER), as part of the Subsurface Biogeochemical Research Scientific Focus Area (SFA) at Pacific Northwest National Laboratory (PNNL).
Creating better models to predict subsurface water flow and transport
New framework improves the predictions of subsurface sediment permeability
The Science
Co-authors of a paper in Water Resources Research led by PNNL researchers developed a new iterative data assimilation framework to more accurately describe the permeability of subsurface sediments in numerical models when using facies, a system that classifies dissimilar sediments into distinct geological units that share important features of interest to modelers. The iterative framework applies data from field observations and experiments to inform the delineation of facies at the start of each model run. Further refinements are achieved at each iteration through the application of statistical constraints that maintain geologic continuity among adjacent locations.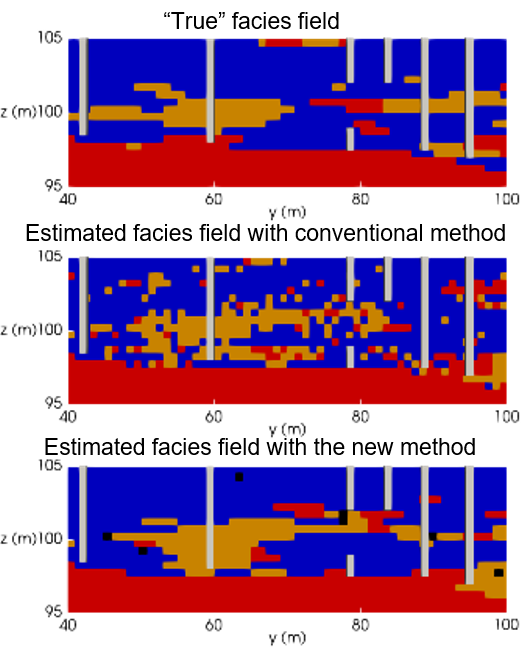 The Impact
Spatial distribution of three facies (red, yellow and blue colors) in a 2D vertical cross section of a 3D case. Figures show the new method provides a more accurate and continuous estimation of facies distribution compared to the conventional method. White colors in the figures are bore samples and black dots are the conditioning points selected by the new method.
More realistic numerical representations of the permeability of subsurface sediments lead to improved predictions of groundwater flow and the concentration of constituents that are transported with the flow. The data assimilation framework can also be applied to estimate other subsurface properties from field measurements, or from data from other systems such as watersheds, as long as they can be categorized into a few discrete representative units.
Summary
Observational data on subsurface permeability is limited for most watersheds because of the impracticality of digging enough boreholes or wells to capture the heterogeneous nature of the subsurface environment. To solve for this limitation, researchers have widely adopted approaches that estimate permeability from field experiments such as a) measuring how water levels at a cluster of wells change when water is pumped at a nearby well, or b) monitoring how quickly a tracer released at one well reaches other wells in the aquifer. The U.S. Department of Energy's Hanford 300 Area Integrated Field Research Challenge site, for example, is well characterized from data assimilation methods that were used to understand the long-term persistence of nuclear fuel fabrication wastes disposal from 1943 to 1975.
The use of a facies approach to segment the subsurface reduces complexity in numerical models by grouping heterogeneous sediments into distinct homogenous units defined by hydraulic, physical and or chemical properties. A major difficulty with existing facies-based approaches in numerical models is that each facies is treated as its own, independent unit. Therefore, these models fail to capture the spatial continuity of subsurface sediments. The authors of this paper developed a framework that maintains continuity between neighboring facies in numerical models and thus better reflects true subsurface geology, and thereby groundwater movement. The improvements come from an iterative data assimilation approach that incorporates direct and indirect data about subsurface permeability gathered from field observations and experiments at the start of each model run as well as the application of statistical constraints about subsurface geology. The data assimilation and statistical constraint steps are re-imposed for each iteration, leading to refined facies delineation. This framework reduces uncertainty about the spatial distribution of sediment types in the subsurface, which results in more accurate predictions of groundwater flow and constituent transport.
The authors evaluated the performance of the new framework on a two-dimensional, two-facies model and a three-dimensional, three-facies model of DOE's well-characterized Hanford 300 Area that were conceptualized from borehole and field tracer experiments. The results of the research shows that the framework can identify facies spatial patterns and reproduce tracer breakthrough curves with much improved accuracy over facies-based approaches that lack spatial continuity constraints. With additional data, the authors say that the framework can also be used to categorize biogeochemical reactive units in an aquifer.
Contact
Xingyuan Chen, Earth Scientist, Xingyuan.Chen@pnnl.gov
Funding
Funding for this research came from DOE Office of Science BER, PNNL Subsurface Biogeochemical Research SFA.
Song, X., Chen, X., Ye, M., Dai, Z., Hammond, G., And Zachara, J.M. (2019). Delineating facies spatial distribution by integrating ensemble data assimilation and Indicator Geostatistics with level-set transformation. Water Resources Research, 55. https://doi.org/10.1029/2018WR023262
Fire Increases Ecosystem Vulnerability to Future Disturbance Events
Burned landscapes are hit harder by extreme rain than unscathed ones.
The Science         
New work from a team including researchers Vanessa Garayburu-Caruso, Swatantar Kumar, and corresponding author Emily Graham at Pacific Northwest National Laboratory (PNNL), and Joseph Knelman at the University of Colorado, examines how back-to-back extreme events can affect a forest landscape. They find that a forest fire leaves marks far deeper than the destruction visible on the surface, making the soil more vulnerable to damage from subsequent flooding.
The Impact
This study is one of a few in an emerging field of investigation that is able to capture ecosystem effects of multiple disturbances in natural settings. It bridges scientific disciplines by linking changes in soil chemistry, microbiome structure, and biogeochemical function using methods from ecological theory.
Summary
Extreme natural events are often thought to be in isolation from each other—a big wildfire in one season, heavy rains in another. But as climate change makes such disturbances more frequent and intense, ecosystems are likely to face chains of disturbance events in relatively quick succession, with one instance affecting the ability to recover from the next.  The compounding effects of multiple disturbances on ecosystem health remain poorly understood, since the unpredictability of natural events makes them challenging to study.
To better understand the issue, the researchers repeatedly collected soil samples in Boulder, Colorado's Four Mile Canyon for over three years after a major wildfire. At the 37-month mark, an extreme precipitation event dropped more than 400 millimeters of rain within a week. Samples were collected from an undisturbed forest landscape and an adjacent fire-disturbed landscape, allowing the researchers to investigate the combined effects of multiple disturbances in comparison to a landscape experiencing flooding only. Researchers assessed the samples' soil edaphic properties (moisture, pH, percent nitrogen, and percent carbon); bacterial community composition and assembly; and soil enzyme activities. They found that previous fire exposure caused forests to be more strongly affected by a subsequent flooding event than unburned forests. This was driven by increases in pH, shifts in microbiome structure, and increased microbial investment in nitrogen versus carbon cycling.
The team is also investigating compounding disturbances using the Columbia River as a model system. River stage variation in the Columbia causes frequent wetting and drying of the shoreline that provides a natural laboratory for investigating compounding disturbances. Results are expected in the fall of fiscal year 2020.
Contact
Emily B. Graham, Quantitative Ecosystem Ecologist, emily.graham@pnnl.gov
Funding
This research was supported by the U.S. Department of Energy (DOE), Office of Biological and Environmental Research (BER), as part of the Subsurface Biogeochemical Research Scientific Focus Area (SFA) at Pacific Northwest National Laboratory (PNNL).  
J.E. Knelman, S.K. Schmidt, V. Garayburu-Caruso, S. Kumar, E.B. Graham, "Multiple, Compounding Disturbances in a Forest Ecosystem: Fire Increases Susceptibility of Soil Edaphic Properties, Bacterial Community Structure, and Function to Change with Extreme Precipitation Event." Soil Systems (2019) 3(2):40.
Effects of Water Flow Variation in Large Rivers Exacerbated by Drought
Model shows frequent fluctuation in river flows, caused by dam operations, lead to greater changes in water temperature and biogeochemical reaction rates in river sediments.
The Science
Biogeochemical activity in the hyporheic zone (HZ), sediments where the flowing waters of a river mix with shallow groundwater, supports many of the biological processes that occur within a watershed. Through the creation of a cross sectional (2-D) model of the Columbia River Hanford Reach's HZ, PNNL researchers, led by Xuehang Song and Xingyuan Chen, found that low flow conditions contribute to warmer waters in the HZ. This, in turn, increases the rate of biogeochemical activity in the sediments. Long-term analysis shows this effect is exacerbated during times of drought.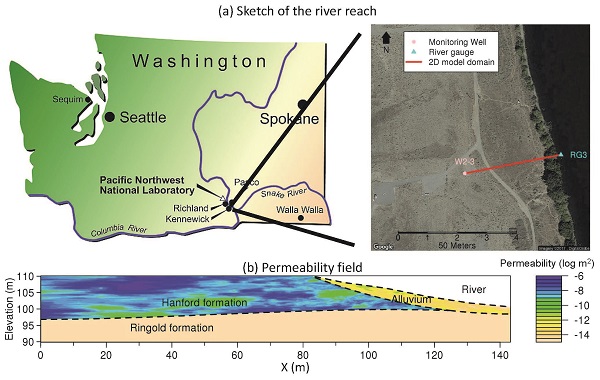 The Impact
Thermal and biogeochemical dynamics in the HZ are important to fluvial ecology, such as thermal refugia for fish spawning and growth, benthic food production, and nitrate removal. These results can enable natural resource managers to more accurately assess the ecological consequences of long-term frequent water flow variation in riverine systems. In turn, this information will inform dam operations in the context of river and watershed management planning.
Summary
Studies of thermal changes in HZs have largely focused on short-term analysis of steady state flow conditions in smaller streams. This study is among the first to model and conduct field analyses in a large river system with high frequency in flow variation. Large fluctuations in water flow levels are a common phenomenon in most river systems with hydroelectric dam operations. To assess the long-term impact of these fluctuations, PNNL researchers created a cross sectional (2-D) thermal-hydro-biogeochemical model of the Columbia River Hanford Reach's HZ with data supported by field monitoring.
Researchers assessed multiple years' worth of flow level fluctuation data seeking the most powerful variations, signals unique to dam operations. Inland ground water monitoring data was also used to track the hydraulic gradients driving flow in and out of the HZ. By comparing natural variations against dam-induced differences in flow level, the researchers tracked, over time, the change in temperature, carbon consumption, and other biogeochemical-relevant variables.
Through numerical simulation the model shows a long-term persistent cold-water zone in the riverbed after winter, verified by observational data from a multi-depth thermistor array. Frequent stage fluctuations when the mean flow level is low–particularly under drought conditions during summer and early fall–enhanced heat exchange between the river and the HZ, reaching a maximum temperature difference between 5 to 100C. All biogeochemical reactions in the HZ were enhanced by increasing nutrient supply and creating more oxygenated conditions. Total carbon consumption, a primary indicator of biogeochemical activities in the HZ, increased by almost 20%. In addition, the model demonstrated that the variable properties of riverbed sediment, such as permeability, influence water residence times and nutrient supplies by controlling flow paths. These variables also determine the spatial distribution of biogeochemical reaction hot spots in the HZ.
Already working towards further improvements to this model, PNNL researchers are expanding the scope of their work from one 2-D cross sectional analysis to a 3-D analysis of the entire Columbia River Hanford Reach.
PI Contact
Xingyuan Chen, Pacific Northwest National Laboratory, Xingyuan.Chen@pnnl.gov
Funding
Funding for this research came from the DOE Office of Science BER, PNNL Subsurface Biogeochemical Research SFA.
X. Song, X. Chen, J. Stegen, G. Hammond, H-S Seob, H. Dai, E. Graham, and J. Zachara, "Drought Conditions Maximize the Impact of High-Frequency Flow Variations on Thermal Regimes and Biogeochemical Function in the Hyporheic Zone." Water Resources Research (2018).