News & Media
Latest Stories
196 results found
Filtered by Biology, Federal Buildings, and Waste-to-Energy and Products
Dryland Expansion Regulates Variability in Plant Biodiversity
Model shows quantified impact of accelerated dryland expansion on its productivity
The Science
Drylands, such as grasslands, savannas, and deserts, are expected to expand and become more arid at an accelerating rate over the next century. The effects of this expansion and degradation on their gross primary production (GPP) remain elusive. A recent paper in Nature Communications is the first to quantify the impact of accelerated dryland expansion on their productivity. In addition, as different subtypes of drylands expand and convert, large changes will be seen in how regional and subtypes contribute to variability in global dryland productivities.
The Impact
Drylands are the largest source of interannual variability in the global carbon sink. Any changes in dryland ecosystems under climate change would have large implications for global carbon cycle. This work improves our understanding of how accelerated dryland expansion impacts the productivity of drylands. Dryland expansion and climate-induced conversions among sub-humid, semi-arid, arid, and hyper-arid subtypes will lead to substantial changes in regional and subtype contributions to global dryland GPP variability.
Summary
Drylands, such as grasslands, savannas, and deserts, cover approximately 41% of the Earth's land surface and support more than 38% of the global population. Global dryland ecosystems with high plant productivity account for approximately 40% of global land net primary production (NPP.) They also act as the dominate global land CO2 sink and, over recent decades, have contributed the largest amount of net CO2 flux affecting interannual variability.
To study the impact of accelerated dryland expansion and degradation on global dryland GPP, researchers from Washington State University and Pacific Northwest National Laboratory assessed MODIS GPP data from 2000-2014 and the CMIP5 aridity index (AI.) Results from the investigation shows a positive relationship between GPP and AI over dryland regions, with total dryland GPP increasing by the end of the 21st century by 12 ± 3% relative to 2000–2014 increases. However, GPP per unit dryland area will decrease with degradation of drylands. Such expansion and conversions among different subtypes of drylands will lead to large changes in regional and subtype contributions to variability in global dryland productivity.
Researchers in this study used a cubic fitting method to find the relationship between dryland GPP and CMIP5 AI data. With long-term GPP data, they analyzed the trend and interannual variability of dryland GPP into the future. To verify the accuracy of projected GPP data, the team compared projected GPP data to GPP data from 15 CMIP5 models. The results showed agreement with the modeling data in eight regions during the same period.
Dynamic Earth system models are essential to more fully understand dryland ecosystem–climate interactions.
Funding
This work is supported by the U.S. Department of Energy (DOE) Office of Science, Biological and Environmental Research (BER) program as part of BER's Subsurface Biogeochemical Research Program (SBR) at the Pacific Northwest National Laboratory (PNNL.) We also acknowledge support by the Second Tibetan Plateau Scientific Expedition and Research Program (STEP), Grant No. 2019QZKK0602, the National Natural Science Foundation of China under grants 41521004, 41991231 and 41975075, the Foundation of Key Laboratory for Semi-Arid Climate Change of the Ministry of Education in Lanzhou University, the China 111 Project (No. B13045), the Fundamental Research Funds for the Central Universities (lzujbky-2017-it18.)
10.1038/s41467-020-15515-2
Research topics
Yao, J., Liu, H., Huang, J., Gao, Z., Wang, G., Li, D., Yu, H., Chen, X. 2020. Accelerated dryland expansion regulates future variability in dryland gross primary production. Nature Communications, (2020) 11:1665 | https://doi.org/10.1038/s41467-020-15515-2.
Integrative Network Modeling Reveals Key Drought-Associated Genes Key in the Soil Microbiome
Molecular and gene networks were combined to better understand how soil microbial communities respond to changes in water levels and nutrient sources
The Science
Harnessing the soil microbiome to enhance ecosystem services, like plant productivity or bioenergy production, requires understanding how soil microbiomes respond to environmental stresses, such as flood, drought, or changing nutrient levels. In this study, researchers examined how the soil microbiome responds at genetic and metabolic levels to changes in water content and nutrient sources. This integrated network analysis identified unique sets of genes and metabolic reactions that are expressed only under wet, dry, or high nutrient conditions. When focusing on these unique genes and pathways, the analysis showed that genes associated with dry soil conditions are central to the soil microbiome's response to environmental shifts.
The Impact
The soil microbiome promotes plant health and affects the cycling of carbon through the ecosystem. Here, researchers examined how many different genes and molecules expressed by soil microbes are related to each other and to certain environmental conditions. They were also able to identify how individual genes occupied key positions in a functional network. The researchers found that the soil microbiome particularly responded to dry conditions. This knowledge will help in future efforts to harness the soil microbiome for optimizing plant productivity under drought conditions. 
Summary
It is challenging to untangle the complex response of the soil microbial community to environmental change, partly due to the absence of modeling frameworks that can predict how environmental changes in soil can lead to changes in the microbial community's function and role in promoting soil health. To fill this gap, researchers performed a combined analysis of metabolic and gene co-expression networks to explore how the soil microbiome responds to changes in moisture and nutrient conditions. The integrated modeling approach revealed previously unknown, but critically important, aspects of the soil microbiomes' response to environmental perturbations, including soil desiccation. Incorporation of metabolomic and transcriptomic data into metabolic reaction networks identified condition-specific signature genes that are uniquely associated with dry, wet, and glycine-amended treatments. A subsequent gene co-expression network analysis revealed that dry-associated genes, in particular, are central to the network; this means they are especially critical to the soil microbial community's response to changing conditions. These results indicate the occurrence of a system-wide microbiome metabolic coordination when soil microbiomes cope with moisture or nutrient perturbations. Importantly, this approach to analyzing large-scale multi-omics data from a natural soil environment is applicable to other microbiome systems for which genomic and metabolite data are available.
PNNL Contacts
Janet K. Jansson, Pacific Northwest National Laboratory, janet.jansson@pnnl.gov
Kirsten Hofmockel, Pacific Northwest National Laboratory, kirsten.hofmockel@pnnl.gov
Funding
This research was supported by the U.S. Department of Energy, Office of Science, Biological and Environmental Research Program, as part of the Genomic Science Program, and is a contribution of the Pacific Northwest National Laboratory Soil Microbiome Scientific Focus Area "Phenotypic Response of the Soil Microbiome to Environmental Perturbations."
Revealing an Unexplored Mechanism for Microbial Metabolism in River Sediment
Laboratory experiment is the first to show organic matter thermodynamics govern aerobic respiration rates in ecosystems with low carbon to nutrient ratios
The Science
River corridors have major influences on the Earth system by transforming organic matter into substances that impact water quality, contaminants, and climate. It has long been thought that the microbial metabolism underlying these transformations are controlled by temperature and the concentration of carbon-containing molecules. However, recent field experiments suggest thermodynamics, or the amount of chemical energy in the system available for organic matter decomposition, plays a key role in controlling microbial metabolism within river corridors, particularly in areas where groundwater and surface water mix. Now researchers have performed controlled laboratory experiments using river sediment to test organic matter thermodynamics as a mechanism of metabolic control in these environments. They find that organic matter thermodynamics control metabolism in oxygen rich environments in ways that depend on the concentration of nutrients and organic matter.
The Impact
This work challenges a long-held belief about processes that govern organic matter metabolism in freshwater ecosystems. It is the first study to provide direct evidence for thermodynamic regulation of organic matter metabolism under oxygen-rich conditions in a controlled laboratory setting. Improving representations of river corridors with refined mechanisms of nutrient processing could improve predictive models of local to regional to global biogeochemical cycling used to help manage ecosystems and predict changes to the integrated Earth system.
Summary
Researchers gathered sediment from the Columbia River in areas where groundwater and surface water mix. In the laboratory, they added four different organic compounds to the sediment at one of three different concentrations. Then the researchers measured the rate of metabolism and used mass spectrometry to characterize the organic molecules that remained after incubation using an ultrahigh resolution technique. Using the molecular formulas of the observed molecules, the researchers calculated the amount of energy required to oxidize these molecules as a way of capturing thermodynamic favorability for decomposition. They found that organic matter thermodynamics govern aerobic microbial metabolism when organic carbon is at low concentration. As the concentration of organic carbon increased, thermodynamic controls became less influential and nutrient availability became the key factor governing metabolic rates. Although this study is of a single ecosystem, it provides a proof-of-concept that can be applied to experiments in more diverse ecosystems. It also demonstrates that thermodynamic constraints, in addition to the kinetic constraints of temperature and substrate concentration, can govern aerobic metabolism. Finally, the work proposes a new conceptual model in which organic matter thermodynamic and nutrient limitations dually control aerobic metabolism. Understanding microbial metabolism at a finer resolution, as well as from a variety of mechanistic perspectives, can help improve models of local to regional to global biogeochemical cycling used to help manage ecosystems and predict changes to the integrated Earth system.
Contact
Emily Graham, Pacific Northwest National Laboratory, emily.graham@pnnl.gov
Funding
This research was supported by the U.S. Department of Energy, Office of Science, Biological and Environmental Research Program, as part of Subsurface Biogeochemical Research Program's Scientific Focus Area at the Pacific Northwest National Laboratory. A portion of the research was performed at Environmental Molecular Science Laboratory User Facility.
V. A. Garayburu-Caruso, et al., "Carbon Limitation Leads to Thermodynamic Regulation of Aerobic Metabolism." Environmental Science & Technology Letters 7, 517-524 (2020). [DOI: 10.1021/acs.estlett.0c00258]
Deep Learning to Predict Interspecies Spatial Interactions from Microbial Assembly Patterns
Deep learning enables incorporating microscopic images as a new data source to predict microbial spatial interactions
The Science
Interactions between different species in a microbial community govern how members self-assemble in specific spatial patterns. However, methods that use physical features of ecological assembly to predict microbial interactions do not exist. Now researchers trained deep neural networks to accurately predict microbial interactions captured by fluorescence microscopy. They trained the networks using data collected experimentally and simulated from modeling.
The Impact
This work shows how data-driven modeling can leverage visualization techniques to tackle key science questions in microbial ecology. The developed deep learning workflow can significantly improve understanding of how microorganisms colonize habitats and interact with each other in spatially varied environments such as soils.
Summary
Rapid advancement in experimental and instrumental technologies is enabling the generation of high-resolution and high-throughput microscopic images that reveal the spatial distribution of microorganisms. These spatial interactions are key to carrying out coordinated metabolic reactions within microbial communities, but the use of spatial patterns for predicting microbial interactions is currently lacking. Conventional population-based computational methods that use species abundance data as a primary input to predict interspecies interactions have yet to be extended to incorporate spatial organizations of microorganisms. To fill this gap, the research team proposed supervised deep learning as a new network inference tool.
Currently, developing deep neural networks directly from experimental microscopy image data is infeasible due to unknown input-output relationships and insufficient amounts of training data. The team overcame these limitations by using high-fidelity agent-based models to perform 5000 simulations of the growth of two interacting microorganisms. This generated usable image data to effectively train deep learning networks. The resulting neural networks accurately predicted microbial interactions and their spatial variations not only from in silico images, but also from actual microscopic images obtained through carefully co-designed experiments. Therefore, the combined use of the agent-based model, machine learning algorithms, and experiments successfully demonstrated how to infer microbial interactions from spatially distributed data. This combination of techniques is a useful tool to reveal key—but previously unknown—interaction mechanisms in complex microbial communities that have been underexplored to date.
PNNL Contacts
Janet K. Jansson, Pacific Northwest National Laboratory, janet.jansson@pnnl.gov
Kirsten Hofmockel, Pacific Northwest National Laboratory, kirsten.hofmockel@pnnl.gov
Funding
This research was supported by the U.S. Department of Energy Office of Science, Biological and Environmental Research Program, and is a contribution of the Scientific Focus Area "Phenotypic response of the soil microbiome to environmental perturbations" at the Pacific Northwest National Laboratory. A portion of the research described in this paper was also performed at EMSL- the Environmental Molecular Sciences Laboratory.
Deconstructing the Soil Microbiome
Deconstruction of soil microbial communities into discrete functional groups enables piecing together the functional potential of the complex soil microbiome
The Science                                
The soil microbiome plays a major role in nutrient cycling and plant health. However, its inherent complexity, with a vast array of microbes that metabolize many different molecules, makes it challenging to effectively analyze ecosystem functions performed by interacting members of soil microbial communities. Researchers dissected the complex microbial community of a native Washington soil into reproducible, low-complexity communities called 'functional modules.' Because these subcommunities are easier to study than a bulk community, researchers could analyze microbial species and functions present in the soil in more depth than before.
The Impact
By studying discrete functional components of the soil microbiome at high resolution, the researchers obtained a more complete picture of soil diversity compared to analysis of the entire soil community. They identified specific evolutionary relationships and biochemical characteristics of the soil microbiome that otherwise would have been hidden in previous community-scale genomic analyses. Improved understanding of the functions of the soil microbiome could help scientists harness beneficial aspects of the soil microbiome to increase soil health or crop productivity.  
Summary
One gram of soil contains microbes from thousands of different evolutionary groups. These microbes also have a wide variety of metabolic functions that help them survive in different soil microenvironments. Analyzing the complete functional and taxonomic diversity of a soil microbiome requires a large amount of computing power, and it may fail to capture large populations of quiet or rare microbes.
To simplify the analysis of a soil microbial community, researchers incubated a parent soil microbiome under several different conditions to create different subcommunities of microbes with specific functions, or functional modules. The functional modules included: usage of simple and complex carbon substrates, antibiotic resistance, anaerobic growth with different redox acceptors, and stress resistance. For each functional module, the researchers performed 16S rRNA gene amplicon sequencing to determine the community composition and RNA sequencing to identify expressed functions. Approximately 27% of unique taxa present in the parent soil were found in the functional modules, in addition to 341 taxa not detected in the parent community. The functional modules had unique gene expression patterns that were also enriched for transcripts associated with functional characteristic of each module. By dissecting the soil microbiome into discrete components, the researchers obtained a more comprehensive and highly detailed view of a soil microbiome and its biochemical potential than through analysis of a soil microbiome as a whole.
Contact
Ryan McClure, Pacific Northwest National Laboratory, ryan.mcclure@pnnl.gov
Funding
This research was supported by the U.S. Department of Energy's Office of Science, Biological and Environmental Research Program and is a contribution of the Scientific Focus Area "Phenotypic response of the soil microbiome to environmental perturbations."
Research topics
D. Naylor, et al., "Deconstructing the Soil Microbiome into Reduced-Complexity Functional Modules." mBio 11, e01349-20 (2020). [DOI: 10.1128/mBio.01349-20]
Chemical Nano-Imaging of Biomolecules in Liquids
A general approach to infrared nano-imaging and nano-spectroscopy of biological systems in their native environments.
The Science
DOE researchers have developed an infrared nano-imager that may be used to visualize and fingerprint biological molecules in their native liquid environments. The novel imager boasts nanometer spatial resolution, chemical selectivity, and ultrahigh sensitivity. The approach combines in-liquid atomic force microscopy with evanescent infrared illumination of the samples using a total internal reflection geometry. This geometry increases sensitivity through directional signal emission, while minimizing signal loss as a result of infrared light absorption. The initial study investigated the structures of solvated biomimetic peptoid sheets as well as proteins.
The Impact
Visualizing biological systems in their native environments and natural states is a grand challenge in biology. Although fluorescence and electron microscopy are the tools of choice in this context, they both suffer from inherent deficiencies, including the requirement of tagging biomolecules with fluorophores or easily induced damage in soft matter. Vibrational spectroscopic methods are non-destructive, but they have inherent sensitivity limits and limited spatial resolution in their standard implementations. In the case of infrared spectroscopy, strong absorption from the liquid is also restrictive. This work builds on early demonstrations of infrared nano-spectroscopy and extends the approach to enable such measurements in liquids. The new method of in situ infrared nano-spectroscopy minimizes background signals and enhances sensitivity via infrared antenna enhancement and directional signal emission. It could be used to study pH-induced protein folding or formation of a passivation layer on battery electrodes, as well as other types of biomolecular, cellular, catalytic, or electrochemical systems in liquid.
Summary
Researchers at the U.S. Department of Energy's Pacific Northwest National Laboratory, led by Scott Lea, in collaboration with the Raschke group at CU-Boulder have developed a method of infrared scattering-type scanning near-field optical microscopy (IR s-SNOM) for nanoscale chemical and biological imaging directly in liquid. In this setup, mid-infrared light focused onto a sharp tip of an atomic force microscope (AFM) through a zinc selenide prism generates a light field concentrated above the prism around the region of the AFM tip and sample. The local IR properties of the sample are then broadcasted with nanoscale spatial resolution via enhanced directional signal emission.
Previous methods of using IR s­-SNOM to make nanoscale measurements in liquid used a membrane to separate the AFM tip and liquid. However, this barrier prevented direct access to the sample with the AFM tip, had limited applicability due to stringent sample requirements, and suffered from large background signals.Our approach is more broadly applicable to a wide range of sample systems and improves signal quality and sensitivity through directional signal emission and efficient background noise suppression.
The researchers used their setup to image nanocrystals of catalase in liquid, as well as to detect the structure and chemical composition of a peptoid monolayer with sensitivity down to a few zeptomoles. Because the AFM is fully immersed in liquid, this imaging approach could accommodate changes in pH, solvent composition, and temperature for studies of protein folding and ion transport.
Funding
This work was supported by the Department of Energy, Office of Science, Biological and Environmental Research Bioimaging Technology. The preparation of peptoid nanosheets was supported by the DOE Office of Basic Energy Sciences, and Biomolecular Materials Program at PNNL. This work was performed in the Environmental Molecular Sciences Laboratory (EMSL), a DOE Office of Science User Facility sponsored by BER and located at Pacific Northwest National Laboratory.
10.1021/acs.nanolett.0c01291
Research topics
Digging into the Details of Phosphorus Availability
New root blotting technique visualizes relationship between root growth, microbial activity, and soil nutrients.
The Science
Phosphorous is an important nutrient for plants. However, the mechanisms used by plants to extract phosphorus from soil and incorporate it into their biomass are not well understood. Now, researchers developed a new technique to visualize the activity and distribution of enzymes that mobilize phosphate around plant roots. Tracking the location of these enzymes can help researchers better understand the chemical dynamics between roots, microbes, and soil that influence how plants get nutrients. The approach could also be applied to other nutrient-cycling enzymes.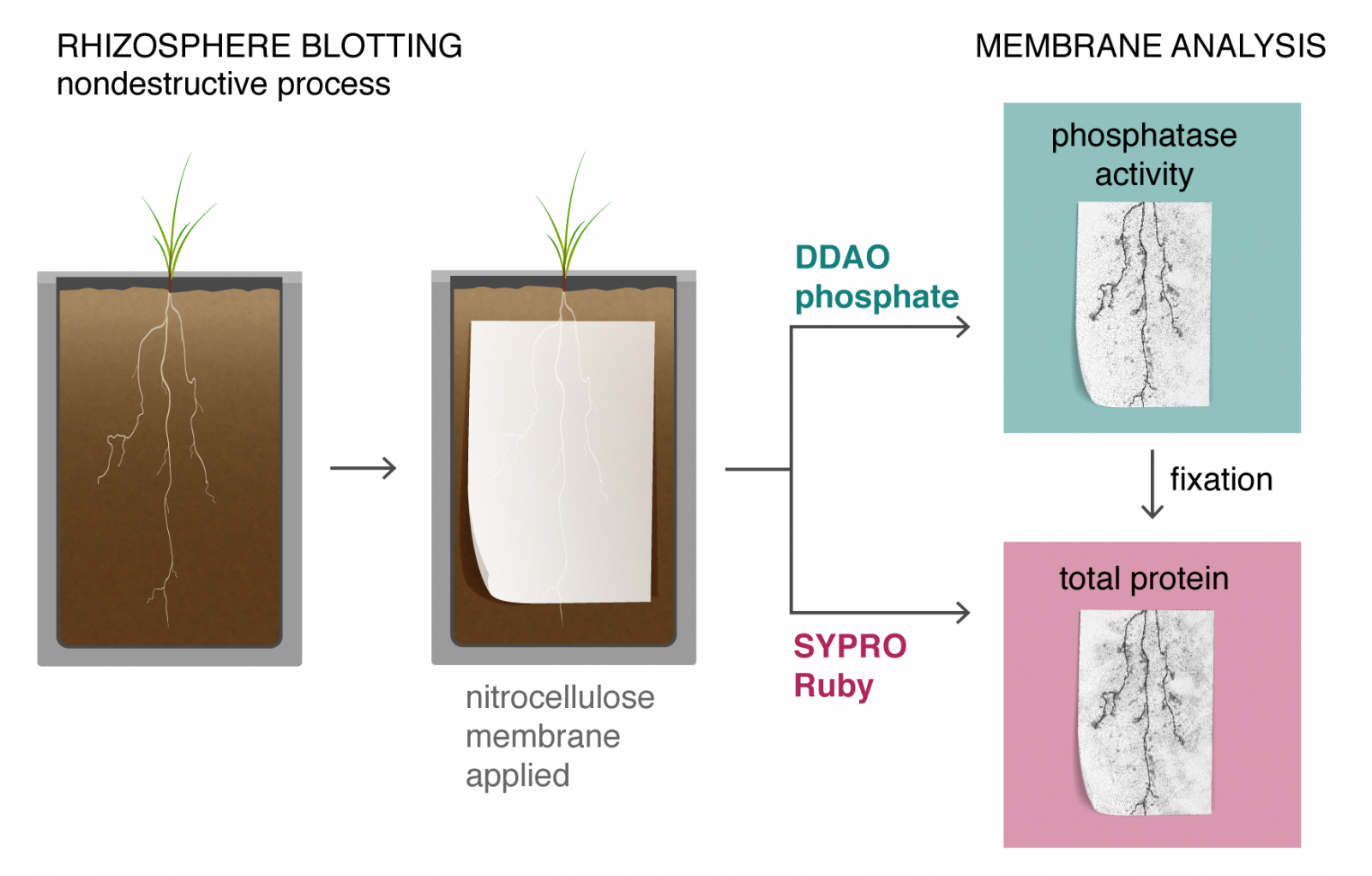 The Impact
Phosphorus is an essential nutrient for plants and therefore, global demand for phosphorus fertilizers is expected to grow to accommodate the world's growing population. However, most of these fertilizers are made from rock phosphorus, a non-renewable resource. This research provides new insights into the complex dynamics of phosphorous exchange between soil, microbes, and plant roots. Knowledge from this newly developed approach will help scientists identify strategies to improve phosphorus use efficiency for bioenergy crop production in marginal environments, as well as for agriculture in general.
Summary
Soil bacteria, fungi, and plants produce enzymes called phosphatases, which convert organic sources of phosphorus into a form that plants can absorb. Researchers have studied the microbial activity in bulk soil samples, providing information about the overall functional potential of the environment. But to better understand the dynamics between soil, plants, and microbes, more detail is needed. To accomplish that, a team of researchers developed a new technique based on root blotting to reveal phosphatase activity and distribution around plant roots. They grew switchgrass in flat pots or "rhizoboxes" containing soil with pellets of root matter as sources of organic phosphorus. Then, they applied a nitrocellulose membrane to capture proteins around the roots. Finally, the researchers stained the membrane with fluorescent indicators for phosphatase activity and protein concentration. This revealed the spatial distribution of phosphatase around the roots of plants, and highlighted regions of increased phosphatase activity.
This approach could be used to study phosphatase activity over time, as well as other nutrient-cycling enzymes. The combination of membrane extraction, with rapid analysis via fluorescent probes to reveal localization of phosphatase activity in the rhizosphere, offers a new technique for environmental applications. Expanding this approach could enable simultaneous visualization of multiple enzyme types in soil systems.
Funding
Development of this method was funded by DOE's Office of Science, Biological and Environmental Research Program by the Early Career Research Award program (PI: Jim Moran).
10.1016/j.soilbio.2020.107820
Research topics
Predicting Soil CO2 Emissions from Air Temperature
A cheaper, more efficient way to estimate soil respiration and carbon flux
The Science
Soil respiration—the flow of CO2 from the soil surface to the atmosphere—is one of the largest carbon fluxes in the terrestrial biosphere. In recent DOE-funded study, researchers created a model that predicted annual soil respiration in different parts of the world based on average air temperature for each region.
The Impact
Monitoring greenhouse gas exchange between the soil and the atmosphere is important in tracking worldwide CO2 emissions. Despite this, many regions are either inaccessible or do not have the resources to undertake rigorous research to monitor soil respiration. In this study, researchers found that soil respiration measured at annual mean temperature can be used to predict annual soil respiration. The findings could be used to reduce soil respiration measurement frequency and greatly decrease cost-- enabling easier measurements in low income and inaccessible regions worldwide.
Summary
Led by Jinshi Jian of Pacific Northwest National Laboratory, this internationally diverse research collaboration used data from more than 800 site-year observations worldwide. The team developed a predictive model to test the relationship between annual soil respiration and instant soil respiration rate at mean annual temperature among diverse ecosystems and climates throughout the world. Air temperature data is more common than soil temperature data, making it a more achievable measurement to gauge carbon emissions in lower income countries. Their results were recently published in Agricultural and Forest Meteorology.
PNNL Contact
Jinshi Jian, Pacific Northwest National Laboratory, jinshi.jian@pnnl.gov
Funding
This research was supported by the DOE Office of Biological and Environmental Research (BER), as part of BER's Terrestrial Ecosystem Science Program [number: DE-AC05-76RL01830].
Research topics
Jian, J., Bahn, M., Wang, C., Bailey, V. L., Bond-Lamberty, B. Prediction of annual soil respiration from its flux at mean annual temperature. Agricultural and Forest Meteorology. Volume 287. DOI: 10.1016/j.agrformet.2020.107961