News & Media
Latest Stories
194 results found
Filtered by Biology, Chemical & Biological Signatures Science, Integrative Omics, Materials in Extreme Environments, Science of Interfaces, and Visual Analytics
Tracking the Behavior of a Uranium Plume
Field research coupled with three-dimensional modeling are used to predict how groundwater and river exchange influence a contaminant plume.
The Science
A recent paper published in Water Resources Research found that the spatial variability of subsurface sediments, and seasonal fluctuations in a river's water level, influences the behavior of a uranium contaminant plume, particularly in rivers influenced by dams.

The research team created a complex numerical model and ran a 5-year simulation of the exchange between surface water and groundwater in a portion of the Columbia River at the Hanford Site. Model accuracy was evaluated using detailed water sampling data from the site, distributed in space and time. Both the model and data from site samples showed that the uranium can travel via multiple paths of river water and groundwater exchange.
The Impact
Predicting and modeling the evolution of a contaminant plume in a river corridor subject to rising and falling water levels from upstream dam operations is challenging. Factors such as seasonal dam discharge variation, the permeability of surface and subsurface materials, and changes in water chemistry, make river corridors a complex environment to study. This study is one of a few that have used a highly detailed three-dimensional modeling approach to simulate the migration of contaminants as influenced by the hydrologic exchanges between surface and subsurface waters at a large spatial scale. High-resolution monitoring, to ground truth the model's accuracy, provided researchers a robust evaluation of the model's predictive capabilities. Ultimately, the methods and findings in this study provide a foundation for designing future modeling and monitoring research to assist in environmental management and decision making.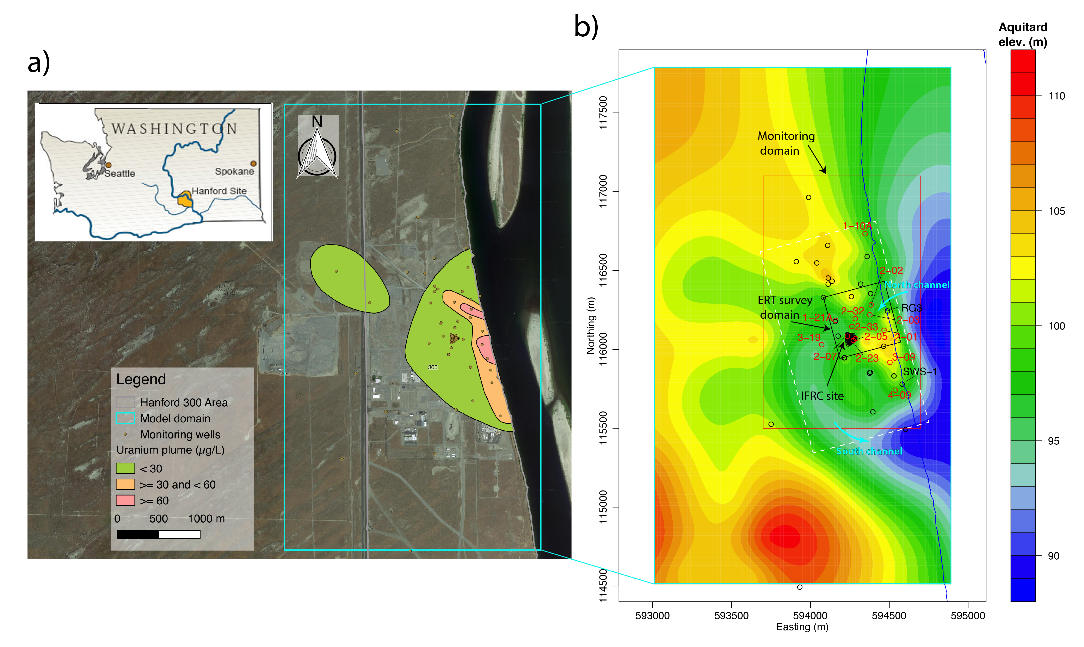 Summary
A team of scientists led by John Zachara of Pacific Northwest National Laboratory examined the impact of river water and groundwater exchange in relation to a uranium contaminant plume migration at Hanford, Washington. The goal was to develop and improve the predictive understanding of hydrologic exchange flows and their role in changing river corridor biogeochemistry.

The team used an innovative combination of field sampling and three-dimensional mathematical models to investigate how river stage variation over seasons and subsurface hydrogeology interact to influence subsurface contaminant migration. In this work, the authors note that there are very few studies that model solute transport or plume behavior during dynamic hydrologic exchange in large river corridors, and that the model they developed can be applied to other, similar riverine systems.

According to both their model and data, river water exchange with groundwater in large, gravel-bed river corridors may create a wide interaction zone, which is different from most headwater systems. Water level variations in dam-regulated river corridors lead to changing flow directions, velocities, and sediment compositions, that influence contaminant plume behavior. The residence time and transport distance of intruded river water is controlled by both river stage and subsurface hydrogeologic features.

Funded by the Department of Energy's Biological and Environmental Research (BER) program, this work addresses DOE's mission to improve the predictive understanding of how watershed systems respond to environmental perturbations caused by changes in water availability/quality, land use/vegetation cover, and inorganic element/contaminant loading. Researchers used the DOE-funded NERSC, National Energy Research Scientific Computing Center, user facility in their model development.
Contact
John Zachara, Pacific Northwest National Laboratory, john.zachara@pnnl.gov
Funding
This research was supported by the U.S. Department of Energy (DOE), Office of Biological and Environmental Research (BER), as part of the Subsurface Biogeochemical Research Scientific Focus Area (SFA) at Pacific Northwest National Laboratory (PNNL).
Microbial diversity influences nitrogen cycling in rivers
Seasonal changes affect microbiome communities, genes, and subsurface biogeochemical pathways differently
The Science
DOE researchers investigated the role of microbial genetic diversity in two major subsurface biogeochemical processes: nitrification and denitrification. Results show that across different seasons only a few microbe species, namely Nitrosoarchaeum, carry out nitrification functions—demonstrating high resistance to environmental change. However, denitrification genes, which are more broadly distributed in the community, displayed a variety of diversity patterns and abundance dynamics—demonstrating greater microbial interactions as conditions change.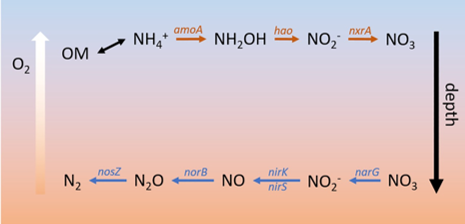 The Impact
There is little research connecting microbiomes at the genetic level to hydrobiogeochemical modeling. This research helps broaden collective knowledge for a better understanding of the pathways affected by environmental changes. For example, under extreme environmental conditions an entire biochemical pathway could be altered or eliminated if a single step has low genetic diversity such that its loss could not be replaced.
Summary
The Pacific Northwest National Laboratory research team, led by Bill Nelson, found that major environmental processes—specifically nitrification and denitrification—are maintained through a variety of diversity strategies. Historically, the bulk of biogeochemical research has focused on microbial communities at the organismal level. But this research focused on the importance of genetic distribution and diversity.

In their recent PLoS ONE paper, the researchers discuss the roles microbes play in ecological functions; the novelty of the genetic makeup of these microbes; and future research opportunities to determine which organisms are genetically expressing nitrogen cycling functions.

The novelty of this study comes from examining the temporal dynamics of diversity at the gene level. To evaluate all genes in the nitrification and denitrification pathways, novel Hidden Markov Models (HMMs) were developed that can recognize the broad diversity found in environmental samples. They found that while different environmental conditions impair microbiome growth and the gene expression of some populations, at the same time, it can stimulate others. High biodiversity at the organism or genetic level creates more resiliency, and the microbiome community can respond more rapidly to environmental changes.
Contact
Bill Nelson, Pacific Northwest National Laboratory, William.Nelson@pnnl.gov
Funding
This research was supported by the U.S. Department of Energy (DOE), Office of Biological and Environmental Research (BER), as part of the Subsurface Biogeochemical Research Scientific Focus Area (SFA) at Pacific Northwest National Laboratory (PNNL).
Oxide interfaces in disarray
Exploration of disorder at material interfaces could lead to better device performance
The structure of an interface at which two materials meet helps determine the performance of the computers and other devices we use every day. However, understanding and controlling interface disorder at the atomic level is a difficult materials science challenge.
A research team at PNNL and Texas A&M University combined cutting edge imaging and numerical simulations to examine disordering processes in widely used oxide materials. They found that certain oxide interface configurations remain stable in extreme environments, suggesting ways to build better performing, more reliable devices for fuel cells, space-based electronics, and nuclear energy.
Visualizing the disordering process
As reported in Advanced Materials Interfaces ("Asymmetric Lattice Disorder Induced at Oxide Interfaces," DOI: 10.1002/admi.201901944) the team set out to examine interfaces between pyrochlore-like and perovskite oxides, two common classes of functional materials used in energy and computing technologies. While most past work has focused on individual bulk materials, less attention has been paid to interfaces connecting them, as would be the case in a device. In particular, it is not clear how interface features, such as composition, bonding, and possible defects, govern disordering processes.
Funded by PNNL's Nuclear Process Science Initiative (NPSI), the team employed experimental and theoretical methods to study the interface at different stages of disorder introduced through ion irradiation. They imaged the local structure of the material using high-resolution scanning transmission electron microscopy and convergent beam electron diffraction, which showed that the bulk of the two materials disordered (amorphized) before the interface. After further irradiating the material, they found that a band region near the interface had remained crystalline, while the rest of the structure had become amorphous.
To understand this behavior, the team turned to a technique called electron energy loss spectroscopy, which allowed them to examine the atomic-scale chemistry and defects formed at the interface. Their measurements revealed the presence of substantial amounts of defects called oxygen vacancies, which can greatly affect properties such as magnetism and conductivity. Based on these observations, the team constructed a theoretical model of the interface and explored the effect of different interface configurations on the tendency to form vacancies.
"In our model we are able to systematically vary interface features, such as crystal structure, intermixing, and strain, to see their effect on defect formation. We found that the structure of the materials on both sides of the interface can influence where defects are likely to form first," explained Steven R. Spurgeon, a PNNL materials scientist. "Our model suggests that by selecting appropriate crystal structures and controlling how they connect, it may be possible to dictate the sequence of defect formation, which would allow us to enhance the properties of these materials."
The team is exploring other interface structures and chemistries, with an eye toward improving the performance of oxides used in extreme environments.
The study was conducted as part of the NPSI project, "Damage Mechanisms and Defect Formation in Irradiated Model Systems," led by Spurgeon.
Research Team
Steven Spurgeon (PNNL), Tiffany Kaspar (PNNL), Vaithiyalingam Shutthanandan (Environmental Molecular Sciences Laboratory at PNNL), Jonathan Gigax (Texas A&M), Lin Shao (Texas A&M), Michel Sassi (PNNL).
Peeking Into the Lives of Soil Microbiomes
SoilBox provides in-depth imaging and characterization of soil microbial communities in their native environments.
The Science
To better characterize the vast diversity of soil microbes and their interactions, DOE researchers developed a high-tech simulated soil core called SoilBox. This 16.7-centimeter-deep box allows researchers to visualize soil microbes' complex interactions using different imaging methods and facilitating, for the first time, visualization of the soil microbiome's organization and community metabolism. Furthermore, SoilBox provides a tool for researchers to observe how soil microbial communities respond to environmental changes and perturbations.
The Impact
The complexity of soil makes spatial imaging of soil microbial communities challenging. Using SoilBox, researchers can now visualize the diversity and metabolic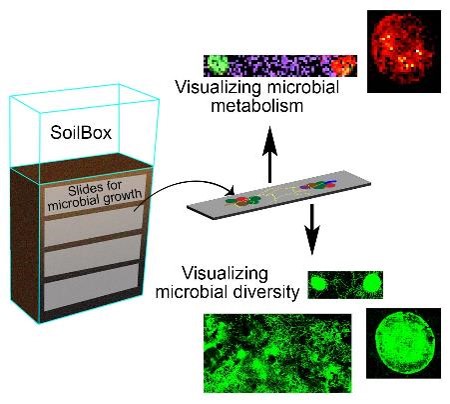 landscape of the soil microbiome under different environmental conditions, such as soil moisture and temperature. Understanding the basic biology of the soil microbiome is necessary for understanding how native soil systems respond to environmental perturbations such as drought, lack of nutrients, and fire. 
Summary
Soil-dwelling microbes are key players in the overall health of soil ecosystems, performing critical functions like carbon and nutrient cycling. The interplay between the soil microbiome and the soil it inhabits is a dynamic relationship heavily influenced by factors such as soil acidity, organic content, and temperature. The size and distribution of soil particles also affects many soil characteristics, adding to the already complex challenge of accurately describing structure-function relationships of soil microbial communities.
To address the difficulties of studying the soil microbiome in its native state and at a microscale resolution, a team of researchers from Pacific Northwest National Laboratory, led by Arunima Bhattacharjee and Chris Anderton, developed SoilBox. This system represents a soil ecosystem by simulating an ~12-cm-deep soil core; several windows facilitate molecular and optical imaging measurements that are crucial to understanding the nuanced interactions between the soil microbiome and its environment. This novel imaging capability allows scientists to study the dynamic landscape of soil microbial communities as they relate to environmental changes, including nutrient cycling.
This work overcomes the challenge of visualizing the diversity of soil microbial communities in the complex and ever-changing environment of soil. SoilBox will be used in the near future to investigate soil microbial community dynamics.
Contact
Chris Anderton, Pacific Northwest National Laboratory, christopher.anderton@pnnl.gov
Funding
This research was supported by the Department of Energy (DOE) Office of Biological and Environmental Research (BER) and is a contribution of the Scientific Focus Area "Phenotypic response of the soil microbiome to environmental perturbations." Pacific Northwest National Laboratory (PNNL) is operated for the DOE by Battelle Memorial Institute under Contract DE-AC05-76RLO1830. A portion of the research was performed using EMSL, the Environmental Molecular Sciences Laboratory, a DOE Office of Science User Facility sponsored by BER and located at PNNL.
A. Bhattacharjee et al.,"Visualizing microbial community dynamics via a controllable soil environment." mSystems 5, 1:e00645-19 (2020). https://doi.org/10.1128/mSystems.00645-19.
Improving nuclear waste storage models by studying the chemistry of material interactions
WastePD EFRC research on the glass-steel interface was published in Nature Materials
New research unravels the chemistry of how materials in the waste packages used for the disposal of high-level radioactive waste interact in deep geologic repository environments. Having a better understanding of the interactions between materials under various conditions provides more information to make waste storage performance models more robust.
"Many performance models use conservative approaches such as assuming that the steel canister walls don't even exist or that they dissolve very fast. This study provides the opportunity to better incorporate the canister barrier in the models," said Joseph Ryan, a PNNL materials scientist and coauthor on the paper, "Self-accelerated corrosion of nuclear waste forms at material interfaces," published in Nature Materials.
The United States is converting highly radioactive nuclear waste, also known as high-level waste, into glass. The molten glass is poured into steel canisters for long-term storage and ultimate disposal in a geologic repository. The goal is to design waste storage and disposal systems that would remain safe for hundreds of thousands of years to come, even if they are exposed to water. Because of the extensive time span of waste storage, researchers turn to cutting-edge science to project what will happen during that time period. The data is used to inform extensive safety analyses—helping make sure the system is engineered to be compatible with the natural system so that waste remains separate from the environment.
"We can't just do a test on a material and say, 'That material corroded this much in 30 days and extrapolate that to a million years.' It doesn't work that way," Ryan said. "At the most basic level, we try to understand the underlying chemistry of corrosion. Then, we feed that information into computer models to calculate the expected release over time."
In this study, led by the WastePD Energy Frontier Research Center based at Ohio State University, researchers unpacked the chemistry that occurs when two materials are close together, focusing on glass-steel along with ceramic-steel interactions. This chemical situation could occur when water has percolated into the repository and has breached the steel canister, exposing the glass-steel interface to water.
When water finally breaches the waste package container, it will fill the microscopic space that forms between the solid glass and the steel canister. Chemical reactions that happen in localized and tiny microenvironments such as these can be quite different than those happening in a more open setting. In this case, this localized area can have a different chemistry than the surrounding solution, causing more corrosion than would be expected.
The researchers tested their theory in the laboratory. They pressed glass and steel together in salty liquid and kept it at 90° C (194° F) for a month. At the end of the experiment, they found differences in the width of thin layers that indicated higher corrosion between the glass-steel couple interface than in a control sample.
Why it matters: This research allows scientists to improve models that project how a disposal canister could perform in a deep geologic environment. Having a better understanding of the interactions between materials under various conditions provides more information to make the models more robust. Currently, some models project what happens to waste under the assumption that the steel canister walls do not exist. Operating under this pretext can result in higher projections of waste degradation than would likely occur when taking a conservative approach. But better understanding the chemistry of how the solid waste and the steel canister interact allows a scientifically based understanding of how the canisters behave and interact with the glass to be included in performance assessment models.
Summary: High-level waste is immobilized as glass in stainless steel canisters. On cooling, a confined crevice space forms at the stainless steel-glass interface. If the disposal canister is breached and if water can enter the steel-glass interface, it could result in anodic dissolution of the stainless steel, generating metal cations, which hydrolyze to form protons and strongly increase the local acidity. This acidic environment may locally enhance the corrosion of both the stainless steel and the glass, which leads to the release of cations from the glass. Further, the coupled corrosion may trigger the precipitation of additional secondary phases that may impact subsequent canister corrosion or nuclear glass durability.
What's Next: While this study sheds light on the chemical interactions that occur at the stainless steel-glass interface, there are more interactions to explore. Ultimately, a better understanding of different chemical mechanisms will improve the overall performance model.
Acknowledgements
Sponsors: This work was supported as part of the Center for Performance and Design of Nuclear Waste Forms and Containers, an Energy Frontier Research Center funded by the US Department of Energy, Office of Science, Basic Energy Sciences under Award no. DESC0016584.
Research Team: Xiaolei Guo, Gerald S. Frankel, Gopal Viswanathan, Tianshu Li (Ohio State University); Stéphane Gin (CEA, France); Penghui Lei, Tiankai Yao, Jie Lian (Rensselaer Polytechnic Institute); Hongshen Liu, Dien Ngo, Seong H. Kim (Pennsylvania State University); Daniel K. Schreiber, John D. Vienna, Joseph V. Ryan (PNNL); Jincheng Du (University of North Texas)
Protecting climate-sensitive soil ecosystems
Review paper summarizes the effects of climate change on soil microorganisms and the ecosystem services they provide, and evaluates potential mitigation measures.
The Science
Researchers from Pacific Northwest National Laboratory reviewed the current state of knowledge about the impacts of climate change on soil microorganisms in different climate-sensitive soil ecosystems. They also examined the possibilities of using soil microorganisms to store carbon or inoculate plants to help mitigate the negative consequences of climate change. Based on their review, the authors recommend an integrated approach that combines beneficial properties of soil microorganisms with sustainable soil management practices to support plant production, maintain a clean water supply, sustain biodiversity, store carbon, and increase resilience in the face of a changing climate.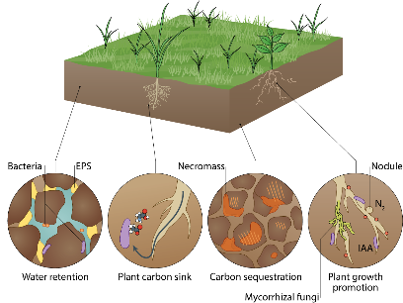 The Impact
The effects of climate change on soil microbial communities have potentially large consequences for Earth's soil ecosystems and the beneficial services that soil microbiomes provide. This review highlights the need to connect the fine-scale details arising from microbiome studies to the landscape-scale resolution of many Earth system climate models in the search for climate change mitigation measures.
Summary
On Earth's terrestrial surface, the soil microbiome cycles nutrients to sustain plant and animal life. While this microbial community is innately connected to environmental conditions, impacts on the soil microbiome due to climate change vary depending on the ecosystem. Different aspects of climate change impact soil microbial communities and their important ecosystem functions, such as cycling of carbon and supporting plant growth. But the molecular details of soil biochemical reactions responsible for these key functions are largely unknown.
Researchers synthesized existing knowledge of climate change impacts across a range of soil environments—permafrost, forests, grassland, wetlands, and deserts—to examine how the microbiome responds. They looked at microbial changes coinciding with different climate change variables including increases in carbon dioxide levels, temperatures, drought, flooding, and fires. Their review showed that microbial physiology largely determines the ability of soil ecosystems to adapt, and that some microbiomes may be suitable for climate change mitigation measures such as carbon sequestration and promoting plant growth. The review sets the stage for future research on soil microbiomes and challenges to overcome in order to connect to larger-scale predictive models of climate change.
Contacts
Janet Jansson, Lab Fellow, janet.jansson@pnnl.gov
Kirsten Hofmockel, Earth Scientist, kirsten.hofmockel@pnnl.gov
Funding
This research was supported by the Department of Energy Office of Biological and Environmental Research (BER) Genomic Science Program and is a contribution of the Scientific Focus Area "Phenotypic response of the soil microbiome to environmental perturbations." PNNL is operated for DOE by Battelle Memorial Institute under Contract DE-AC05-76RLO1830. A portion of the research was performed using the Environmental Molecular Sciences Laboratory, a DOE Office of Science User Facility sponsored by BER and located at PNNL.
Fire Increases Ecosystem Vulnerability to Future Disturbance Events
Burned landscapes are hit harder by extreme rain than unscathed ones.
The Science         
New work from a team including researchers Vanessa Garayburu-Caruso, Swatantar Kumar, and corresponding author Emily Graham at Pacific Northwest National Laboratory (PNNL), and Joseph Knelman at the University of Colorado, examines how back-to-back extreme events can affect a forest landscape. They find that a forest fire leaves marks far deeper than the destruction visible on the surface, making the soil more vulnerable to damage from subsequent flooding.
The Impact
This study is one of a few in an emerging field of investigation that is able to capture ecosystem effects of multiple disturbances in natural settings. It bridges scientific disciplines by linking changes in soil chemistry, microbiome structure, and biogeochemical function using methods from ecological theory.
Summary
Extreme natural events are often thought to be in isolation from each other—a big wildfire in one season, heavy rains in another. But as climate change makes such disturbances more frequent and intense, ecosystems are likely to face chains of disturbance events in relatively quick succession, with one instance affecting the ability to recover from the next.  The compounding effects of multiple disturbances on ecosystem health remain poorly understood, since the unpredictability of natural events makes them challenging to study.
To better understand the issue, the researchers repeatedly collected soil samples in Boulder, Colorado's Four Mile Canyon for over three years after a major wildfire. At the 37-month mark, an extreme precipitation event dropped more than 400 millimeters of rain within a week. Samples were collected from an undisturbed forest landscape and an adjacent fire-disturbed landscape, allowing the researchers to investigate the combined effects of multiple disturbances in comparison to a landscape experiencing flooding only. Researchers assessed the samples' soil edaphic properties (moisture, pH, percent nitrogen, and percent carbon); bacterial community composition and assembly; and soil enzyme activities. They found that previous fire exposure caused forests to be more strongly affected by a subsequent flooding event than unburned forests. This was driven by increases in pH, shifts in microbiome structure, and increased microbial investment in nitrogen versus carbon cycling.
The team is also investigating compounding disturbances using the Columbia River as a model system. River stage variation in the Columbia causes frequent wetting and drying of the shoreline that provides a natural laboratory for investigating compounding disturbances. Results are expected in the fall of fiscal year 2020.
Contact
Emily B. Graham, Quantitative Ecosystem Ecologist, emily.graham@pnnl.gov
Funding
This research was supported by the U.S. Department of Energy (DOE), Office of Biological and Environmental Research (BER), as part of the Subsurface Biogeochemical Research Scientific Focus Area (SFA) at Pacific Northwest National Laboratory (PNNL).  
J.E. Knelman, S.K. Schmidt, V. Garayburu-Caruso, S. Kumar, E.B. Graham, "Multiple, Compounding Disturbances in a Forest Ecosystem: Fire Increases Susceptibility of Soil Edaphic Properties, Bacterial Community Structure, and Function to Change with Extreme Precipitation Event." Soil Systems (2019) 3(2):40.