News & Media
Latest Stories
165 results found
Filtered by Bioenergy Technologies, Chemical & Biological Signatures Science, National Security, Nuclear Nonproliferation, Secure & Adaptive Systems, Software Engineering, and Transportation
When a pinch is problematic: Detecting pertechnetate in groundwater
PNNL develops an effective tool for measuring a tricky contaminant
Imagine trying to detect and measure a pinch of salt in an Olympic-size swimming pool. Now pretend the tools you are using don't work well. Some can detect the salt but can't tell you how much is in there, and others confuse salt with chlorine.
Now swap the swimming pool for a source of groundwater and the salt for a radioactive contaminant called pertechnetate.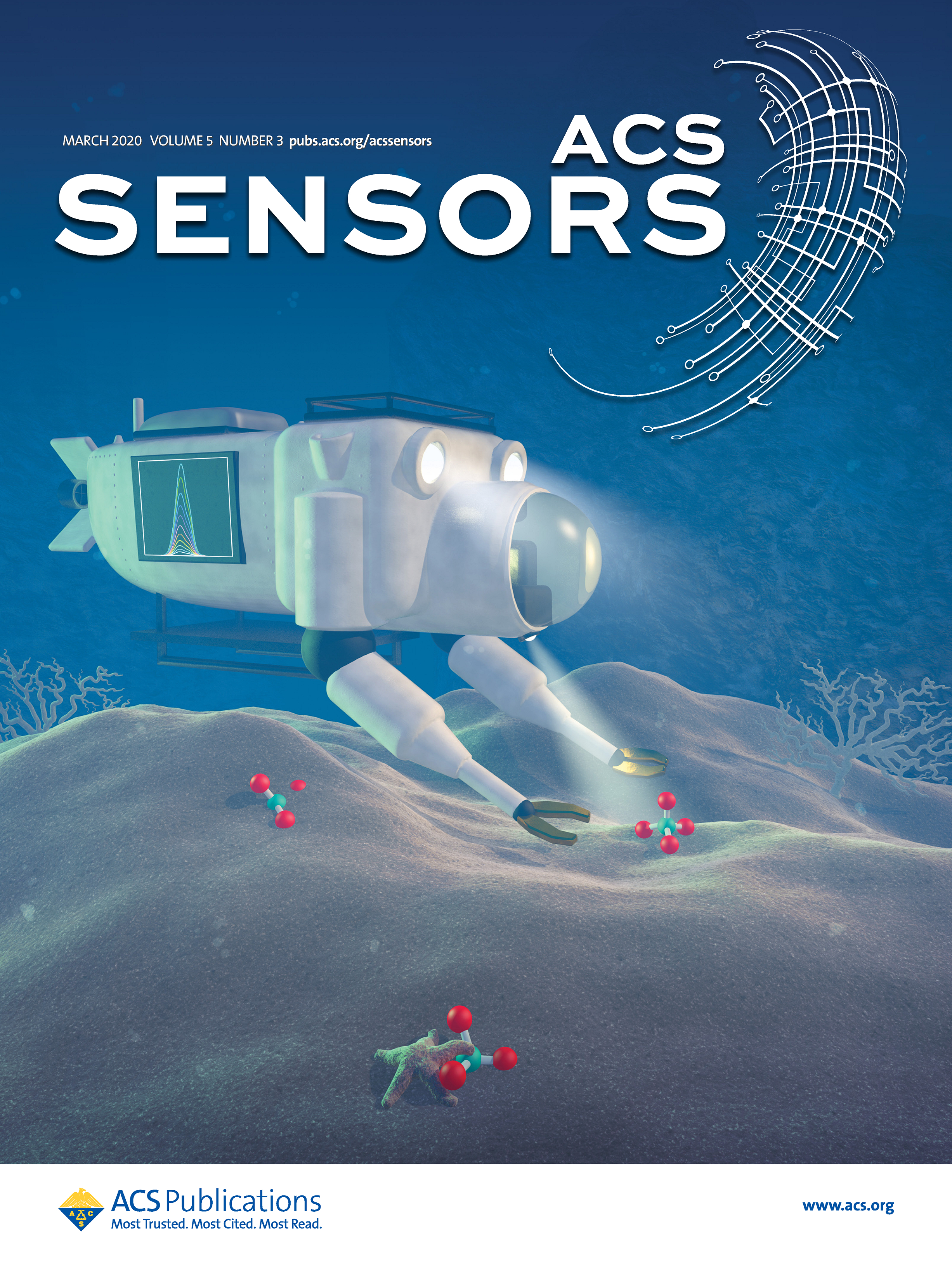 Pertechnetate is a byproduct of nuclear waste. If it ends up where it is not supposed to be—like, in groundwater—it could impact human health, which is why researchers and regulators keep a close lookout for it. The environmental safety limits for pertechnetate are roughly equivalent to a pinch of salt in an Olympic pool. And there are only a few technologies to measure it, each with limitations.
PNNL research tackles this challenge with new technology to detect and accurately measure pertechnetate at super low levels in groundwater. This research, "Redox-Based Electrochemical Affinity Sensor for Detection of Aqueous Pertechnetate Anion," was the cover article for the March 2020 edition of ACS Sensors (DOI: 10.1021/acssensors.9b01531). 
Why it matters: The Environmental Protection Agency drinking water standard for pertechnetate is 0.000000052 grams per liter (that's roughly 1/6000th the weight of a single poppy seed). While techniques exist for detection of pertechnetate in the environment, many have their drawbacks. PNNL's technology can accurately measure low levels of pertechnetate in groundwater. Additionally, this proof of concept has the potential to be applied to other target contaminants simultaneously, increasing efficiency for environmental sensing.
Summary: The new technology acts like a coin counter, but at a microscopic level. It sorts one type of chemical from another, providing the total amount of a target chemical at the end. The tool uses custom probes with a gold electrode that only allows the target groundwater contaminants to stick while the other chemicals bounce off.
Sulfur likes to bind to gold and it also tends to react with pertechnetate, making sulfur-containing compounds an ideal intermediate in tool development. The sulfur sticks to the gold probe, then reacts with the pertechnetate, which forms a precipitate. The precipitate inhibits an electric current pulsing through the probe, providing an inverse measurement of pertechnetate concentration.
What's Next: While this work was specifically focused on pertechnetate, there is potential to expand the technology to simultaneous multiple targets with the goal of increasing the efficiency of environmental measurements.
Sponsors: This research was funded by the Laboratory Directed Research and Development program at PNNL and by the Deep Vadose Zone program under the U.S. Department of Energy's (DOE's) Office of Environmental Management. Part of this research was performed at the Environmental Molecular Sciences Laboratory, a national user facility at PNNL managed by the DOE Office of Biological and Environmental Research.
PNNL Research Team: Sayandev Chatterjee, Meghan S. Fujimoto, Yingge Du, Gabriel B. Hall, Nabajit Lahiri, Eric D. Walter, Libor Kovarik. ACS Sensors cover illustration by Rose Perry, PNNL.
Solving an ergonomic problem to enable safeguards research
PNNL-WSU collaboration develops the future workforce
Performing nuclear safeguards work safely and developing the next generation workforce are complementary goals of a longstanding program sponsored by the National Nuclear Security Administration's Office of International Nuclear Safeguards. This program pairs PNNL research staff with Washington State University engineering students to provide solutions to enable nuclear safeguards research at PNNL.
In December, a team of WSU students delivered their solution to some ergonomic issues faced by PNNL physicist Mike Cantaloub and his team in a laboratory containing sensitive high-purity germanium detectors. These detectors are arranged in a tall fixture containing lead shielding to reduce the effects of naturally occurring atmospheric radiation and enable the accurate identification of radioactive isotopes in samples. Staff members using this instrument have to remove a 25-lb. plug detector, reach down to place samples, and then replace the plug detector. These activities have the potential for ergonomic injury to staff members and damage to the detectors.
WSU students Darin Malihi, Jared Oshiro, Martin Gastelum, Jacob Lazaro, Nicholas Takehara, and Saul Ramos designed and fabricated equipment that works similar to the weight training machines found in a gym—a lifting arm with a counter weight. The team also developed a solution to place the sample, a holder that is affixed to the bottom of the plug detector. Their solutions allow researchers to remove the detector quickly and efficiently and avoid reaching down to place the sample for detection.
"The solution devised by the team makes day-to-day operations in this laboratory safer and more efficient for the nuclear safeguards research team," said PNNL mechanical engineer and advisor to the WSU team, Patrick Valdez.
Top Ten Blendstocks for Turbocharged Gasoline Engines
Bio-blendstocks with the potential to deliver the highest engine efficiency
More efficient engines enabled by better fuels could increase the fuel economy of light duty (LD) vehicles by 10 percent beyond current technology and planned developments. This report identifies top blendstocks that can be derived from biomass and are suitable for further development and commercialization. These blendstocks are best-suited for LD gasoline, boosted spark ignition (BSI) engines. The blendstocks were identified using a fuel property basis using the BSI merit function. The merit function determines potential improvements in engine efficiency, was used to evaluate the performance of candidate bioblendstocks in blends up to 30%. Those that exceeded the efficiency of an E10 premium were included in this list. This report is aimed at biofuel researchers looking to better understand the efficiency implications of biofuels under development, as well as engine researchers who are interested in future biofuels with properties that enable more efficient engine design and operation.
The Co-Optimization of Fuels & Engines (Co-Optima) team includes experts from nine national laboratories: Argonne, Idaho, Lawrence Berkeley, Lawrence Livermore, Los Alamos, Oak Ridge, Pacific Northwest, and Sandia National Laboratories and the National Renewable Energy Laboratory. The team's expertise includes biofuel development, fuel property testing and characterization, combustion fundamentals, modeling and simulation from atomic scale to engine scale, and analysis.
Gaspar, Daniel J., West, Brian H., Ruddy, Danial, Wilke, Trenton J., Polikarpov, Evgueni, Alleman, Teresa L., George, Anthe, Monroe, Eric, Davis, Ryan W., Vardon, Derek, Sutton, Andrew D., Moore, Cameron M., Benavides, Pahola T., Dunn, Jennifer, Biddy, Mary J., Jones, Susanne B., Kass, Michael D., Pihl, Josh A., Pihl, Josh A., Debusk, Melanie M., Sjoberg, Magnus, Szybist, Jim, Sluder, C S., Fioroni, Gina, and Pitz, William J. Top Ten Blendstocks Derived From Biomass For Turbocharged Spark Ignition Engines: Bio-blendstocks With Potential for Highest Engine Efficiency. United States: N. p., 2019. Web. doi:10.2172/1567705.