News & Media
Latest Stories
315 results found
Filtered by Atmospheric Science, Earth System Science, Human Health, and Secure & Adaptive Systems
When a pinch is problematic: Detecting pertechnetate in groundwater
PNNL develops an effective tool for measuring a tricky contaminant
Imagine trying to detect and measure a pinch of salt in an Olympic-size swimming pool. Now pretend the tools you are using don't work well. Some can detect the salt but can't tell you how much is in there, and others confuse salt with chlorine.
Now swap the swimming pool for a source of groundwater and the salt for a radioactive contaminant called pertechnetate.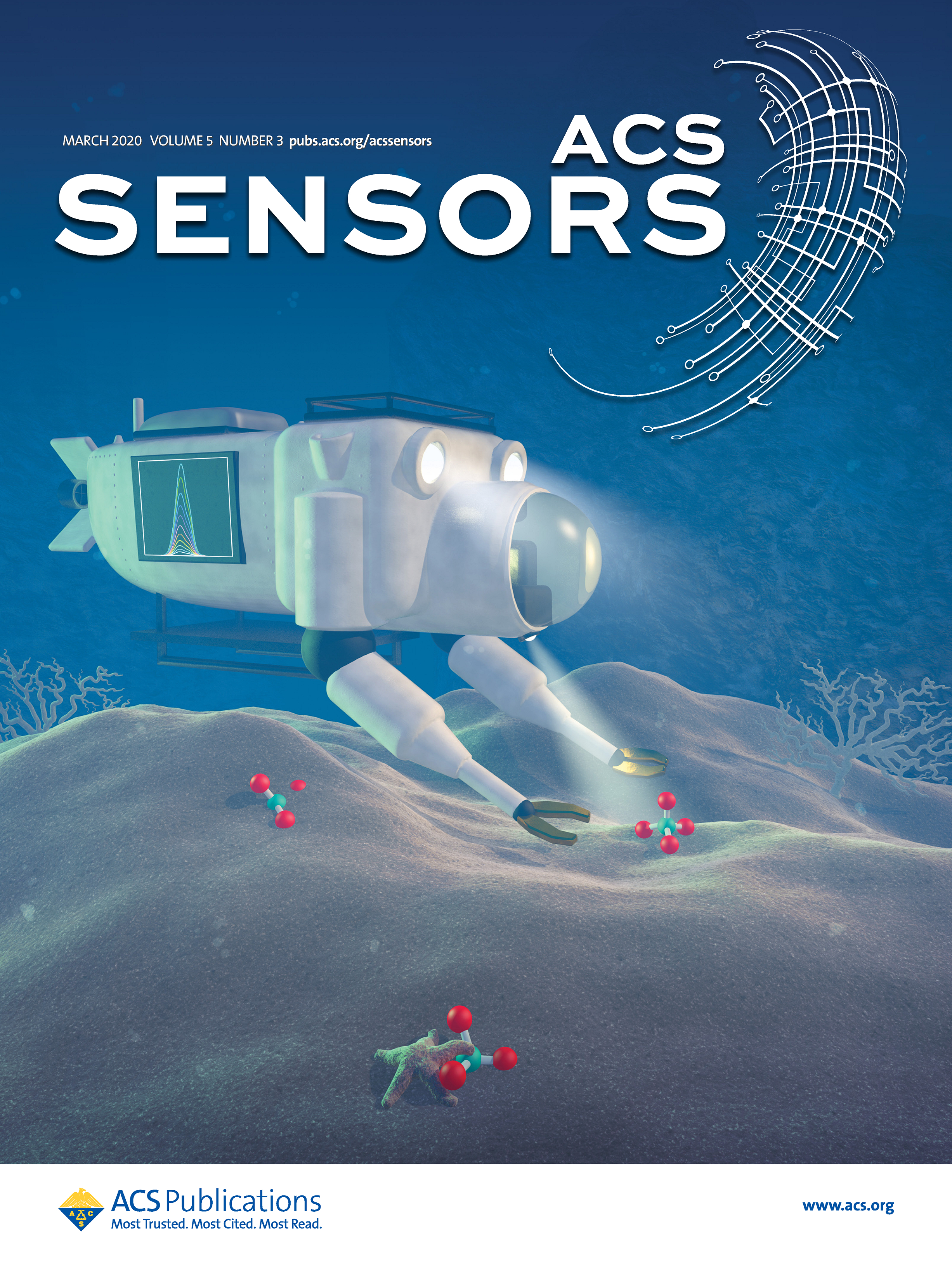 Pertechnetate is a byproduct of nuclear waste. If it ends up where it is not supposed to be—like, in groundwater—it could impact human health, which is why researchers and regulators keep a close lookout for it. The environmental safety limits for pertechnetate are roughly equivalent to a pinch of salt in an Olympic pool. And there are only a few technologies to measure it, each with limitations.
PNNL research tackles this challenge with new technology to detect and accurately measure pertechnetate at super low levels in groundwater. This research, "Redox-Based Electrochemical Affinity Sensor for Detection of Aqueous Pertechnetate Anion," was the cover article for the March 2020 edition of ACS Sensors (DOI: 10.1021/acssensors.9b01531). 
Why it matters: The Environmental Protection Agency drinking water standard for pertechnetate is 0.000000052 grams per liter (that's roughly 1/6000th the weight of a single poppy seed). While techniques exist for detection of pertechnetate in the environment, many have their drawbacks. PNNL's technology can accurately measure low levels of pertechnetate in groundwater. Additionally, this proof of concept has the potential to be applied to other target contaminants simultaneously, increasing efficiency for environmental sensing.
Summary: The new technology acts like a coin counter, but at a microscopic level. It sorts one type of chemical from another, providing the total amount of a target chemical at the end. The tool uses custom probes with a gold electrode that only allows the target groundwater contaminants to stick while the other chemicals bounce off.
Sulfur likes to bind to gold and it also tends to react with pertechnetate, making sulfur-containing compounds an ideal intermediate in tool development. The sulfur sticks to the gold probe, then reacts with the pertechnetate, which forms a precipitate. The precipitate inhibits an electric current pulsing through the probe, providing an inverse measurement of pertechnetate concentration.
What's Next: While this work was specifically focused on pertechnetate, there is potential to expand the technology to simultaneous multiple targets with the goal of increasing the efficiency of environmental measurements.
Sponsors: This research was funded by the Laboratory Directed Research and Development program at PNNL and by the Deep Vadose Zone program under the U.S. Department of Energy's (DOE's) Office of Environmental Management. Part of this research was performed at the Environmental Molecular Sciences Laboratory, a national user facility at PNNL managed by the DOE Office of Biological and Environmental Research.
PNNL Research Team: Sayandev Chatterjee, Meghan S. Fujimoto, Yingge Du, Gabriel B. Hall, Nabajit Lahiri, Eric D. Walter, Libor Kovarik. ACS Sensors cover illustration by Rose Perry, PNNL.
Moments Matter When It Comes to Modeling Rain
Improved representation of rain microphysics led to more accurate simulations of surface precipitation
The Science
In atmospheric models, raindrop properties such as rainfall rate are usually described based on the raindrop size distribution. For example, heavy rain rates may have a wider raindrop size distribution than light rain. To improve predictions of rain that reaches the surface, the primary question has been, how can models better represent the evolution of raindrop size distribution in space and time in the atmosphere? A team led by researchers at the U.S. Department of Energy's (DOE) Pacific Northwest National Laboratory improved the representation of rain microphysics by predicting the shape parameter of raindrop size distributions in a recently developed cloud microphysics scheme. They found that under a wide range of atmospheric conditions, their advanced representation delivered surface rain properties similar to those produced by a benchmark scheme, but with less computational resources.
The Impact
Because raindrops play a major role in the vertical redistribution of heat and moisture in the atmosphere, they are a critical component for modeling the structure and evolution of cloud systems such as mesoscale convective systems. These systems are major sources of heavy rain in the central United States. A proper representation of rain in numerical models is not only vital to predict surface precipitation, but also to accurately simulate environmental conditions and circulation patterns. The advanced rain microphysics representation from this study improves simulations of rain properties under various atmospheric conditions, and it can be used to increase accuracy of weather and climate models. The scheme will be implemented in DOE's Energy Exascale Earth System Model (E3SM).
Summary
Cloud microphysics schemes in weather and climate models usually predict two moments—the total number and mass—of the raindrop size distribution. Researchers upgraded the Predicted Particle Properties (P3) cloud scheme by adding another predicted variable—shape parameter—for raindrop size distribution, turning the two-moment scheme into a three-moment scheme for raindrop representation. They also developed and incorporated a new parameterization for drop-drop collisions—when two drops collide—and the breakup of large drops into smaller ones. 
To evaluate those new developments, the research team tested them with an idealized rain model. The model simulated 450 rain scenarios that were initialized by different raindrop size distributions and environmental conditions. Researchers compared the simulated surface rain properties against those from a detailed and computationally costly reference scheme. The team found that, depending on initial rain intensity, up to 95 percent of simulations with the new developments produced raindrop sizes and surface rain rates within ±20 percent biases from the reference results. This was a considerable improvement from the original two-moment scheme, which only reached 4 percent using the same criteria for comparisons with the reference results. Sensitivity tests showed that both the added degree of freedom—the additional variable for raindrop size distribution—and the new process parameterization contributed to the improvements.
PI Contact
Jiwen Fan, Pacific Northwest National Laboratory, jiwen.fan@pnnl.gov  
Funding
This research was supported by the Climate Model Development and Validation program funded by the Office of Biological and Environmental Research in the U.S. Department of Energy Office of Science. Model simulations were performed using PNNL Institutional Computing.
Paukert M, J Fan, PJ Rasch, H Morrison, JA Milbrandt, J Shpund, and A. Khain. 2019. "Three-Moment Representation of Rain in a Bulk Microphysics Model." Journal of Advances in Modeling Earth Systems 11(1):257−277, https://doi.org/10.1029/2018MS001512.
Influence of Groundwater Extraction Costs and Resource Depletion Limits on Simulated Global Nonrenewable Water Withdrawals over the 21st Century
Global groundwater depletion is projected to peak and then decline during this century as costs of using it change
The Science
Because water is a fundamental human need, estimating future supplies is important. Researchers at the U.S. Department of Energy's Pacific Northwest National Laboratory (PNNL) coupled regionally varying groundwater availability and extraction cost estimates with continually adjusted demands for water in a simulation that covered multiple sectors around the world. As groundwater levels dropped, imposing greater capital and energy costs to bring water to the surface, modeled water use sectors responded by drawing from other water resources. These behaviors resulted in a marked peak and decline in the rate of global groundwater depletion.
The Impact
Previously it was assumed that the rate of global groundwater depletion would increase steadily over the 21st century as humans demanded more water—particularly for crop production. This work suggests that groundwater depletion may actually decline, because the increasing costs of pumping will force water users to adapt by turning to less expensive sources, which are often in regions where renewable water remains plentiful.
Summary
In many regions of the world, groundwater reserves are being depleted rapidly. This raises concerns for the sustainability of irrigated agriculture and global food supplies. It is therefore important to study groundwater depletion and possible exhaustion of water resources at a global scale. A problem for such analysis is the lack of detailed understanding of when a depleting resource becomes unviable for further exploitation. The question is not simply how much water is physically available; we need to know when the financial costs and environmental effects of extracting more groundwater render the resource unviable for human applications. To study these effects, PNNL researchers employed a global, gridded data set that specifies the cost of groundwater extraction as a function of depletion. Then, using the Global Change Assessment Model (GCAM), they simulated water users as economic decision makers to understand how they would adapt as extraction costs increased. Results indicated that future rates of global groundwater depletion would be heavily moderated by increasing extraction costs. Regions that depleted water to costly levels lost competitive advantage for crop production, which shifted to regions where water resources were less costly and more plentiful. The team concluded that extraction costs must be included in simulations for projections of global groundwater depletion to be reliable.
PI Contact
Leon Clarke, Pacific Northwest National Laboratory, leon.clarke@pnnl.gov
PNNL Contact
Mohamad Hejazi, Pacific Northwest National Laboratory, Mohamad.Hejazi@pnnl.gov  
Funding
This research was supported by the U.S. Department of Energy Office of Science, Biological and Environmental Research through the Multisector Dynamics, Earth and Environmental System Modeling Program. 
Turner SWD, M Hejazi, C Yonkofski, SH Kim, and P Kyle. 2019. "Influence of Groundwater Extraction Costs and Resource Depletion Limits on Simulated Global Nonrenewable Water Withdrawals Over the Twenty-First Century." Earth's Future 7(2):123−135. https://doi.org/10.1029/2018ef001105.