News & Media
Latest Stories
156 results found
Filtered by Advanced Hydrocarbon Conversion, Chemical & Biological Signatures Science, Emergency Response, Energy Storage, Graph & Data Analytics, Plant Science, Reactor Licensing, Solid Phase Processing, Stakeholder Engagement, Subsurface Energy Systems, Visual Analytics, and Wind Energy
Study Shows Coastal Wetlands Aid in Carbon Sequestration
Sea-level rise impacts will likely decrease ecosystem carbon stocks
Tidal marshes, seagrass beds, and tidal forests are exceptional at absorbing and storing carbon. They are referred to as total ecosystem carbon stocks, yet little data exists quantifying how much carbon is absorbed and stored by tidal wetlands in the Pacific Northwest (PNW). Knowing this information is valuable, particularly in the context of sea level rise and with the associated need for Earth system modeling to predict changes at the coast.
The Science
Researchers found that the average total ecosystem carbon stock in the PNW is higher than in other areas of the U.S. and other parts of the world. Marsh carbon stocks, in particular, are twice the global average. Researchers found progressive increases in total ecosystem carbon stocks along the elevation gradient of coastal wetland types common in the PNW: seagrass, low marshes, high marshes, and tidal forests. Total carbon also increased along the salinity gradient, with more carbon occurring in lower salinity areas.
Additionally, this research showed that common methods used to estimate soil carbon actually underestimate soil carbon stocks in coastal wetlands. Soil carbon storage below the depth of 100 centimeters proved to be an important carbon pool in PNW tidal wetlands.
The Impact
The results suggest that long-term sea-level rise impacts, such as tidal inundation and increased soil salinity, will likely decrease ecosystem carbon stocks. This is a concern if wetlands can't migrate with increased sea level due to being bound by topography and human development.  
Summary
This research arose from the Pacific Northwest Blue Carbon Working Group, of which Amy Borde and Heida Diefenderfer of Pacific Northwest National Laboratory's Coastal Sciences Division are members. The team studied 28 tidal ecosystems across the PNW coast, from Humboldt Bay, California, to Padilla Bay, Washington. They sampled common coastal wetland types that occur along broad gradients of elevation, salinity, and tidal influences, collecting the data necessary to calculate total carbon stocks in both above ground biomass and the soil profile.
In three years of study, the researchers found that most carbon is in the wetland soils not aboveground, and much of it is deeper than one meter—a typical lower limit of sampling. Total ecosystem carbon stocks progressively increased along the terrestrial-aquatic gradient of coastal wetland ecosystems common in the temperate zone including seagrass, low marshes, high marshes, and tidal forests. The findings were reported in "Total Ecosystem Carbon Stocks at the Marine-Terrestrial Interface: Blue Carbon of the Pacific Northwest Coast, USA," published in the August 2020 online edition of Global Change Biology (DOI: 10.1111/gcb.15248).
Research Team: PNNL's Amy Borde and Heida Diefenderfer, along with J. Boone Kauffman, Leila Giovanonni, James Kelly, Nicholas Dunstan, and Christopher Janousek (Oregon State University); Craig Cornu and Laura Brophy (Institute for Applied Ecology/Estuary Technical Group); and Jude Apple (Padilla Bay National Estuarine Research Reserve).
Funding
The grant award was administered by the Institute of Applied Ecology, and other partners included Oregon State University and the Padilla Bay National Estuarine Research Reserve. This research was supported by the National Oceanic and Atmospheric Administration, through a cooperative agreement with the University of Michigan. 
Kauffman, J Boone, Leila Giovanonni, James Kelly, Nicholas Dunstan, Amy Borde, Heida Diefenderfer, Craig Cornu, Christopher Janousek, Jude Apple, and Laura Brophy. "Total Ecosystem Carbon Stocks at the Marine‐terrestrial Interface: Blue Carbon of the Pacific Northwest Coast, United States." Global change biology, no. 0 (August 11, 2020). DOI: 10.1111/GCB.15248
Making Sense of the 2018 National Biodefense Strategy
Following the release of the 2018 National Biodefense Strategy, PNNL released a second-generation, publicly available tool—free for use at https://bplat.pnnl.gov—that maps out current biodefense responsibilities and brings clarity to the tangle of laws, directives, and agencies that together protect US citizens. The Biodefense Policy Landscape Analysis Tool, or B-PLAT, is affectionately called the "spaghetti monster," because it visualizes information using spaghetti-like strands to demonstrate relationships between agencies, their specific responsibilities, and the degree of complexity and interconnectedness of the biodefense policy domain.
Research topics
RA Bartholomew and KM Omberg.  "Making Sense of the 2018 National Biodefense Strategy." Bulletin of the Atomic Scientists.  January 2019.  https://thebulletin.org/2019/01/making-sense-of-the-2018-national-biodefense-strategy/ 
A Publicly Available Landscape Analysis Tool for Biodefense Policy
In 2017, Pacific Northwest National Laboratory chartered an internal effort to capture relevant federal biodefense policy directives and laws in a format conducive to visualization and to better understanding the current state of the US biodefense enterprise.The resulting Biodefense Policy Landscape Analysis Tool (B-PLAT) is publicly available and captures more than 200 enduring biodefense responsibilities assigned by the following directives and laws.
Research topics
KM Omberg, LR Franklin, DR Jackson, KL Taylor, KL Wahl, A Lesperance,  EM Wynkoop, JAS Gray, OP Leiser, SL Frazar, RM Ozanich , and RA Bartholomew. "A Publicly Available Landscape Analysis Tool for Biodefense." Health Security. February 16(1): 2018.  DOI:  10.1089/hs.2017.0088
NWRTC Notes From the Field (June 2020)
Interviews with public health professionals who are helping to keep us safe
PNNL's Northwest Regional Technology Center interviews Assistant Chief of Resource Management for Seattle Fire Department Willie Barrington about how his team faced the unknown when the COVID-19 pandemic hit Seattle, Washington.
Research topics
Digging into the Details of Phosphorus Availability
New root blotting technique visualizes relationship between root growth, microbial activity, and soil nutrients.
The Science
Phosphorous is an important nutrient for plants. However, the mechanisms used by plants to extract phosphorus from soil and incorporate it into their biomass are not well understood. Now, researchers developed a new technique to visualize the activity and distribution of enzymes that mobilize phosphate around plant roots. Tracking the location of these enzymes can help researchers better understand the chemical dynamics between roots, microbes, and soil that influence how plants get nutrients. The approach could also be applied to other nutrient-cycling enzymes.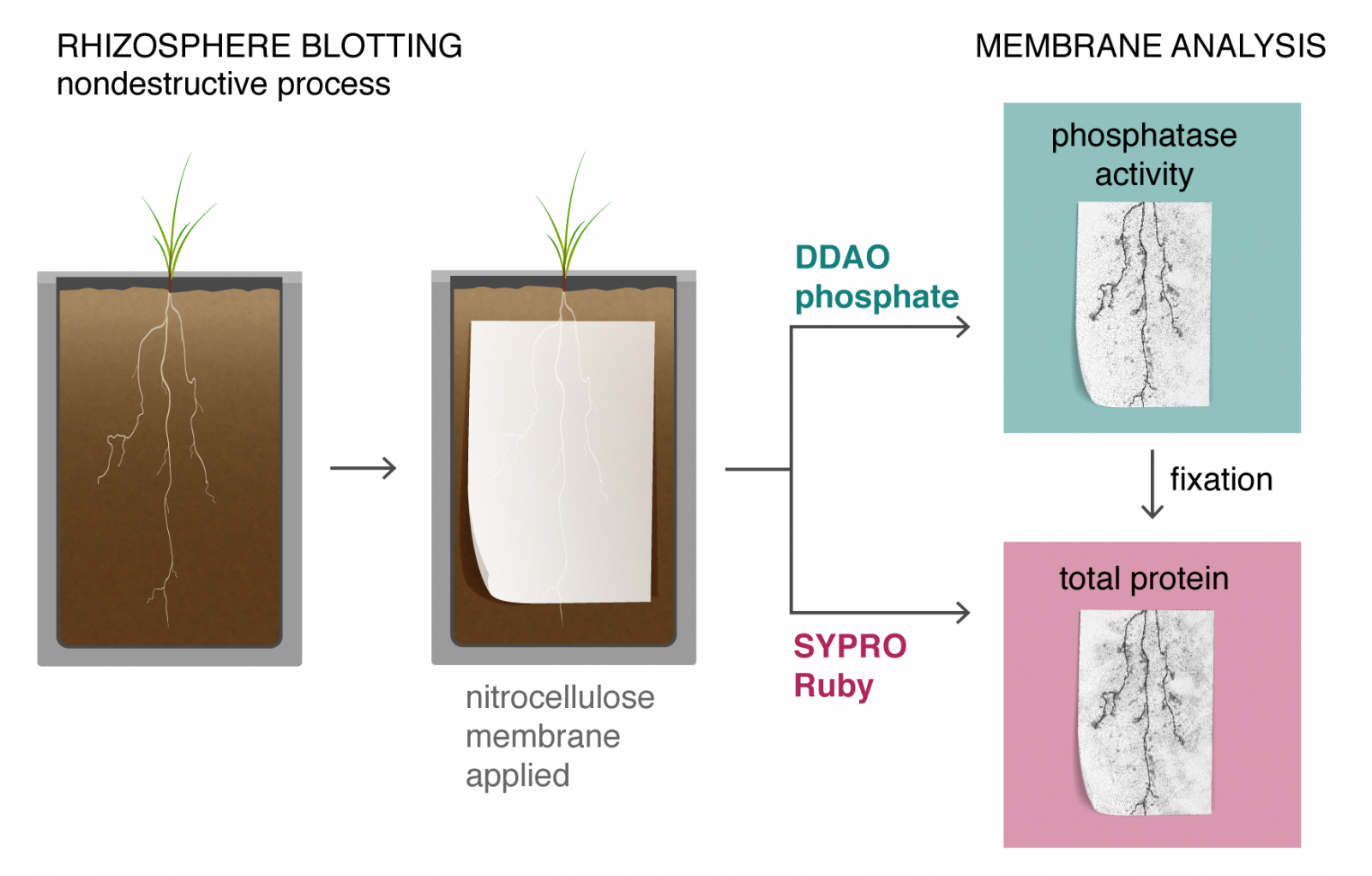 The Impact
Phosphorus is an essential nutrient for plants and therefore, global demand for phosphorus fertilizers is expected to grow to accommodate the world's growing population. However, most of these fertilizers are made from rock phosphorus, a non-renewable resource. This research provides new insights into the complex dynamics of phosphorous exchange between soil, microbes, and plant roots. Knowledge from this newly developed approach will help scientists identify strategies to improve phosphorus use efficiency for bioenergy crop production in marginal environments, as well as for agriculture in general.
Summary
Soil bacteria, fungi, and plants produce enzymes called phosphatases, which convert organic sources of phosphorus into a form that plants can absorb. Researchers have studied the microbial activity in bulk soil samples, providing information about the overall functional potential of the environment. But to better understand the dynamics between soil, plants, and microbes, more detail is needed. To accomplish that, a team of researchers developed a new technique based on root blotting to reveal phosphatase activity and distribution around plant roots. They grew switchgrass in flat pots or "rhizoboxes" containing soil with pellets of root matter as sources of organic phosphorus. Then, they applied a nitrocellulose membrane to capture proteins around the roots. Finally, the researchers stained the membrane with fluorescent indicators for phosphatase activity and protein concentration. This revealed the spatial distribution of phosphatase around the roots of plants, and highlighted regions of increased phosphatase activity.
This approach could be used to study phosphatase activity over time, as well as other nutrient-cycling enzymes. The combination of membrane extraction, with rapid analysis via fluorescent probes to reveal localization of phosphatase activity in the rhizosphere, offers a new technique for environmental applications. Expanding this approach could enable simultaneous visualization of multiple enzyme types in soil systems.
Funding
Development of this method was funded by DOE's Office of Science, Biological and Environmental Research Program by the Early Career Research Award program (PI: Jim Moran).
10.1016/j.soilbio.2020.107820
Research topics
Distributed Wind Representation in Modeling and Simulation Tools
Pacific Northwest National Laboratory (PNNL) compiled, characterized, and evaluated the inclusion of distribution wind in a number of modeling and simulation tools for the U.S. Department of Energy (DOE) Microgrids, Infrastructure Resilience, and Advanced Controls Launchpad (MIRACL) project. This work also benefits the international community participating in International Energy Agency (IEA) Wind Task 41: Enabling Wind to Contribute to a Distributed Energy Future. Tools were assessed based on a survey of publicly available and readily accessible information. The evaluation approach, methodology, key takeaways, and next steps are presented below, and the evaluation table is attached to this PDF.  
Research topics