News & Media
Latest Stories
330 results found
Filtered by Advanced Hydrocarbon Conversion, Atmospheric Science, Bioenergy Technologies, Biology, Stakeholder Engagement, and Terrestrial Aquatics
Tracking the Behavior of a Uranium Plume
Field research coupled with three-dimensional modeling are used to predict how groundwater and river exchange influence a contaminant plume.
The Science
A recent paper published in Water Resources Research found that the spatial variability of subsurface sediments, and seasonal fluctuations in a river's water level, influences the behavior of a uranium contaminant plume, particularly in rivers influenced by dams.

The research team created a complex numerical model and ran a 5-year simulation of the exchange between surface water and groundwater in a portion of the Columbia River at the Hanford Site. Model accuracy was evaluated using detailed water sampling data from the site, distributed in space and time. Both the model and data from site samples showed that the uranium can travel via multiple paths of river water and groundwater exchange.
The Impact
Predicting and modeling the evolution of a contaminant plume in a river corridor subject to rising and falling water levels from upstream dam operations is challenging. Factors such as seasonal dam discharge variation, the permeability of surface and subsurface materials, and changes in water chemistry, make river corridors a complex environment to study. This study is one of a few that have used a highly detailed three-dimensional modeling approach to simulate the migration of contaminants as influenced by the hydrologic exchanges between surface and subsurface waters at a large spatial scale. High-resolution monitoring, to ground truth the model's accuracy, provided researchers a robust evaluation of the model's predictive capabilities. Ultimately, the methods and findings in this study provide a foundation for designing future modeling and monitoring research to assist in environmental management and decision making.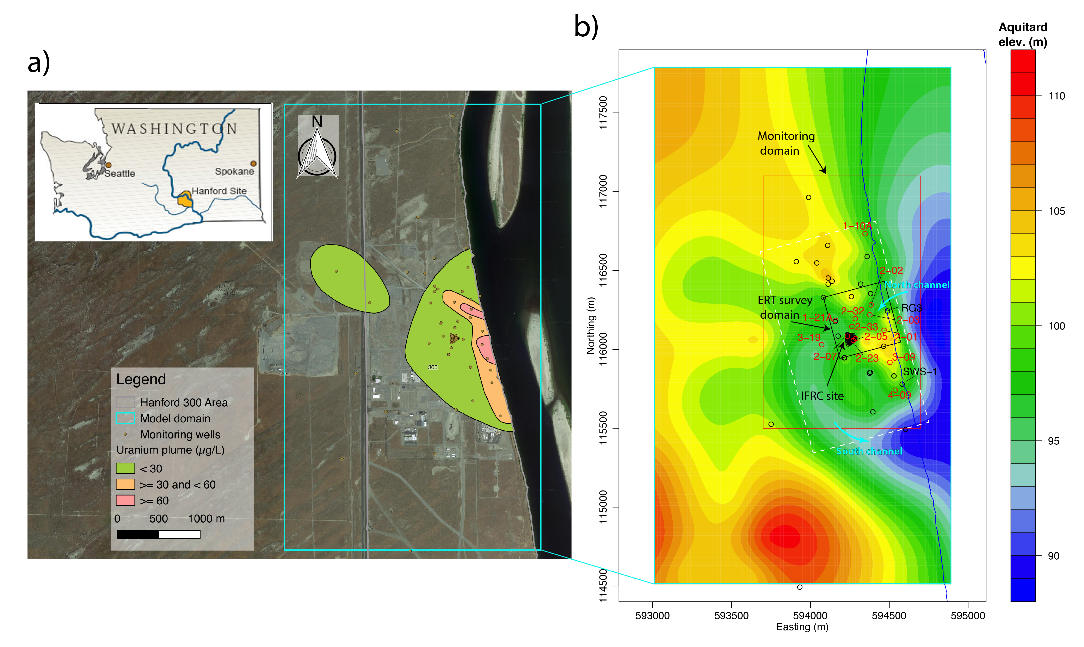 Summary
A team of scientists led by John Zachara of Pacific Northwest National Laboratory examined the impact of river water and groundwater exchange in relation to a uranium contaminant plume migration at Hanford, Washington. The goal was to develop and improve the predictive understanding of hydrologic exchange flows and their role in changing river corridor biogeochemistry.

The team used an innovative combination of field sampling and three-dimensional mathematical models to investigate how river stage variation over seasons and subsurface hydrogeology interact to influence subsurface contaminant migration. In this work, the authors note that there are very few studies that model solute transport or plume behavior during dynamic hydrologic exchange in large river corridors, and that the model they developed can be applied to other, similar riverine systems.

According to both their model and data, river water exchange with groundwater in large, gravel-bed river corridors may create a wide interaction zone, which is different from most headwater systems. Water level variations in dam-regulated river corridors lead to changing flow directions, velocities, and sediment compositions, that influence contaminant plume behavior. The residence time and transport distance of intruded river water is controlled by both river stage and subsurface hydrogeologic features.

Funded by the Department of Energy's Biological and Environmental Research (BER) program, this work addresses DOE's mission to improve the predictive understanding of how watershed systems respond to environmental perturbations caused by changes in water availability/quality, land use/vegetation cover, and inorganic element/contaminant loading. Researchers used the DOE-funded NERSC, National Energy Research Scientific Computing Center, user facility in their model development.
Contact
John Zachara, Pacific Northwest National Laboratory, john.zachara@pnnl.gov
Funding
This research was supported by the U.S. Department of Energy (DOE), Office of Biological and Environmental Research (BER), as part of the Subsurface Biogeochemical Research Scientific Focus Area (SFA) at Pacific Northwest National Laboratory (PNNL).
Microbial diversity influences nitrogen cycling in rivers
Seasonal changes affect microbiome communities, genes, and subsurface biogeochemical pathways differently
The Science
DOE researchers investigated the role of microbial genetic diversity in two major subsurface biogeochemical processes: nitrification and denitrification. Results show that across different seasons only a few microbe species, namely Nitrosoarchaeum, carry out nitrification functions—demonstrating high resistance to environmental change. However, denitrification genes, which are more broadly distributed in the community, displayed a variety of diversity patterns and abundance dynamics—demonstrating greater microbial interactions as conditions change.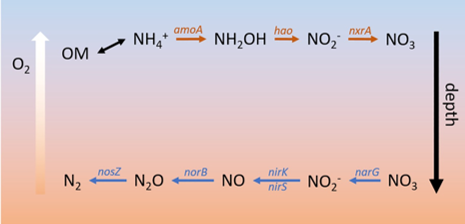 The Impact
There is little research connecting microbiomes at the genetic level to hydrobiogeochemical modeling. This research helps broaden collective knowledge for a better understanding of the pathways affected by environmental changes. For example, under extreme environmental conditions an entire biochemical pathway could be altered or eliminated if a single step has low genetic diversity such that its loss could not be replaced.
Summary
The Pacific Northwest National Laboratory research team, led by Bill Nelson, found that major environmental processes—specifically nitrification and denitrification—are maintained through a variety of diversity strategies. Historically, the bulk of biogeochemical research has focused on microbial communities at the organismal level. But this research focused on the importance of genetic distribution and diversity.

In their recent PLoS ONE paper, the researchers discuss the roles microbes play in ecological functions; the novelty of the genetic makeup of these microbes; and future research opportunities to determine which organisms are genetically expressing nitrogen cycling functions.

The novelty of this study comes from examining the temporal dynamics of diversity at the gene level. To evaluate all genes in the nitrification and denitrification pathways, novel Hidden Markov Models (HMMs) were developed that can recognize the broad diversity found in environmental samples. They found that while different environmental conditions impair microbiome growth and the gene expression of some populations, at the same time, it can stimulate others. High biodiversity at the organism or genetic level creates more resiliency, and the microbiome community can respond more rapidly to environmental changes.
Contact
Bill Nelson, Pacific Northwest National Laboratory, William.Nelson@pnnl.gov
Funding
This research was supported by the U.S. Department of Energy (DOE), Office of Biological and Environmental Research (BER), as part of the Subsurface Biogeochemical Research Scientific Focus Area (SFA) at Pacific Northwest National Laboratory (PNNL).
Peeking Into the Lives of Soil Microbiomes
SoilBox provides in-depth imaging and characterization of soil microbial communities in their native environments.
The Science
To better characterize the vast diversity of soil microbes and their interactions, DOE researchers developed a high-tech simulated soil core called SoilBox. This 16.7-centimeter-deep box allows researchers to visualize soil microbes' complex interactions using different imaging methods and facilitating, for the first time, visualization of the soil microbiome's organization and community metabolism. Furthermore, SoilBox provides a tool for researchers to observe how soil microbial communities respond to environmental changes and perturbations.
The Impact
The complexity of soil makes spatial imaging of soil microbial communities challenging. Using SoilBox, researchers can now visualize the diversity and metabolic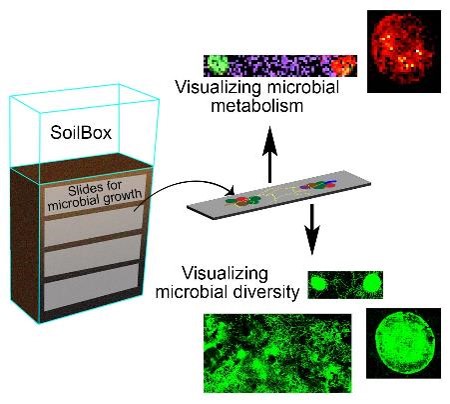 landscape of the soil microbiome under different environmental conditions, such as soil moisture and temperature. Understanding the basic biology of the soil microbiome is necessary for understanding how native soil systems respond to environmental perturbations such as drought, lack of nutrients, and fire. 
Summary
Soil-dwelling microbes are key players in the overall health of soil ecosystems, performing critical functions like carbon and nutrient cycling. The interplay between the soil microbiome and the soil it inhabits is a dynamic relationship heavily influenced by factors such as soil acidity, organic content, and temperature. The size and distribution of soil particles also affects many soil characteristics, adding to the already complex challenge of accurately describing structure-function relationships of soil microbial communities.
To address the difficulties of studying the soil microbiome in its native state and at a microscale resolution, a team of researchers from Pacific Northwest National Laboratory, led by Arunima Bhattacharjee and Chris Anderton, developed SoilBox. This system represents a soil ecosystem by simulating an ~12-cm-deep soil core; several windows facilitate molecular and optical imaging measurements that are crucial to understanding the nuanced interactions between the soil microbiome and its environment. This novel imaging capability allows scientists to study the dynamic landscape of soil microbial communities as they relate to environmental changes, including nutrient cycling.
This work overcomes the challenge of visualizing the diversity of soil microbial communities in the complex and ever-changing environment of soil. SoilBox will be used in the near future to investigate soil microbial community dynamics.
Contact
Chris Anderton, Pacific Northwest National Laboratory, christopher.anderton@pnnl.gov
Funding
This research was supported by the Department of Energy (DOE) Office of Biological and Environmental Research (BER) and is a contribution of the Scientific Focus Area "Phenotypic response of the soil microbiome to environmental perturbations." Pacific Northwest National Laboratory (PNNL) is operated for the DOE by Battelle Memorial Institute under Contract DE-AC05-76RLO1830. A portion of the research was performed using EMSL, the Environmental Molecular Sciences Laboratory, a DOE Office of Science User Facility sponsored by BER and located at PNNL.
A. Bhattacharjee et al.,"Visualizing microbial community dynamics via a controllable soil environment." mSystems 5, 1:e00645-19 (2020). https://doi.org/10.1128/mSystems.00645-19.
Moments Matter When It Comes to Modeling Rain
Improved representation of rain microphysics led to more accurate simulations of surface precipitation
The Science
In atmospheric models, raindrop properties such as rainfall rate are usually described based on the raindrop size distribution. For example, heavy rain rates may have a wider raindrop size distribution than light rain. To improve predictions of rain that reaches the surface, the primary question has been, how can models better represent the evolution of raindrop size distribution in space and time in the atmosphere? A team led by researchers at the U.S. Department of Energy's (DOE) Pacific Northwest National Laboratory improved the representation of rain microphysics by predicting the shape parameter of raindrop size distributions in a recently developed cloud microphysics scheme. They found that under a wide range of atmospheric conditions, their advanced representation delivered surface rain properties similar to those produced by a benchmark scheme, but with less computational resources.
The Impact
Because raindrops play a major role in the vertical redistribution of heat and moisture in the atmosphere, they are a critical component for modeling the structure and evolution of cloud systems such as mesoscale convective systems. These systems are major sources of heavy rain in the central United States. A proper representation of rain in numerical models is not only vital to predict surface precipitation, but also to accurately simulate environmental conditions and circulation patterns. The advanced rain microphysics representation from this study improves simulations of rain properties under various atmospheric conditions, and it can be used to increase accuracy of weather and climate models. The scheme will be implemented in DOE's Energy Exascale Earth System Model (E3SM).
Summary
Cloud microphysics schemes in weather and climate models usually predict two moments—the total number and mass—of the raindrop size distribution. Researchers upgraded the Predicted Particle Properties (P3) cloud scheme by adding another predicted variable—shape parameter—for raindrop size distribution, turning the two-moment scheme into a three-moment scheme for raindrop representation. They also developed and incorporated a new parameterization for drop-drop collisions—when two drops collide—and the breakup of large drops into smaller ones. 
To evaluate those new developments, the research team tested them with an idealized rain model. The model simulated 450 rain scenarios that were initialized by different raindrop size distributions and environmental conditions. Researchers compared the simulated surface rain properties against those from a detailed and computationally costly reference scheme. The team found that, depending on initial rain intensity, up to 95 percent of simulations with the new developments produced raindrop sizes and surface rain rates within ±20 percent biases from the reference results. This was a considerable improvement from the original two-moment scheme, which only reached 4 percent using the same criteria for comparisons with the reference results. Sensitivity tests showed that both the added degree of freedom—the additional variable for raindrop size distribution—and the new process parameterization contributed to the improvements.
PI Contact
Jiwen Fan, Pacific Northwest National Laboratory, jiwen.fan@pnnl.gov  
Funding
This research was supported by the Climate Model Development and Validation program funded by the Office of Biological and Environmental Research in the U.S. Department of Energy Office of Science. Model simulations were performed using PNNL Institutional Computing.
Paukert M, J Fan, PJ Rasch, H Morrison, JA Milbrandt, J Shpund, and A. Khain. 2019. "Three-Moment Representation of Rain in a Bulk Microphysics Model." Journal of Advances in Modeling Earth Systems 11(1):257−277, https://doi.org/10.1029/2018MS001512.
Influence of Groundwater Extraction Costs and Resource Depletion Limits on Simulated Global Nonrenewable Water Withdrawals over the 21st Century
Global groundwater depletion is projected to peak and then decline during this century as costs of using it change
The Science
Because water is a fundamental human need, estimating future supplies is important. Researchers at the U.S. Department of Energy's Pacific Northwest National Laboratory (PNNL) coupled regionally varying groundwater availability and extraction cost estimates with continually adjusted demands for water in a simulation that covered multiple sectors around the world. As groundwater levels dropped, imposing greater capital and energy costs to bring water to the surface, modeled water use sectors responded by drawing from other water resources. These behaviors resulted in a marked peak and decline in the rate of global groundwater depletion.
The Impact
Previously it was assumed that the rate of global groundwater depletion would increase steadily over the 21st century as humans demanded more water—particularly for crop production. This work suggests that groundwater depletion may actually decline, because the increasing costs of pumping will force water users to adapt by turning to less expensive sources, which are often in regions where renewable water remains plentiful.
Summary
In many regions of the world, groundwater reserves are being depleted rapidly. This raises concerns for the sustainability of irrigated agriculture and global food supplies. It is therefore important to study groundwater depletion and possible exhaustion of water resources at a global scale. A problem for such analysis is the lack of detailed understanding of when a depleting resource becomes unviable for further exploitation. The question is not simply how much water is physically available; we need to know when the financial costs and environmental effects of extracting more groundwater render the resource unviable for human applications. To study these effects, PNNL researchers employed a global, gridded data set that specifies the cost of groundwater extraction as a function of depletion. Then, using the Global Change Assessment Model (GCAM), they simulated water users as economic decision makers to understand how they would adapt as extraction costs increased. Results indicated that future rates of global groundwater depletion would be heavily moderated by increasing extraction costs. Regions that depleted water to costly levels lost competitive advantage for crop production, which shifted to regions where water resources were less costly and more plentiful. The team concluded that extraction costs must be included in simulations for projections of global groundwater depletion to be reliable.
PI Contact
Leon Clarke, Pacific Northwest National Laboratory, leon.clarke@pnnl.gov
PNNL Contact
Mohamad Hejazi, Pacific Northwest National Laboratory, Mohamad.Hejazi@pnnl.gov  
Funding
This research was supported by the U.S. Department of Energy Office of Science, Biological and Environmental Research through the Multisector Dynamics, Earth and Environmental System Modeling Program. 
Turner SWD, M Hejazi, C Yonkofski, SH Kim, and P Kyle. 2019. "Influence of Groundwater Extraction Costs and Resource Depletion Limits on Simulated Global Nonrenewable Water Withdrawals Over the Twenty-First Century." Earth's Future 7(2):123−135. https://doi.org/10.1029/2018ef001105.