Marvin Warner Selected to Attend the 2009 U.S. Frontiers of Engineering Symposium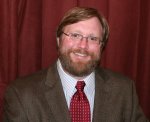 Marvin Warner
Marvin Warner, NSD, was one of the 88 engineers selected to take part in the National Academy of Engineering's (NAE) 15th annual U.S. Frontiers of Engineering symposium. The participants—from industry, academia, and government—were nominated by fellow engineers or organizations and chosen from approximately 240 applicants.
"In today's challenging economic times, we look more than ever toward our engineering innovators," said NAE President Charles M. Vest. "The U.S. Frontiers of Engineering program brings together a diverse group of this country's most promising young engineers and gives them a forum to discuss multidisciplinary ways of addressing the issues that will carry us into tomorrow's economy."
Warner's expertise lies in the chemistry and engineering of nanomaterials for applications ranging from detection and environmental remediation to national security challenges. His research is interdisciplinary in nature, and he has demonstrated success in developing business, leading interdisciplinary teams, and establishing collaborations with scientists outside PNNL. He has 18 peer-reviewed publications, 3 book chapters and 2 patents, all related to the development and application of nanomaterials to solve challenging problems in energy, the environment, and national security.
The symposium will be held September 10-12 at the National Academy's Beckman Center at the University of California, Irvine, and will examine engineering tools for scientific discovery; engineering the health care delivery system; nano/micro photonics and new applications; and resilient and sustainable infrastructures.
<< Back to Highlights